A Ford showcase of winter performance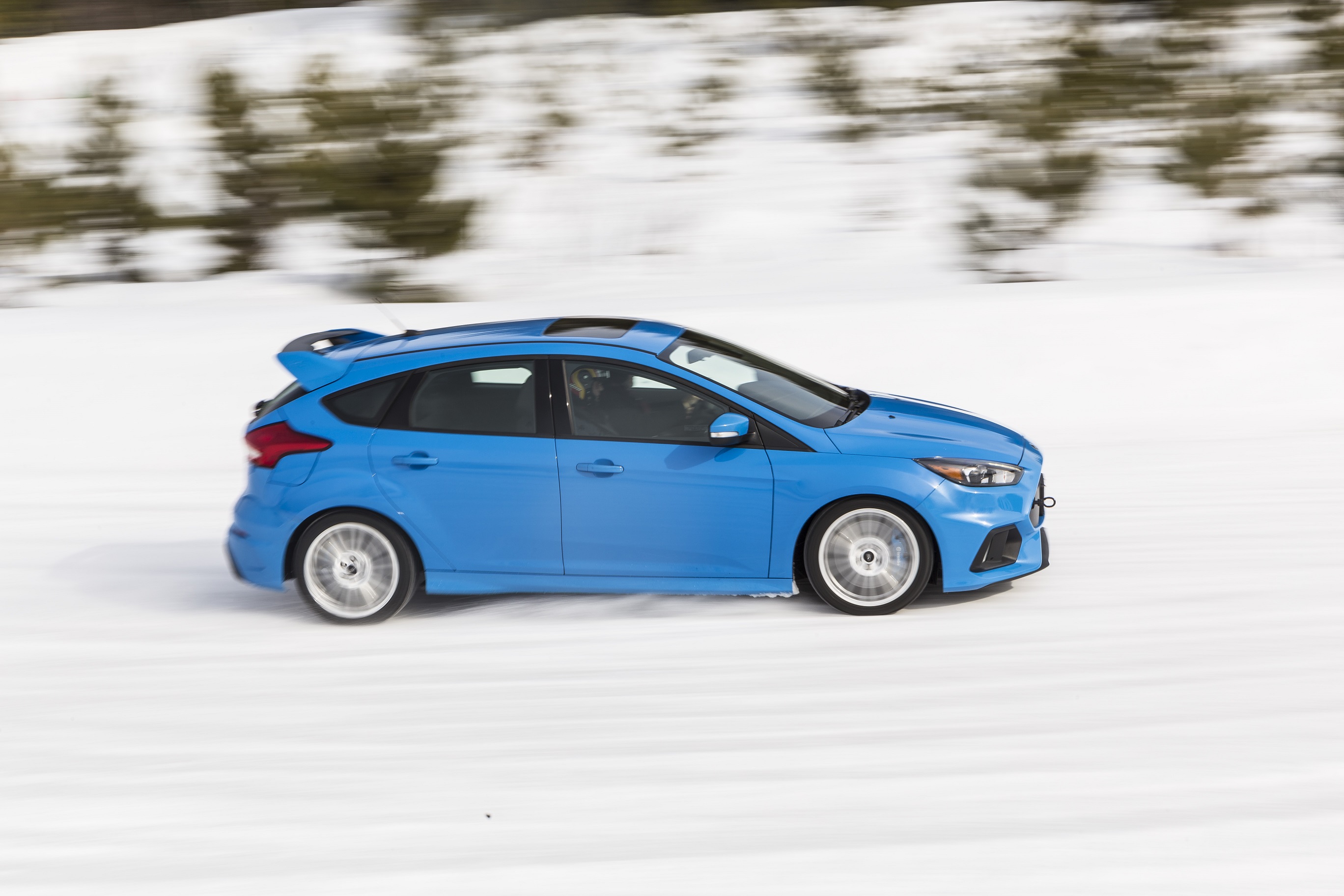 Notre-Dame-de-la-Merci, QC – Depending on where you live, winters in Canada can be harsh with snow- and ice-covered roads to tackle on everyday commutes. 2017 has taken that a step further as piles of snow have touched down across the country from the west to east coast.

Some may see this cold and snowy weather as a negative, but there's another side to this coin, and that's how much fun you can have in it. Snowboarding or tobogganing are always great choices, but Ford had a different plan in mind, and that was to show off two very distinct vehicles in its production line – the Ford F-150 Raptor pickup and the Ford Focus RS.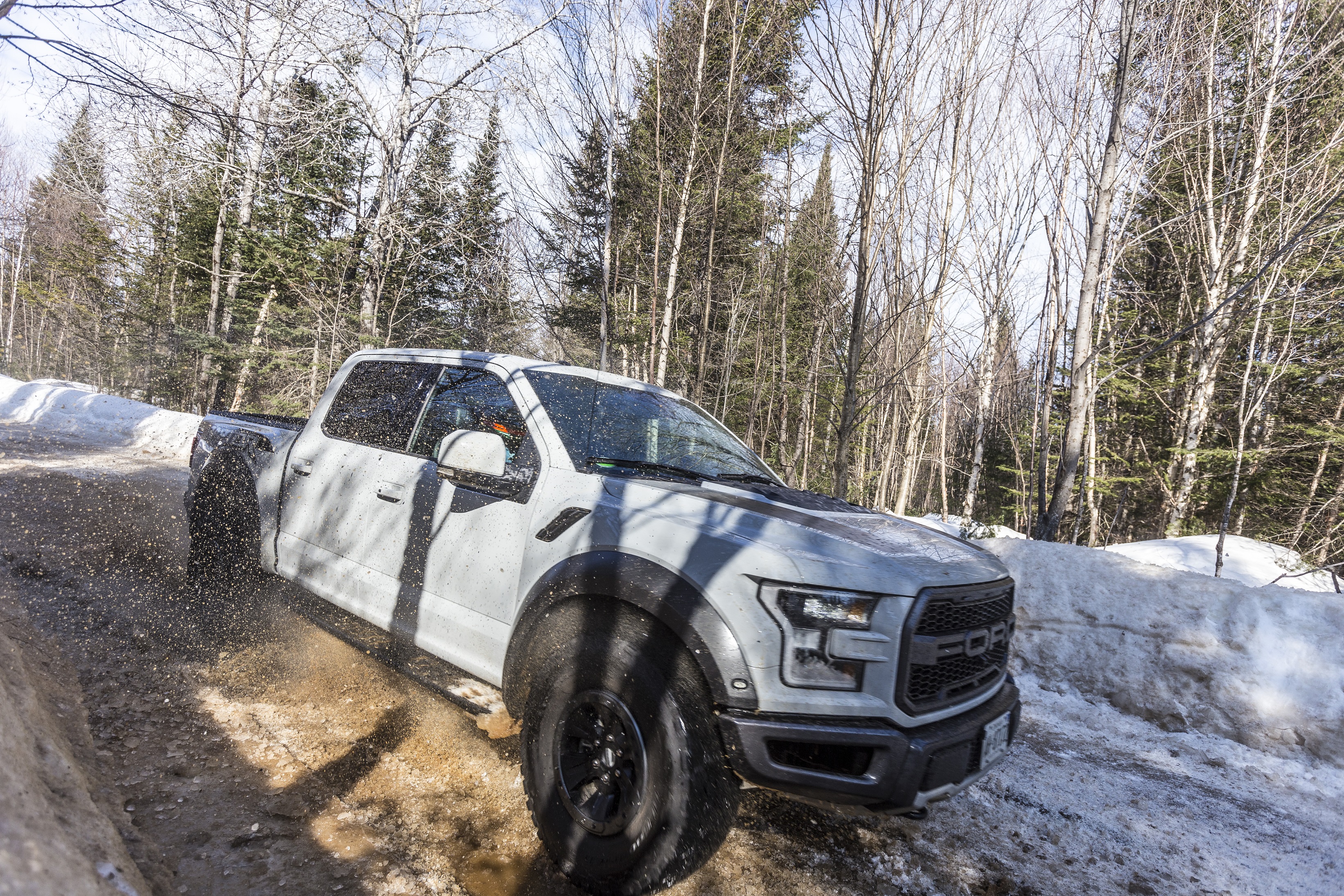 The Raptor and Focus RS are high-performance variants, and Ford wanted a host of journalists to see how well they can tackle the snow, ice and even muddy tracks of the Mecaglisse Motorsport Complex, a few hours north of Montreal.

Both products were fitted with winter foot gear: BFGoodrich All-Terrain T/A KO2s for the Raptor and Michelin Pilot Alpin PA4s for the RS, which switched to studded tires for a closed-course off-road session.

The all-conquering Ford F-150 Raptor

The Raptor is all about conquering various terrain, and the ice and snow of Mecaglisse would be no exception. To fully test the truck out, a street and off-road trail section were set up. We won't get too much into the street portion, as it did its business in routine fashion. The few takeaways were a quieter ride than expected, as well as a smooth transition of gear changes up and down its new 10-speed unit. Outside of that, it charged through the snow and handled those skinny roads gracefully. When needing to back out or make a three-point turn, it was still as challenging as any truck would be.

The true test came down to the off-road trail that was littered with icy patches and a splashy mud pit. With its 3.5-litre EcoBoost V-6 engine producing 450 hp and 510 lb.-ft. of torque – increased numbers from the outgoing V-8 – the Raptor had no issues getting going; it was just a matter of staying on track.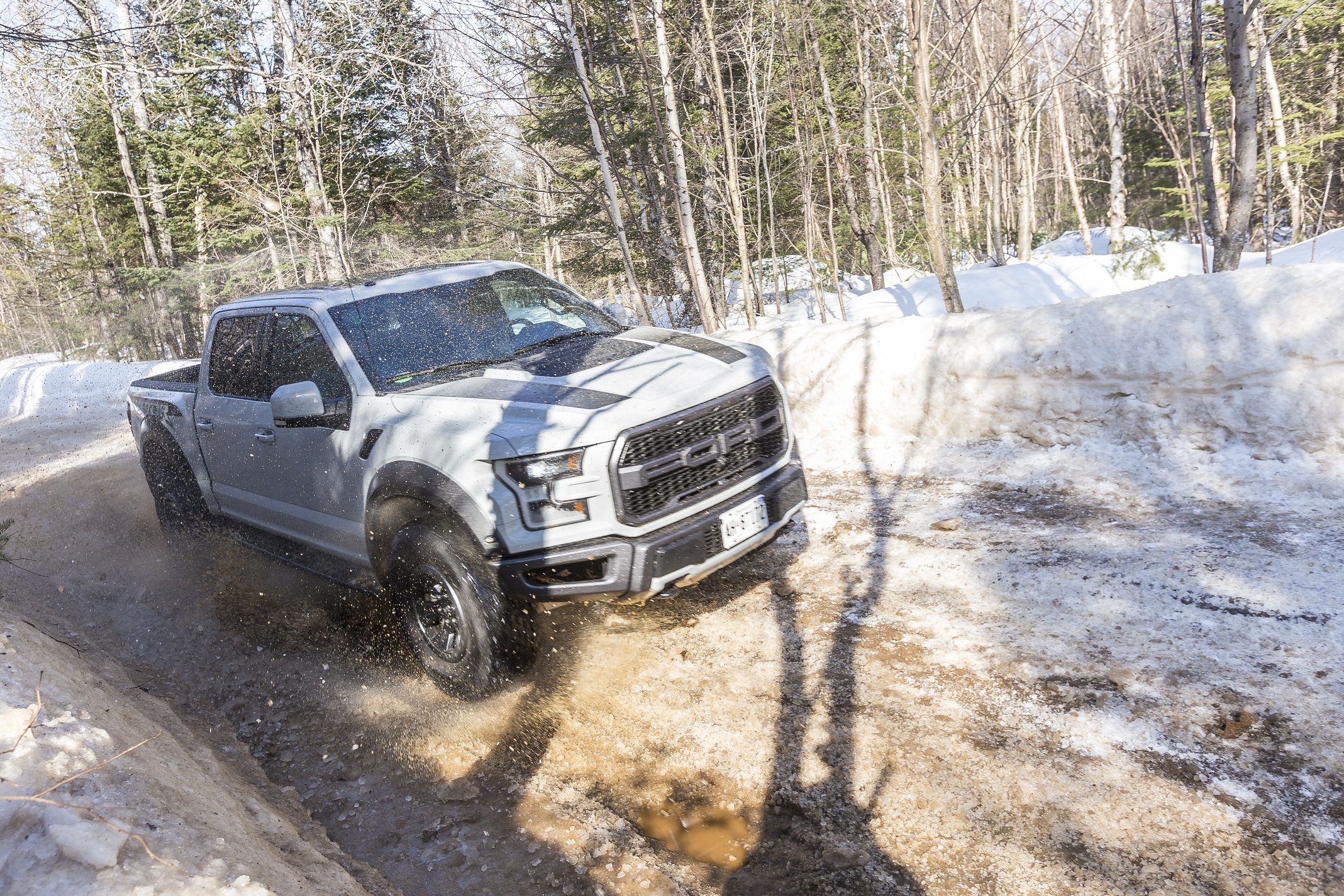 Most of the time, staying balanced on ice has more to do with the driver than the vehicle. If the driver understands the proper techniques of lifting and accelerating when necessary to gain traction, the truck will do the proper work. However, all of that was achieved with once again, a smooth determination that stayed relatively balanced and comfortable at all times. There was no bouncing, sliding or vibrating around the cockpit, leading to a composed ride that felt lighter, thanks to a weight savings of 227 kg from the use of military grade, aluminum alloy for the body and high strength steel for the frame.

The driver's decisions could be key in any icy situation, but it was the Raptor that cut through those divots like a champ, especially the mud pit. With exceptional ground clearance and absorbent FOX Racing Shox under the chassis that stiffen the suspension, the Raptor powered through without any damage to the underbody. We even put it in Sport mode on the second run, and the same results were achieved at a quicker pace.

Slip and sliding with the Focus RS
The Ford Focus RS was made for extreme conditions. Perhaps, Ford had in mind some race tracks and rally courses littered with pavement and dirt, but the icy and drift-worthy track of Mecaglisse fits right in. The combination of the RS' 2.3-litre EcoBoost inline-four that produces an impressive 350 hp and 350 lb.-ft. of torque, a standard six-speed manual gearbox, and an all-wheel-drive (AWD) system with torque vectoring, makes for one eventful day in a hot hatch.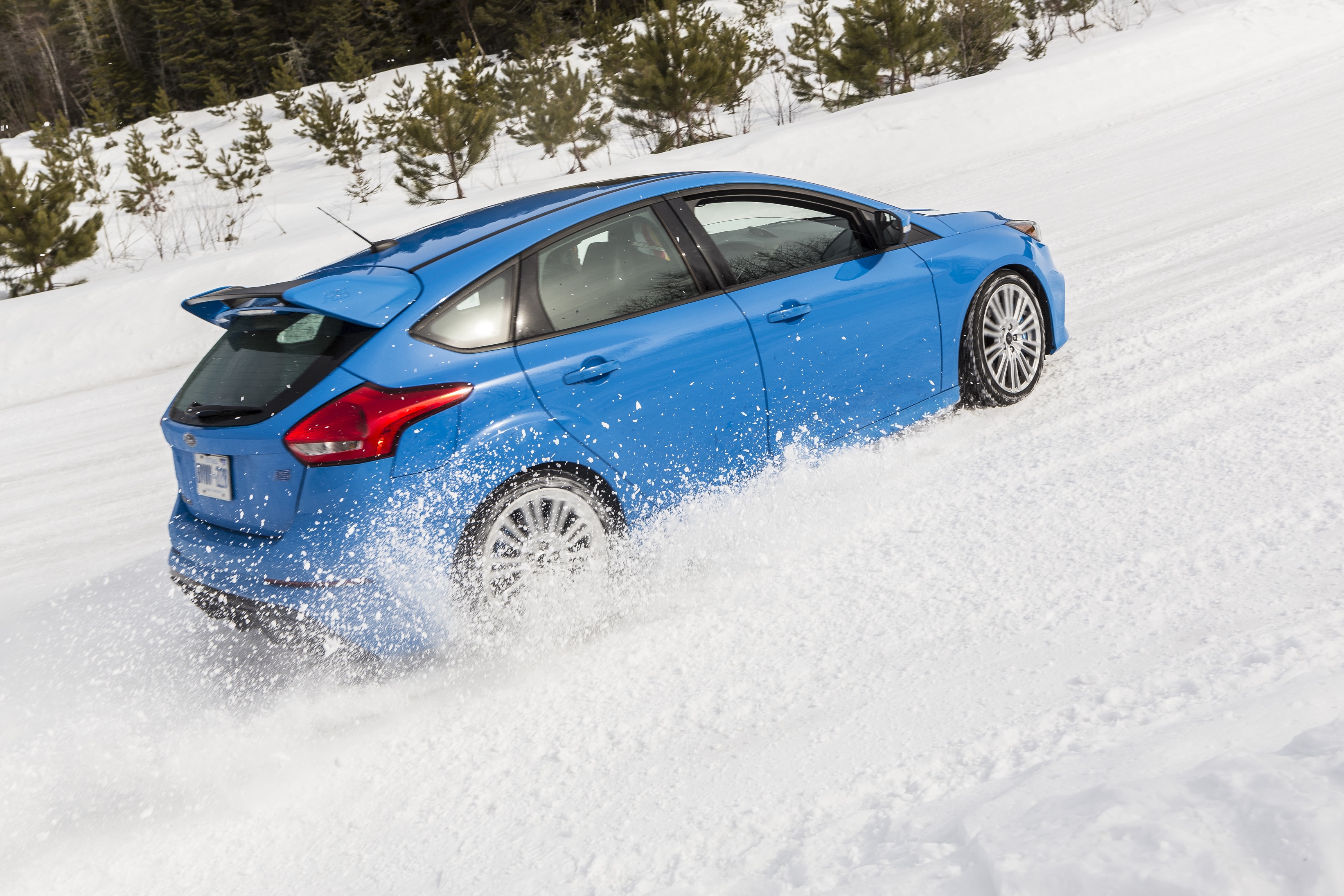 On this particular day, we wouldn't be testing out its straight line speed; rather we would see first hand its handling prowess, stability, braking abilities and pure fun factor. Just like the Raptor, the Focus RS handled a different closed off course with ease. Its twin-scroll turbocharger assisted on initial acceleration which quickly responded and pushed ahead, never getting bogged down in the snow. Furthermore, it was able to stop in a quick fashion when needed.
There are four drive modes: Normal, Sport, Track and Drift, but drift would be the only option on this day. The most notable moment was around an icy circle without any traction. The RS slid its way tippy-toeing at first and then gradually finding traction on the outside snow in pure drift style. Much of this balance is due to the AWD and torque vectoring that can send 70 of its engine power to its rear wheels, and 100 percent of that to either side, eliminating any understeer. The system works in such a rapid pace through the monitoring of multiple vehicle sensors 100 times per second.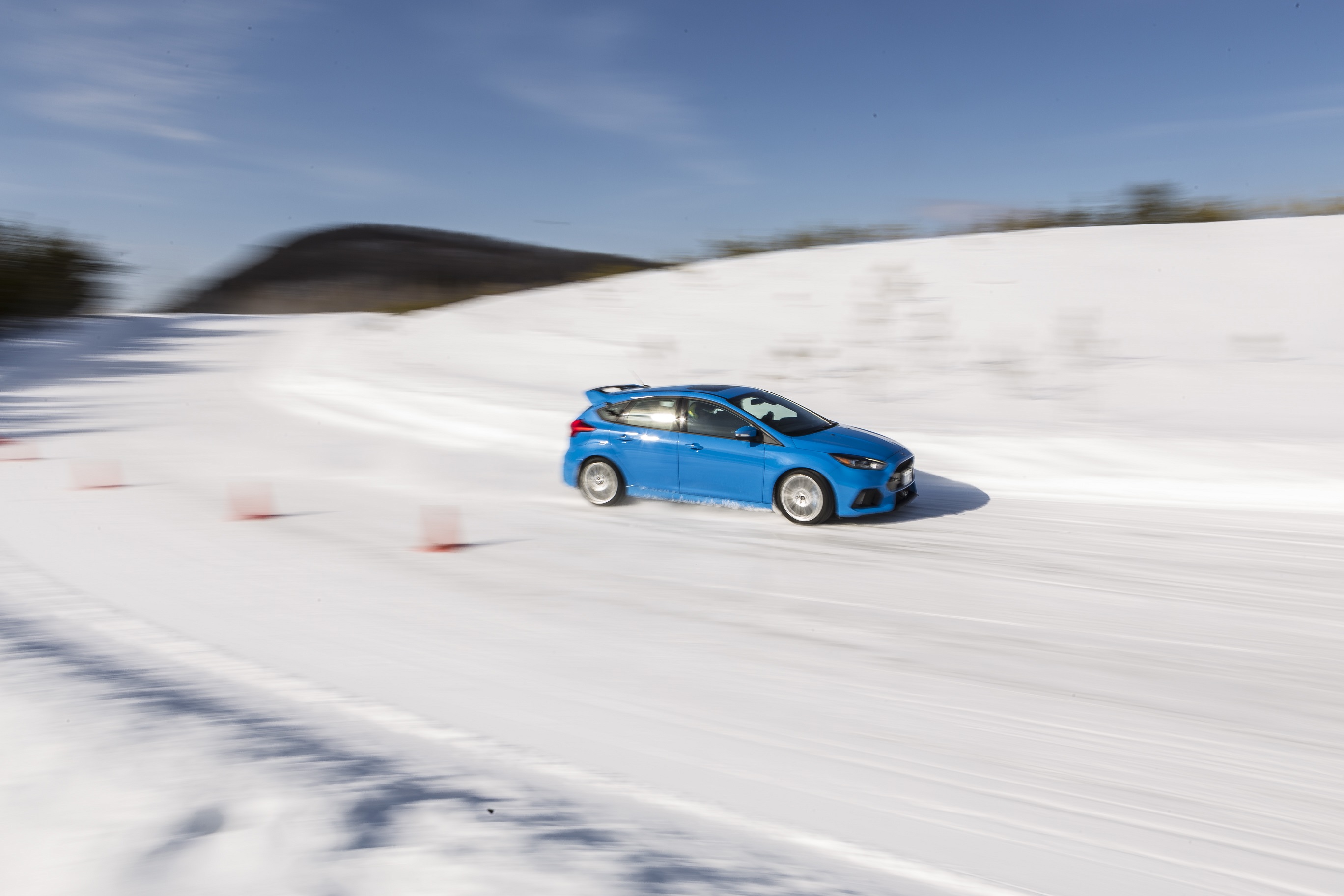 Conclusion
It's rare for the Ford F-150 Raptor and Focus RS to come together at one event, but this true winter test showed the extreme capabilities of both variant products. The Raptor and Focus RS stayed balanced and wanting more, and the best part about it was, you knew both machines could be pushed even further.
The starting prices of $48,418 for the Focus RS and $68,399 for the Raptor won't be the cheapest out there, but that's what makes them variants. This was only a winter test, but if they can be so smooth and effective in these situations, can you imagine what both are capable of the rest of the time?