First Drive: 2017 Honda Civic Hatch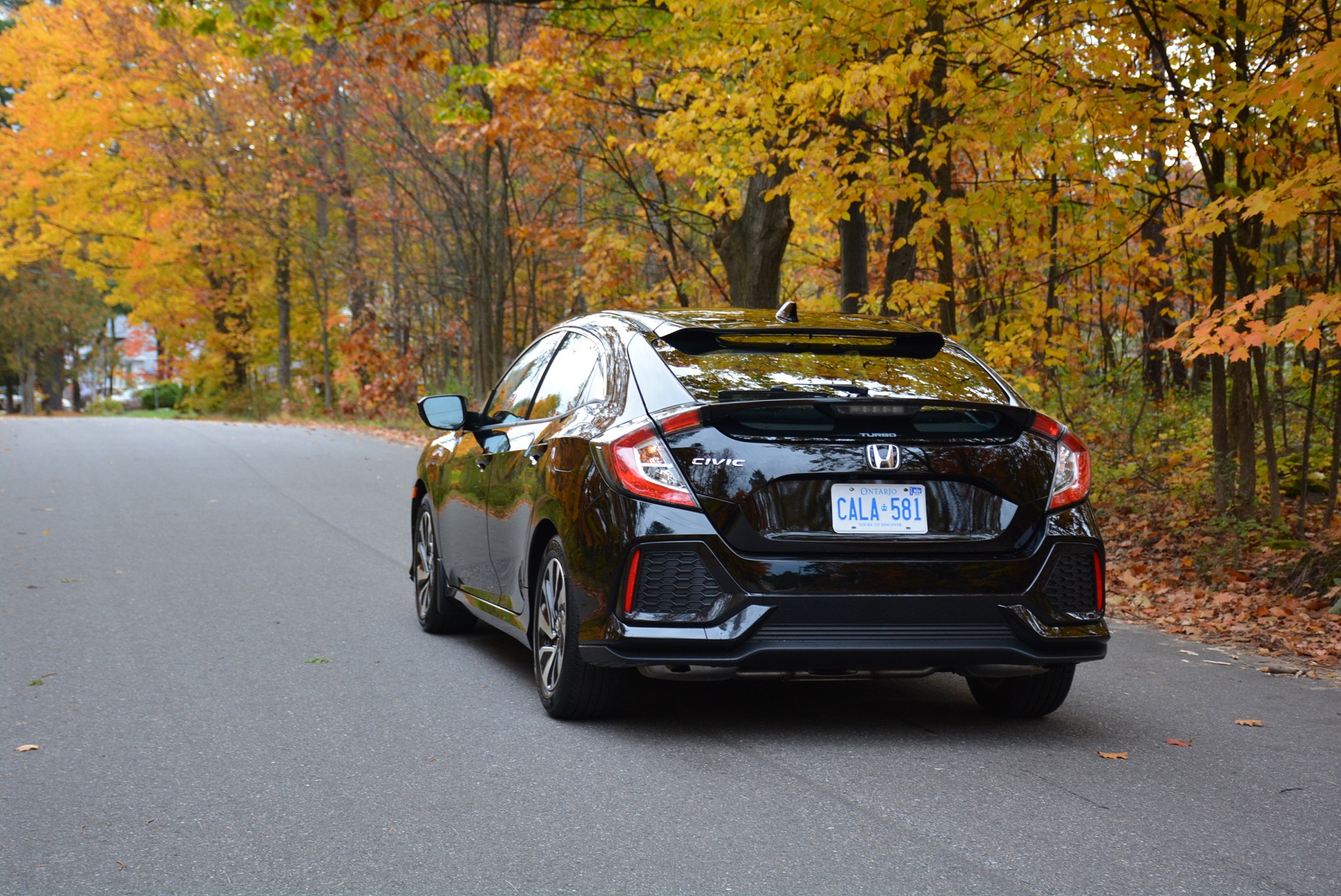 Port Carling, ON – We've seen the remodelled tenth-generation Civic sedan; we've seen the Civic coupe; and now for the trifecta, Honda is bringing back the five-door hatchback after a 17-year hiatus from North America. It's safe to say that Honda is on the attack to takeover the compact car market.

And if the three styling choices aren't evidence enough, they'll flat out tell you: "We are trying to keep dominating this [compact car] segment," said Hayato Mori, Senior Manager, Product Planning and Business Development.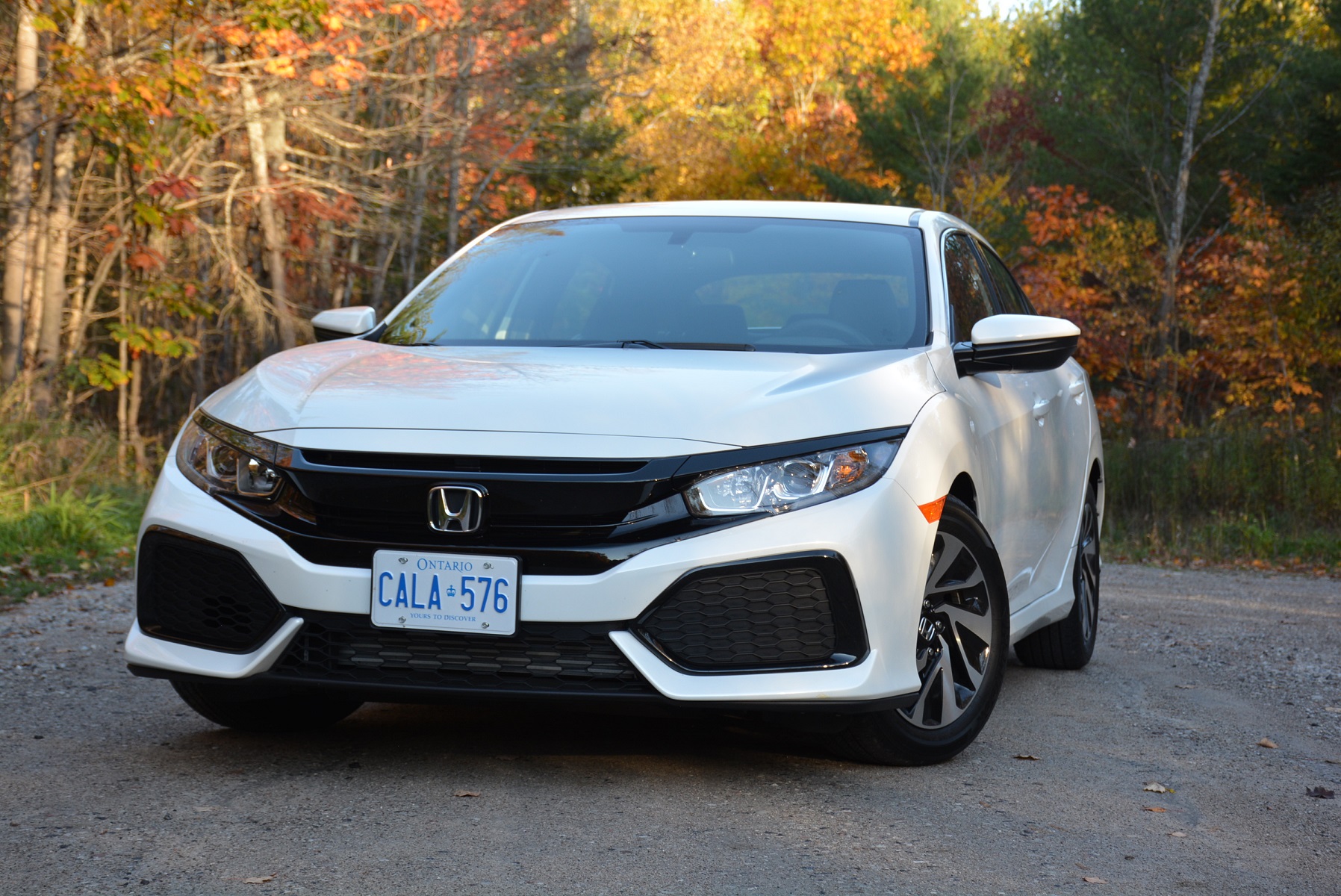 It might seem like a game of Risk when the words domination start being thrown around, but in reality, it's pure business. And it would be mind-boggling for any automaker to not want to be the leader in every facet of a segment. For Honda's sake, it's not just rhetoric; they have the tools to achieve those lofty goals, and adding a hatch to its lineup is a way of appealing to each and every Canadian. It didn't cost them too much either for research and development, as it was already being built in Swindon, UK.

For the Canadian market, offering a hatch makes sense with the advent of the Chevrolet Cruze hatch, along with a long list of consumer hatch options from Ford, Hyundai, Kia, Mazda, Subaru, Toyota and Volkswagen; with the latter automaker and its Golf model being the product Honda attempted to measure up to in terms of driving quality.

For the hatch, there's only one engine – a turbocharged and direct injected, 1.5-litre four-cylinder that maxes its peak horsepower at 174 in the base LX trim and gets a boost in the Sport and Sport Touring trim to 180 hp. The added power is thanks to a dual exhaust that's centre mounted for higher flow, only when filled with premium gas to achieve that extra boost.

Regardless of trim, you're offered the choice of a six-speed manual transmission or the optional continuously variable transmission (CVT). What's interesting is torque numbers adjust depending on trim and transmission choice: the LX manual receives 167 lb.-ft. of torque; the Sport gets 177; while all CVT models get a max of 162.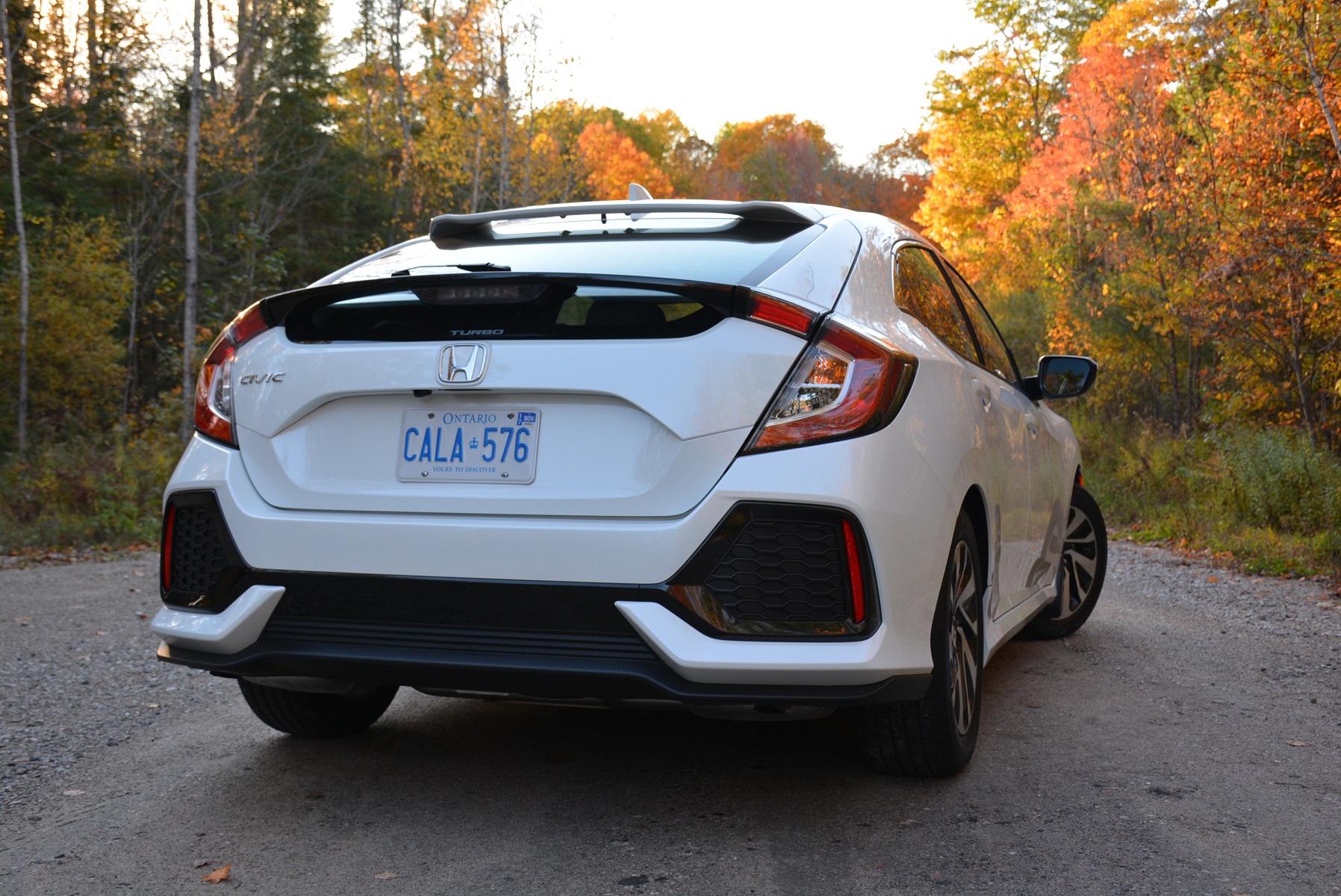 On hand for this first drive event was only the LX trim in both manual and CVT form – the other trims are expected to be arriving in the next few weeks.
After testing both transmissions out, I have to say they were both exceptional. If given the choice, I would lean to the manual. It simply makes the Civic more fun to drive and switching those gears is smooth like butter. In both cases, the Civic accelerated smoothly off the line and up to your desired speed.
It's not super aggressive in straight lines, but it excels in cornering and handling. Honda had us go through one of the twistiest roads on route to Muskoka, and that's where the Civic hatch truly shined. There was some tinkering with the suspension to accommodate the hatch rear layout, and that allows it to perform a composed balancing act through these windy roads. The hatch stayed firm with only minor steering inputs throughout thanks to its electronically assisting steering setup.
Another bonus to the Civic is its quiet ride. It might have been the most peaceful journey up to cottage country that I've ever experienced, placing me in a tranquil state as I passed by the beautiful fall backdrop. That relaxing vibe allowed me to achieve some decent fuel economy, ringing in a combined 6.5 L/100 km between the two transmissions. The LX models are rated at 8.0 L/100 km in the city and 6.2 L/100 km on the highway; while the CVT version comes in at 7.7 and 6.0, respectively.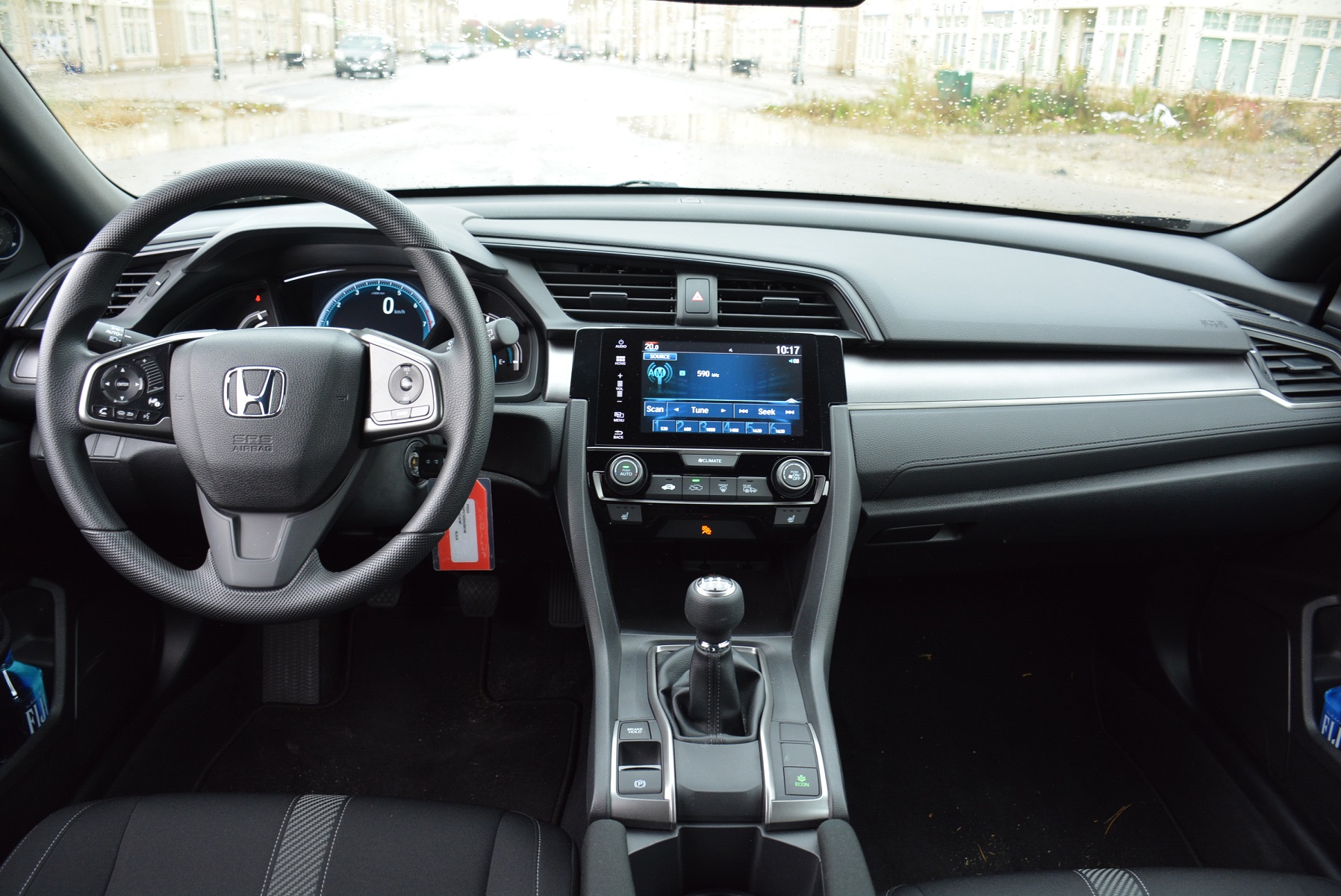 It's safe to say that this LX trim is no base model, and that's because Honda has positioned the hatch as its premium compact choice. The Japanese brand feels that consumers in the hatch market will want to go more upscale, and perhaps that helps them with the extra cost from being constructed in the UK.
Even the cloth seats look sharp in the LX with a two-tone dark colour with white piping and contrast stitching. The overall look is clean and polished, similar to the Civic sedan. It's easy to work the seven-inch touchscreen, but still possesses the touch sliding volume knob accompanied by boxy and large fonts.
The interior may have some styling details that need to be attended to, but it also possesses plenty of useful features including Apple CarPlay and Android Auto, a rearview camera, heated front seats, an automatic brake hold, and a plethora of storage compartments on the centre console, door handles, glove compartment and a cubby underneath its gear shift.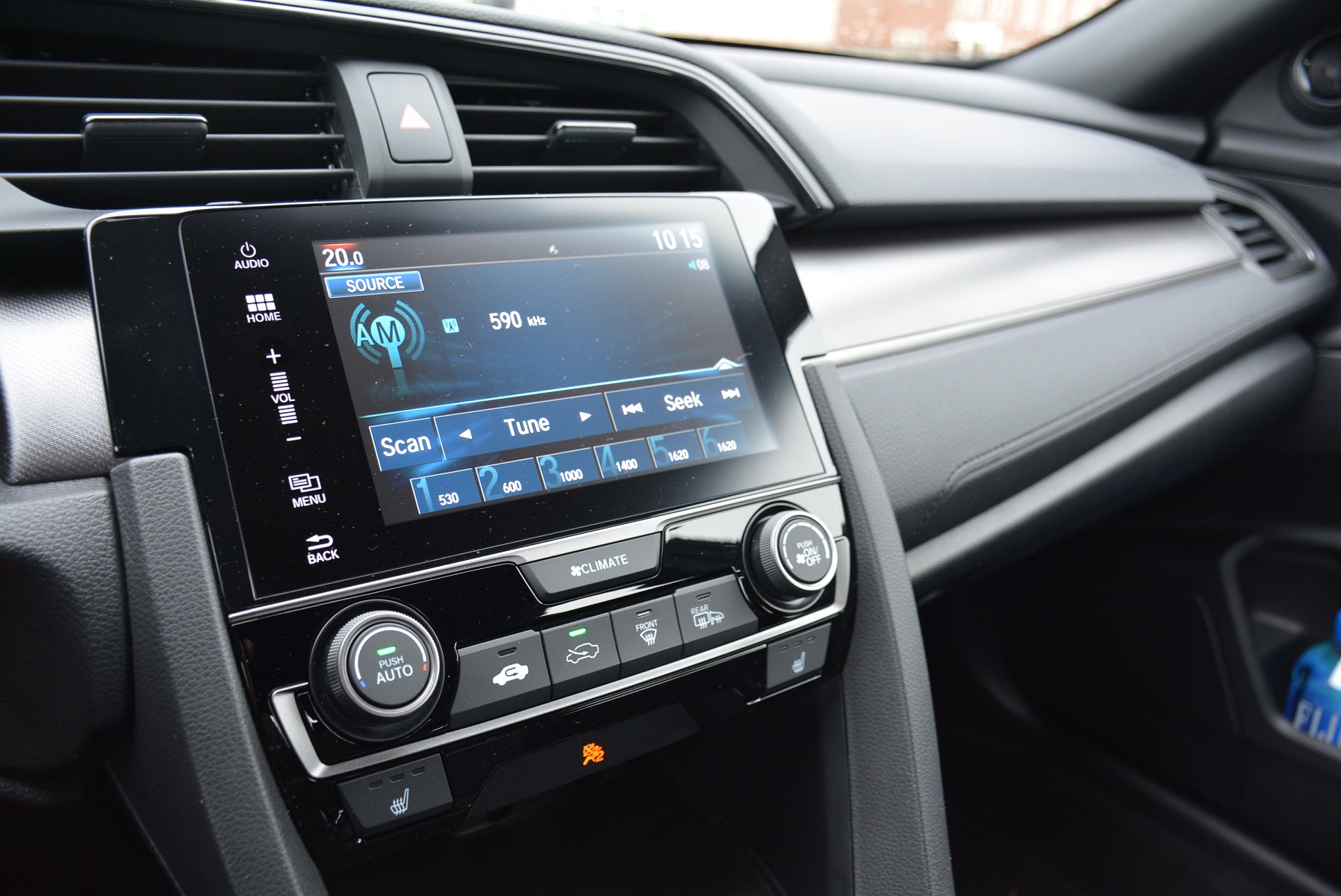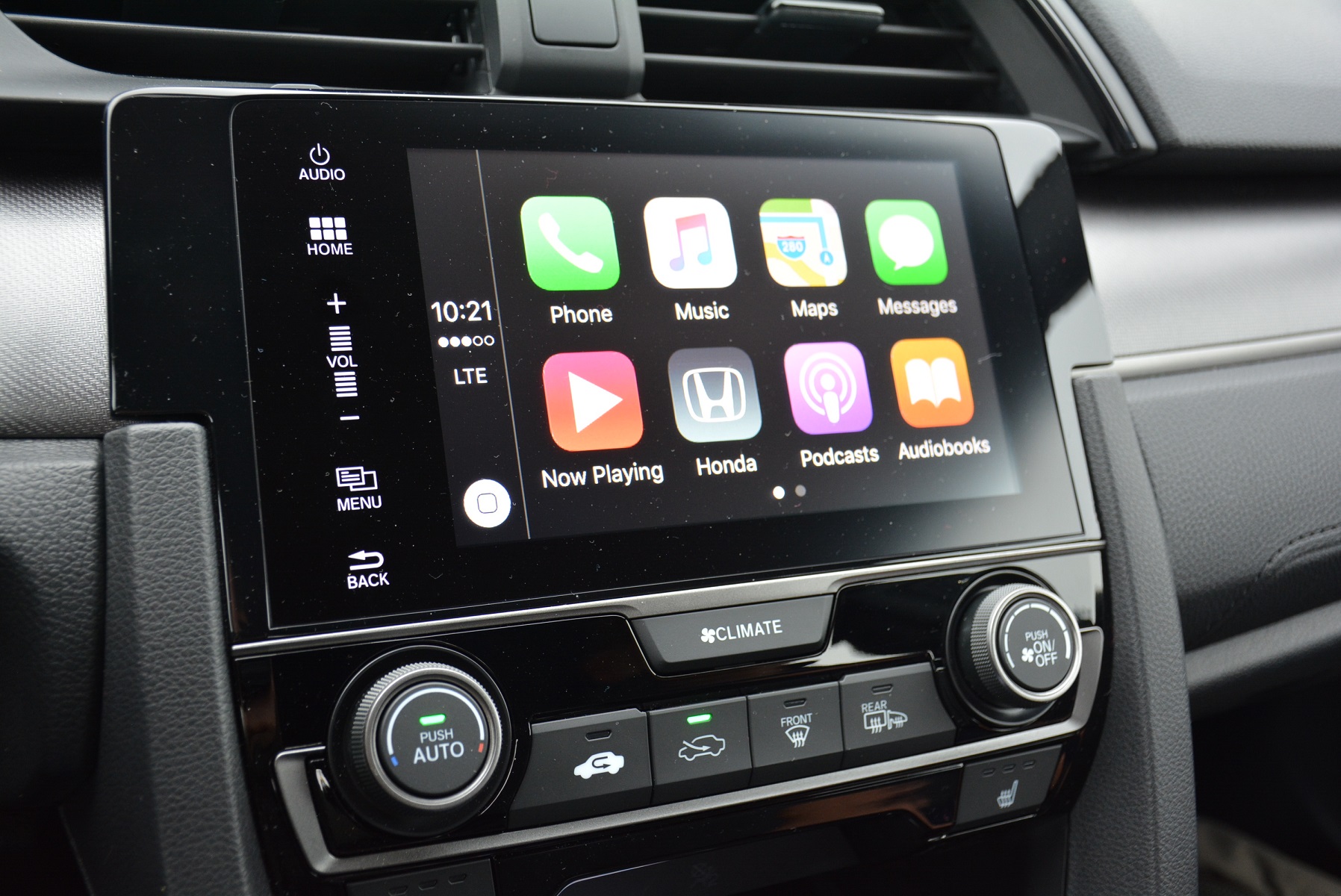 Each trim will come with Honda Sensing as an option, while the Sport Touring comes with it as standard. Honda Sensing is a suite of advanced safety technologies aimed to maximize the occupants safety. The technologies include: Collision Mitigation Braking System, Road Departure Mitigation, Adaptive Cruise Control with Low Speed Follow and Lane Keeping Assist. In addition, Honda LaneWatch – a camera that's displayed on the touchscreen during right hand turns to see your blindspot – comes standard in Sport and above.
Exterior styling differences are hard to come by in the hatch versus the sedan, save for the reworking of its rear that gets reduced by 135 mm. But if you look closely at the front, the grille does possess a more sporty look with a black stream running through it, and the hood becomes wider to accompany the standard turbo engine.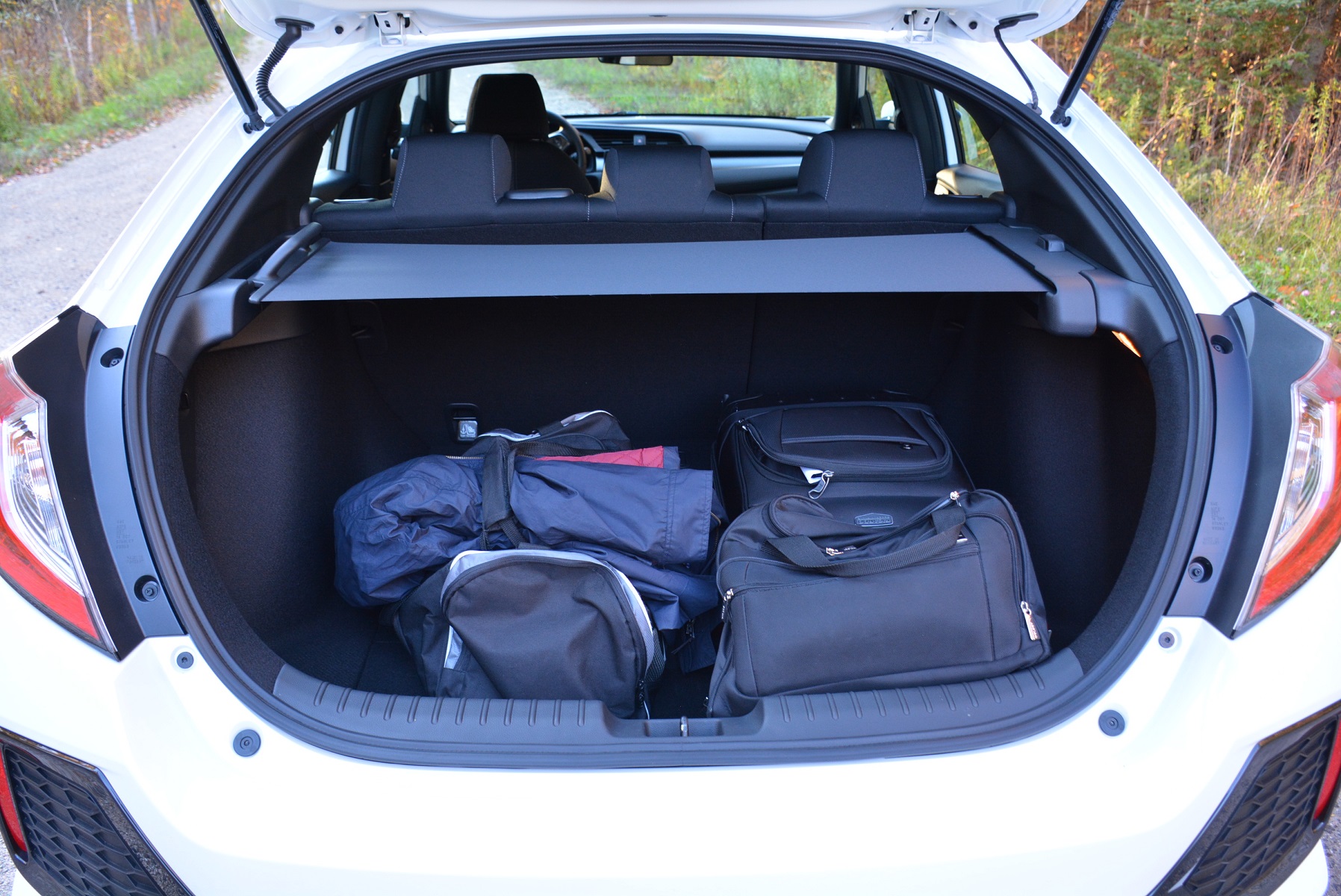 But in the end, when it comes to a hatch, it's all about that rear. Honda has created segment-leading maximum cargo and passenger volume. Rear legroom is exceptional, but the versatility in the hatch shines with 1,120 mm  of trunk width and 960 mm of length. In total, there's 728 litres of cargo space behind the second row, which leads the segment as well. According to Honda, it can store up to three golf bags or two large and two mid-size suitcases, and it's tonneau cover doesn't even get in the way as it can unwind from side to side – a world's first.
It's hard to find many faults with the 2017 Honda Civic hatch. It's reemergence was a long time coming for a country filled with hatch lovers, and it's great to see it back in the fold. The drive is not only smooth and quiet, it can be turn some hot corners for a base price of $21,390. As aforementioned, the hatch is the premium choice between the sedan and coupe and the costs reflect that. The Sport trim moves up to $25,190; while the Sport Touring begins at $29,390, topping out at $30,690 with the CVT and Honda Sensing package

The Civic hatch is currently available at Honda showrooms throughout Canada.