First Drive – 2017 Hyundai Ioniq: the power of three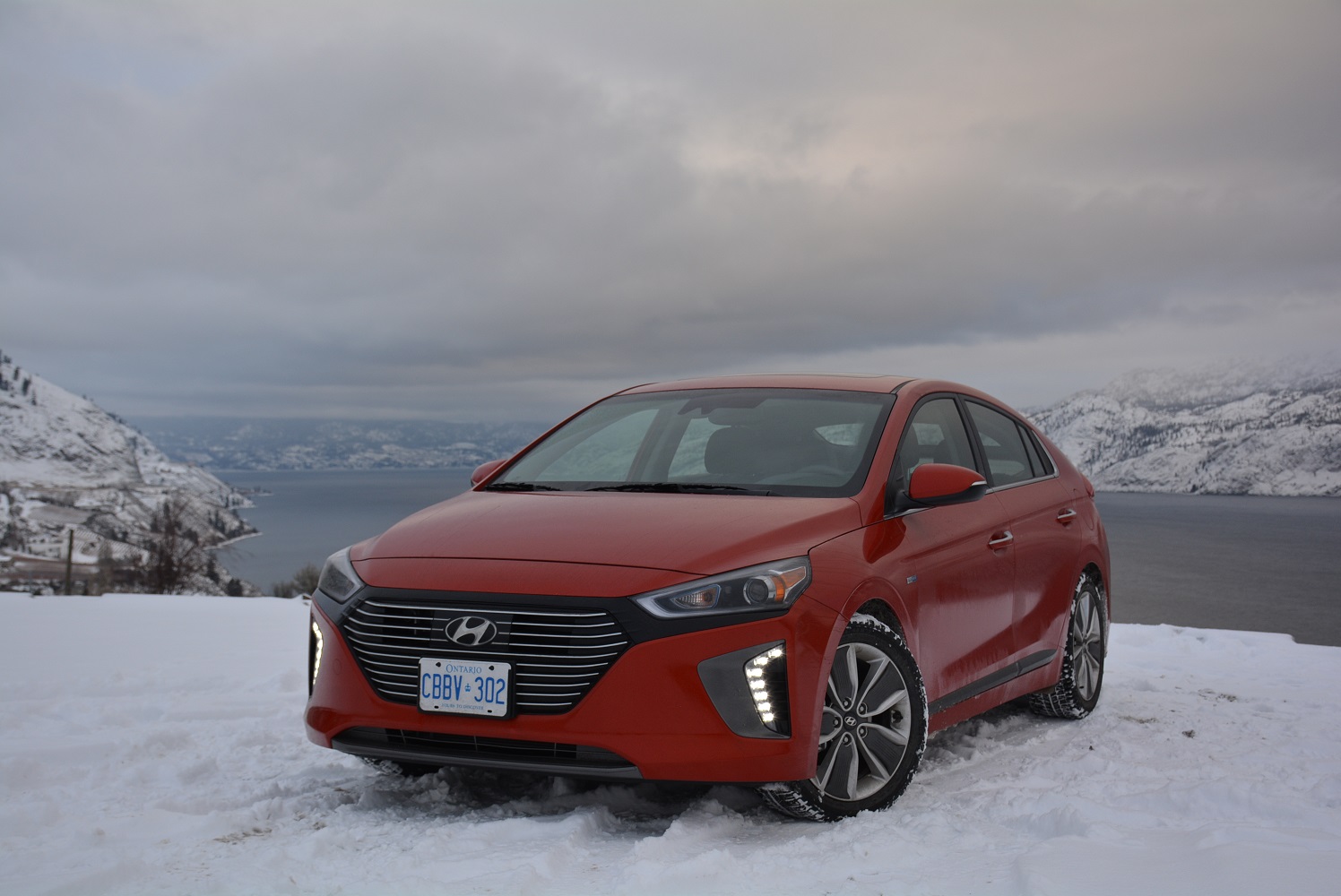 Kelowna, BC – It seems like each month another automaker rolls out a new alternative powertrain vehicle. It's simply the wave of the future, but one that hasn't caught on in the sales department.

Hyundai is hoping to change that static trajectory with its first dedicated electrified vehicle – the Ioniq. The name sounds a bit futuristic, but this will be one of many new eco models – 28 to be exact between Hyundai, Genesis, and sister brand Kia – by 2020. According to Hyundai CEO and president Don Romano, "we're in this alternative powertrain for the long haul...we don't know what that ultimate solution will be, and it may just be a combination of all."

And with the Ioniq, it's clear Hyundai isn't putting its eggs in just one basket with three drivetrains: hybrid, plug-in hybrid and electric. The first two to be released to the public are the hybrid and electric, and those versions were available to test on this exclusive test drive in Kelowna, BC. The plug-in hybrid will be released closer to the end of the year.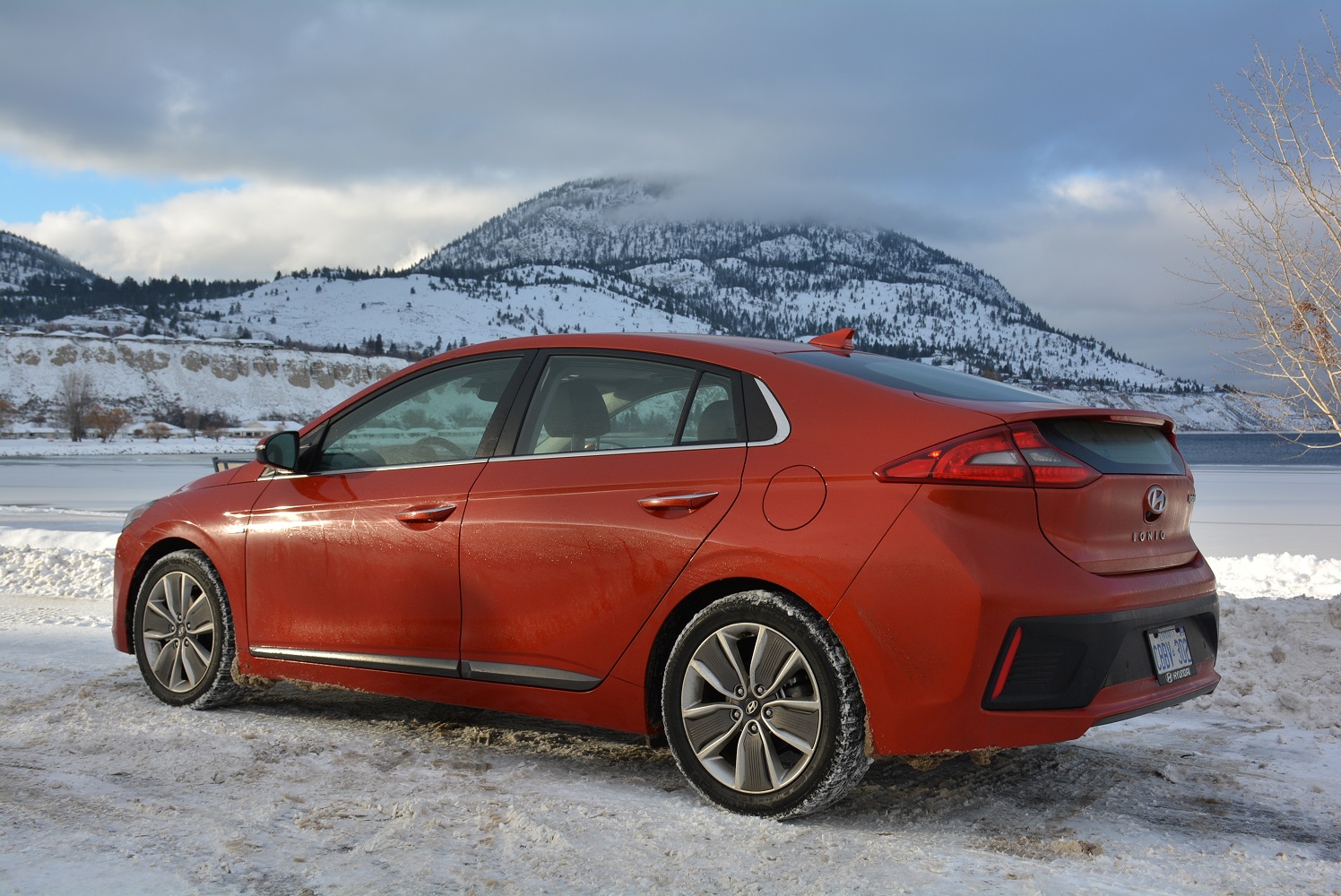 It can be tricky to find a mild climate in February, especially in Canada, and that would be the case on the snowy streets of Kelowna after a 20 cms snowfall. Not an ideal setting for an electrified vehicle, but sometimes that's the unexpected way life is, and the one positive it provided was the opportunity for a practical situational weather test.

As much as the Ioniq was built for optimal fuel efficiency, Hyundai made sure that the look and feel of the vehicle would appeal to everyday consumers. Therefore, we see the combination of style and substance that Hyundai is calling 'Visual Aero.'  Both the hybrid and all-electric versions start with a forward-moving aerodynamic silhouette that provides some nice curves and visuals for the hatch, along with a class-leading drag coefficient of 0.24 that is supported by air curtains that divert airflow.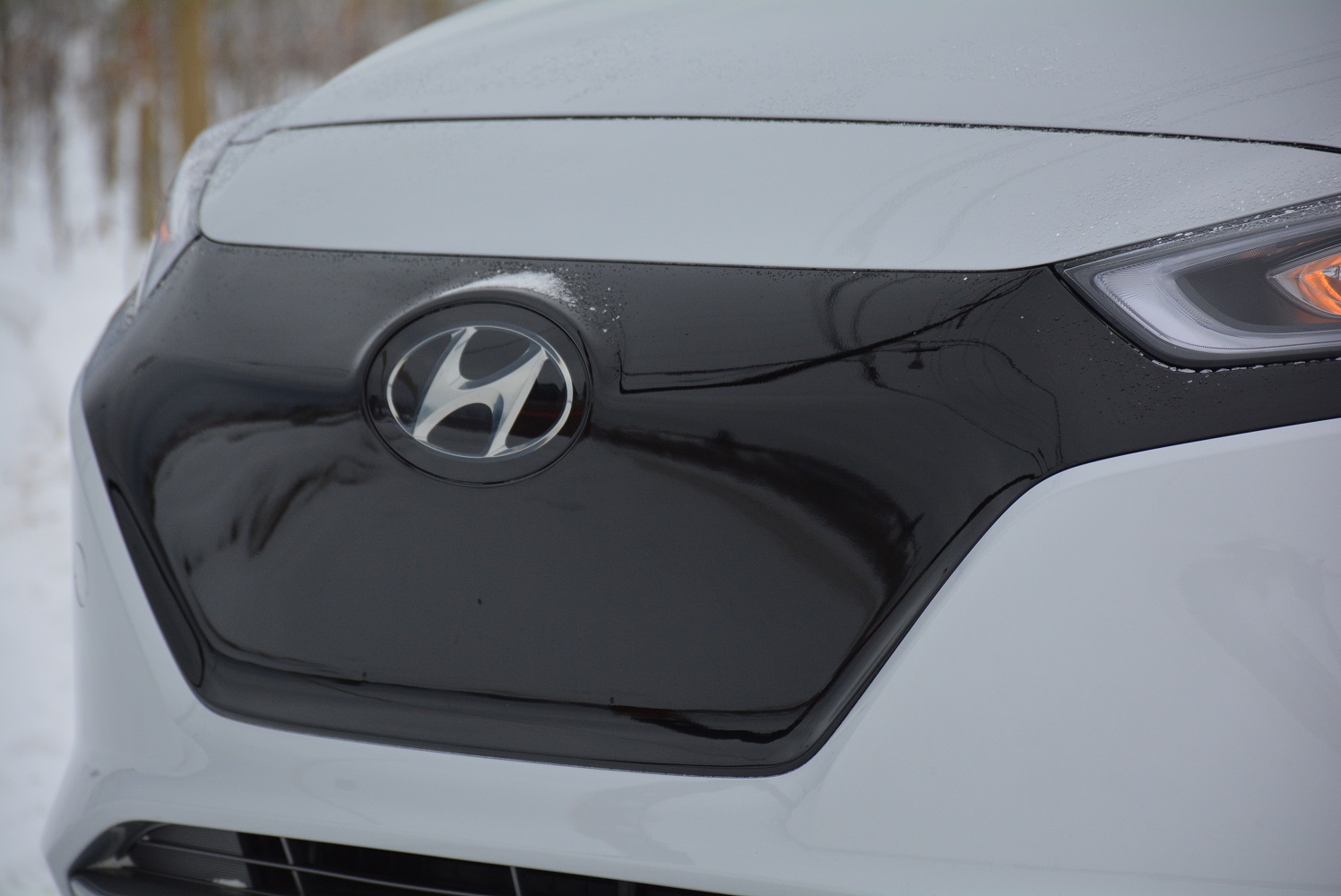 The big difference between the two is found smack dab in its grille. The hybrid sports Hyundai's signature hexagonal grille with rakish horizontal slats, while the electric has the same shape but with the entire grille blacked out. The blacked out look may stand out more, but it's not the better of the two. The hybrid grille simply adds more character to its exterior and provides a better design flow throughout. The electric version does receive its own styling for its bi-xenon headlights and LED taillights.

Without styling, it's hard to break in any new product, but the key to Ioniq is clearly in its powertrains. The hybrid utilizes a new direct-injection 1.6-litre Atkinson four-cylinder engine that produces 104 hp and 109 lb.-ft. of torque that's matched to a six-speed dual clutch transmission (DCT) – the same setup found in the new Kia Niro. When combined with a 32 kW electronic motor that's powered by 1.56 kWh lithium-ion battery, the total performance of the vehicle ramps up to 139 hp and a whopping 195 lb.-ft. of torque. In addition, the hybrid has a world's first consolidated 12-volt battery, which can be accessed when a jump start is needed.

The all-electric version naturally discards the gas engine and runs solely on an 88 kW electric motor in conjunction with a 28 kWh lithium-ion battery and matched to a single-speed reduction gear shifter to a tune of 118 hp and 218 lb.-ft. of torque. The EV can go a fairly long distance, up to 200 km/h on a full charge that takes up to 4.5 hours on a Level 2 charging station and only 30 minutes on a Level 3.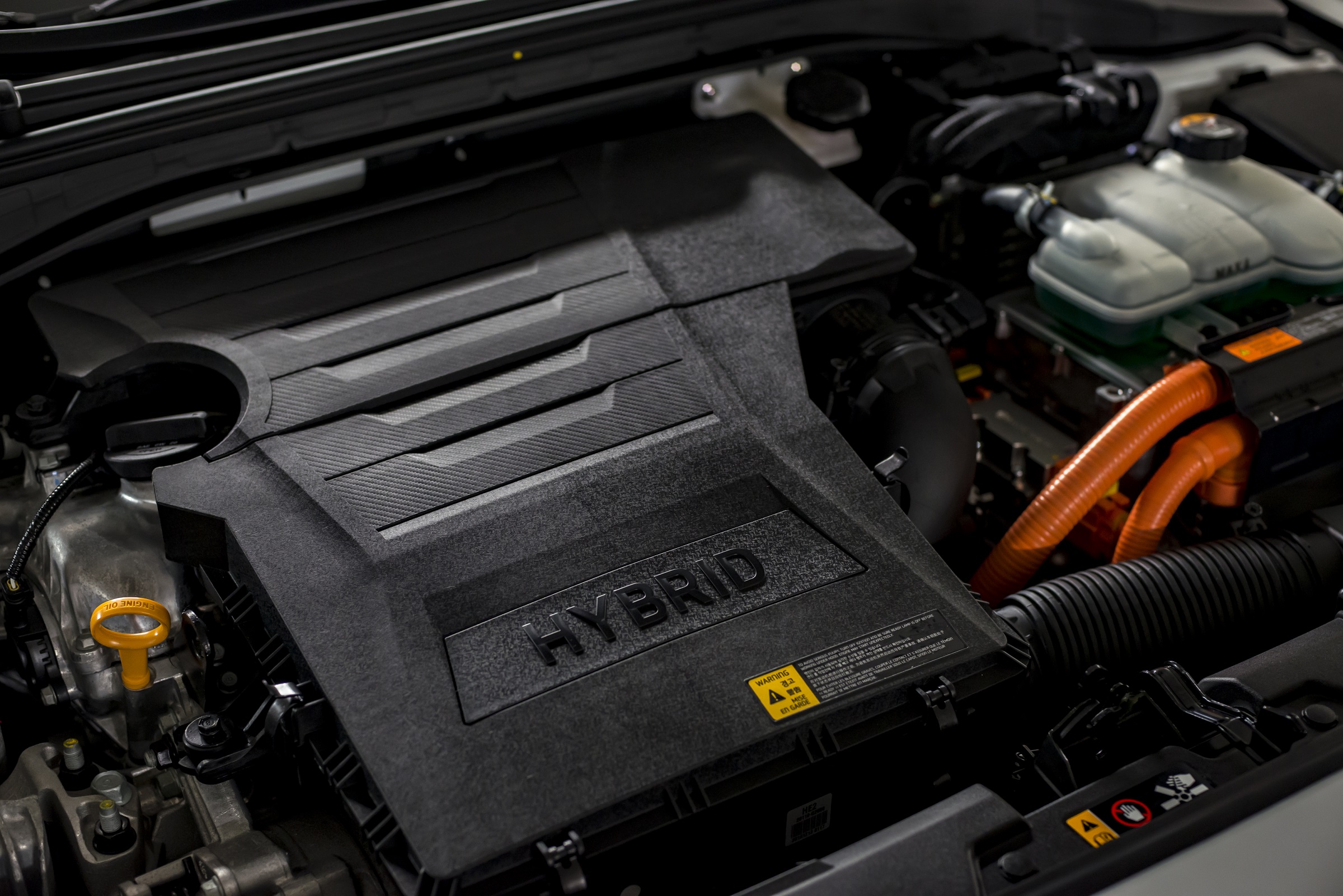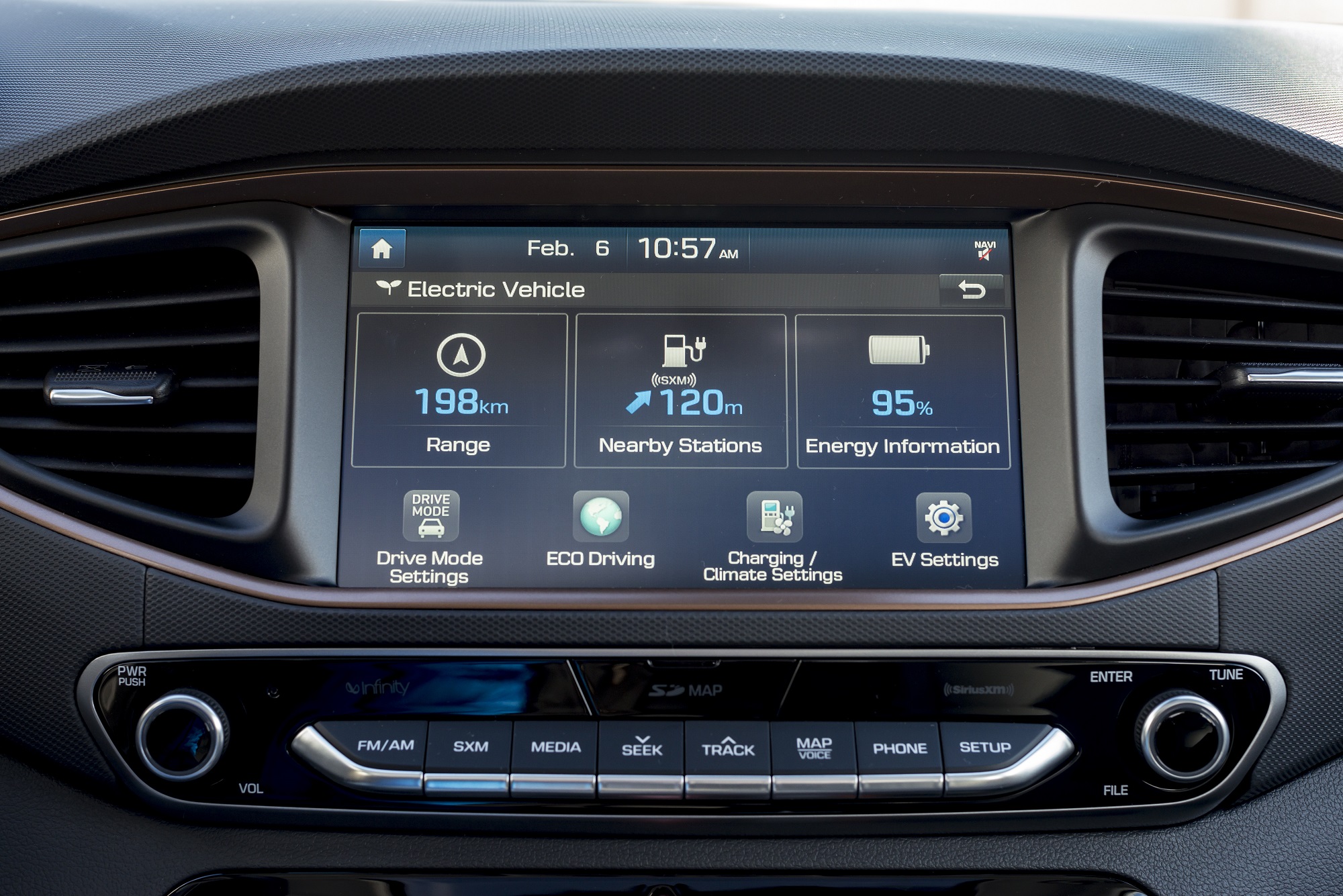 There are several key attributes to the electric system. The first is a battery management system that pre-warms the battery while charging for a 14 percent improvement in quick charge time. Secondly, a new heat pumping system reduces the use of the Heating Ventilation and Air Conditioning System (HVAC) that allows an increase of 16.1 percent driving range.

The day started in the electric version that was fully charged up and ready to go. Initial acceleration was championed by its instant torque, as it pushed forward in the hotel complex in a quiet and smooth manner. Once hitting the main roads, it was quickly discovered that this drive would be more about traction than gradual coasting. It was a balancing act for an EV drive, as it's rare to press the accelerator to the max, quickly draining the battery in the process. Sport mode is available, and that's a bonus for those moments when the pace needs to be picked up.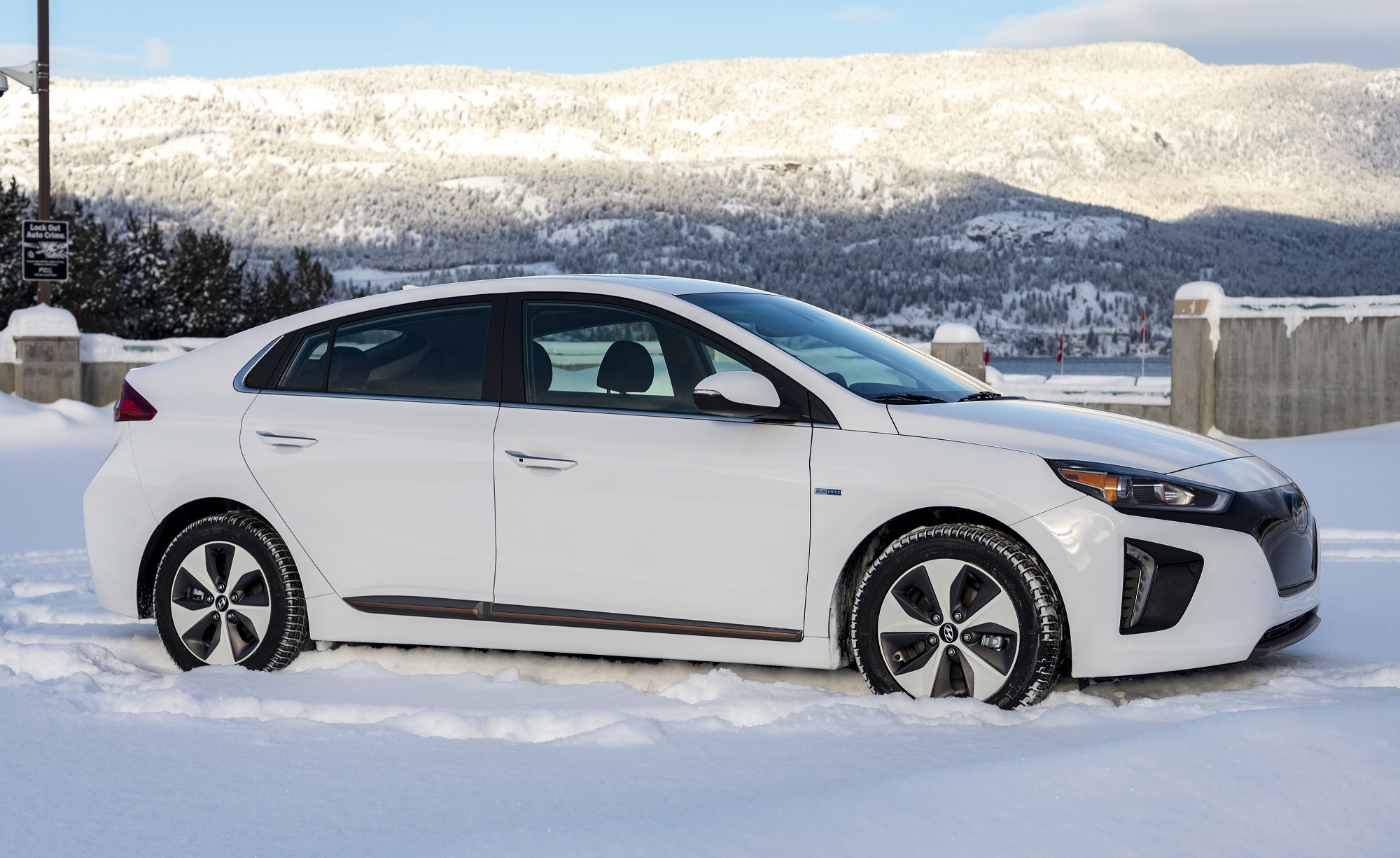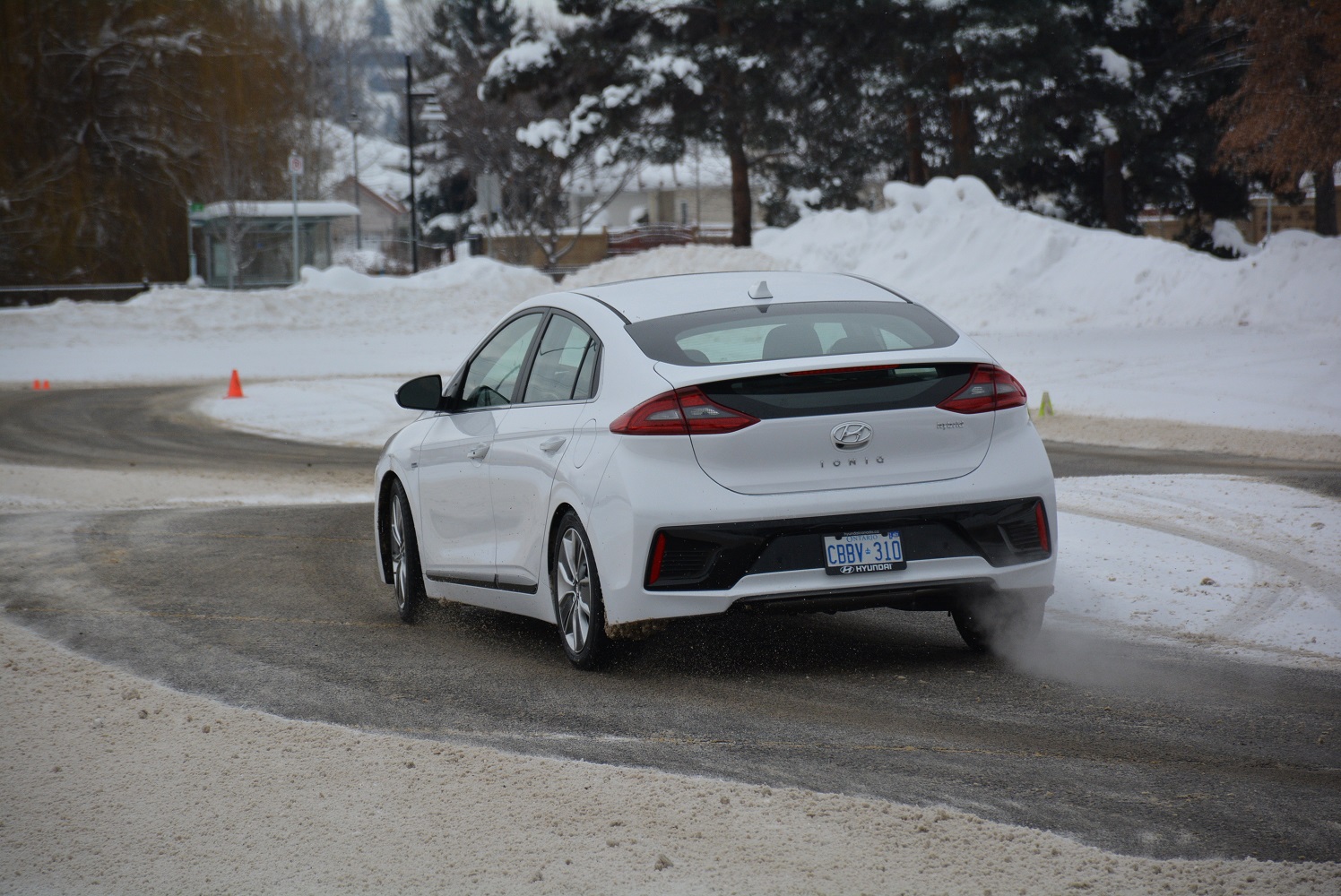 With the heating only slightly on, the initial range was lowered to 184 kms, and after a lengthy hour and a half drive, we managed to still have 96 kms left thanks to a sophisticated regenerative braking system that worked effectively when coasting or braking without the typical EV sounds. For more control of the regenerating process, there are paddle shifters on the steering wheel with three levels that controls the aggression of energy recuperation.

From a gas savings perspective, the Ioniq electric did its job as it's officially rated ahead of some heavy hitters in the Chevrolet Bolt, Volkswagen e-Golf and Nissan Leaf with a combined fuel economy of 1.7 Le/100 km. There were some traction issues, as the weight of the battery is found under the second row, so this car wouldn't be the recommended choice during a cold and heavy snowfall for various reasons.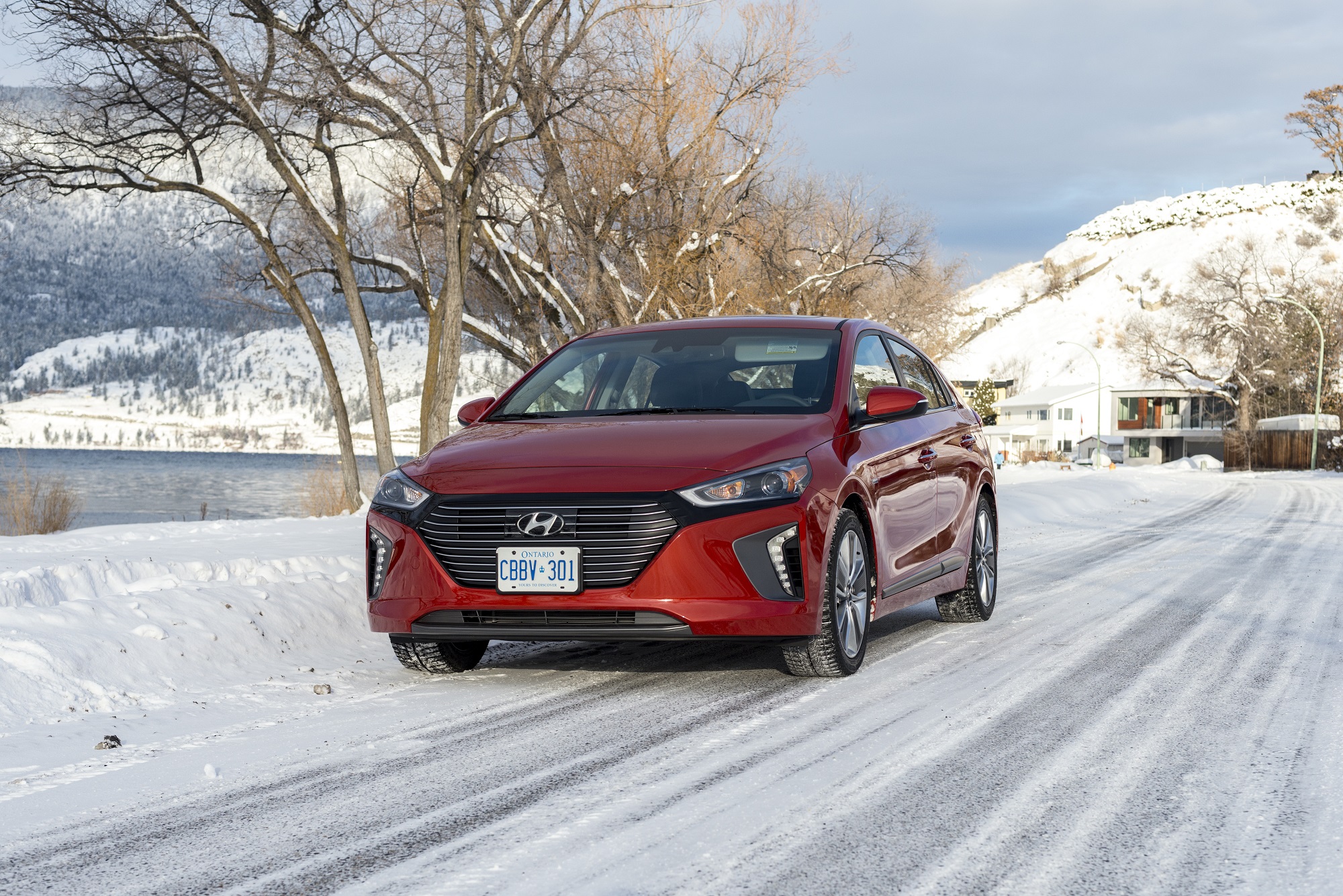 When switching to the hybrid, an entirely different picture was painted. The hybrid possessed plenty of traction, and it didn't just look like a regular gas car, it drove like one as well. The DCT enhances the drive with a more rapid throttle response and overall lively drive that was demonstrated during a handling exercise. The Ioniq hybrid was placed into Sport mode and accelerated briskly to the stopping zone. After that, it was all about its dutiful handling through a slalom with quick reactions to minor steering inputs from its flat-bottomed steering wheel. It didn't carry the overwhelming speed needed for a exhilarating ride, but in the end, it's a hybrid, and that will always be structured to maximize fuel economy over speed. And when you see a combined 4.9 L/100 km fuel economy rating as I did at the end of the drive, you'll understand why and be happy about it.

The drive through the picturesque roads of Kelowna through the vast wineries was pleasant. Very little road noise or vibrations were felt in an overall comfortable ride in a cabin that was neatly organized, comfortable and easily laid out through its seven- or optional eight-inch screen and LCD information screens. Hyundai uses a host of recycled or eco-friendly materials such as sugar cane and powdered wood that doesn't get noticed, which is a win-win for the owner and the environment. The one thing that became a nuisance while driving was visibility. Yes, the snow had an impact on this, but the split rear window was too narrow causing difficulty at certain times along the drive.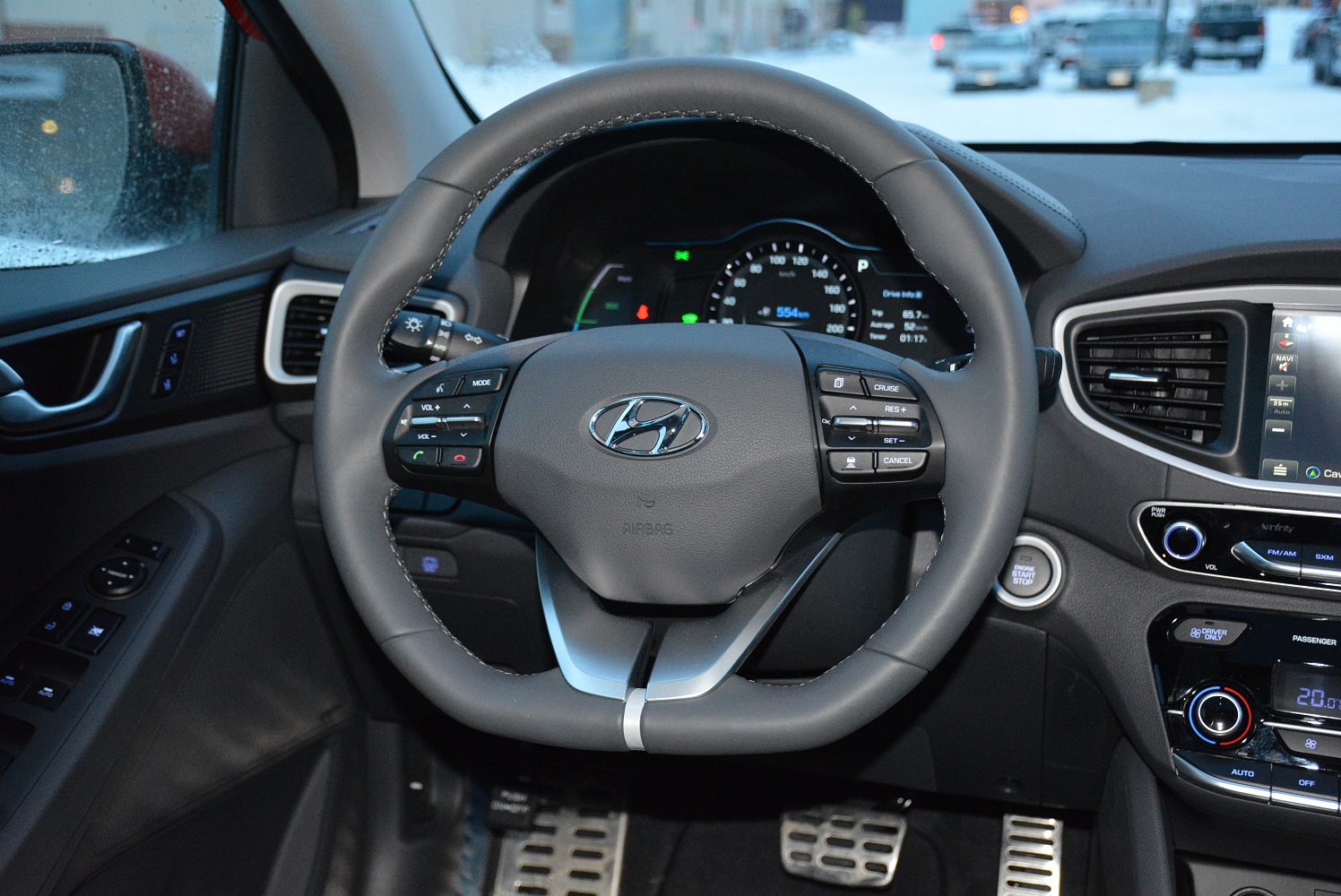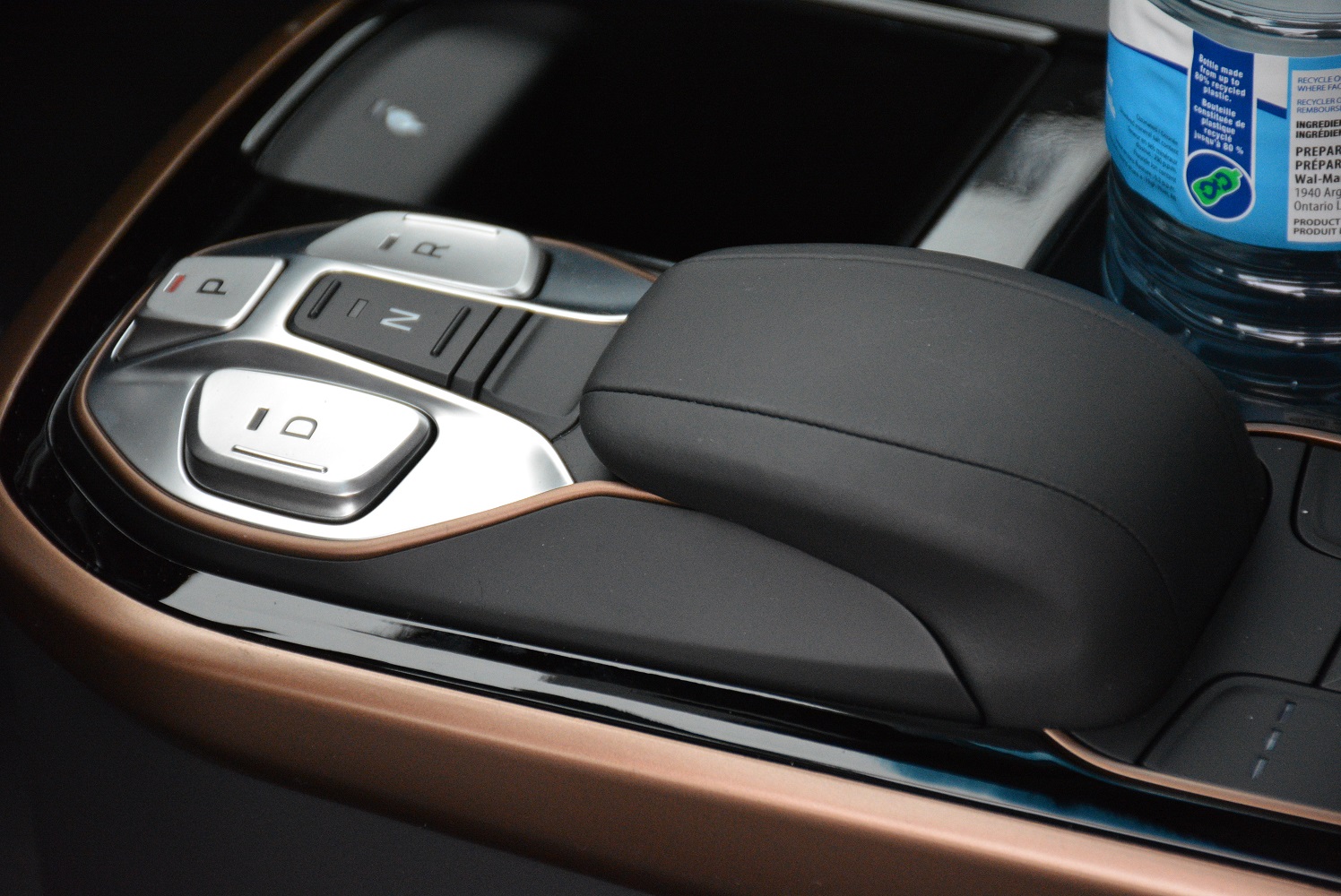 Technology features are abundant throughout the trim lines, but the Ioniq receives a few standards that include heated front seats, a rear view camera, as well as Apple Car Play and Android Auto. For heated rear seats, you need to go up a trim level from the base; while a heated steering wheel is standard on all trims except for the base hybrid. Other safety technology options include Lane Departure Warning, Blind Spot Detection with Lane Change Assist and Rear Cross Traffic Alert, and Autonomous Emergency Braking with pedestrian detection.  

Cargo space in all Ioniq versions are similar with a total of 3,474 litres in the hybrid with the second row down, while the electric gets 3,375. Cargo space is identical in the passenger compartment areas, and it only changes in the trunk with the hybrid receiving 100 litres more for a total of 750.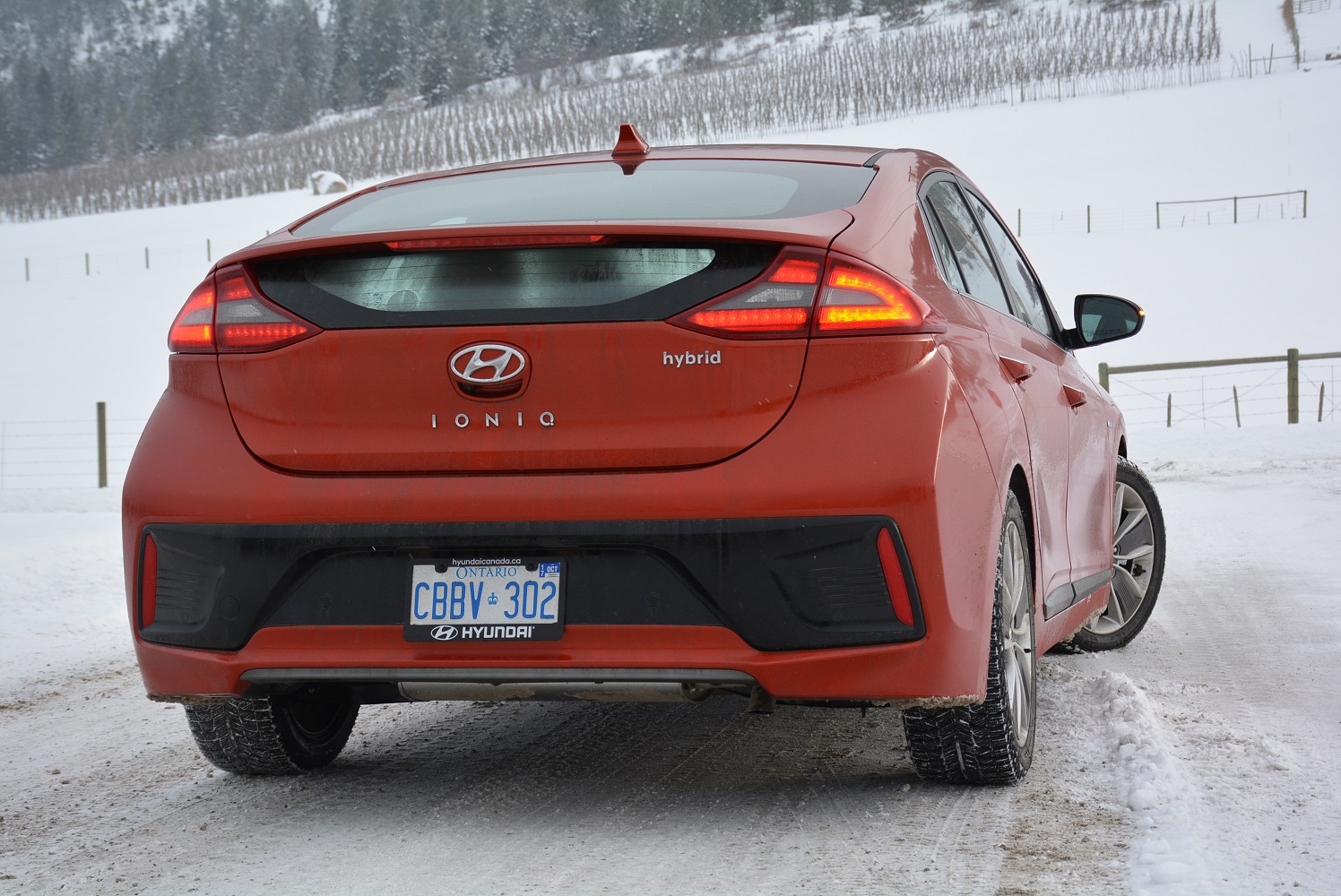 The 2017 Hyundai Ioniq will be on sale shortly at a starting hybrid price of $24,000. Other prices will follow, as the Ioniq attempts to be the value option that competes head-on with the Toyota Prius for its hybrid and the new Chevrolet Bolt when it comes to all-electric. Hyundai will be hoping that its price advantage, multiple powertrain options and large cargo area become a decisive turning point for buyers.

The concentration of sales will clearly be in the provinces of British Colombia, Ontario and Quebec where government incentives can tip the scale in making the electric version max out in Ontario at $14,000 less than the asking price. The hybrid will only receive a $500 break in Quebec, but when the plug-in version arrives that can save up to $8,200.