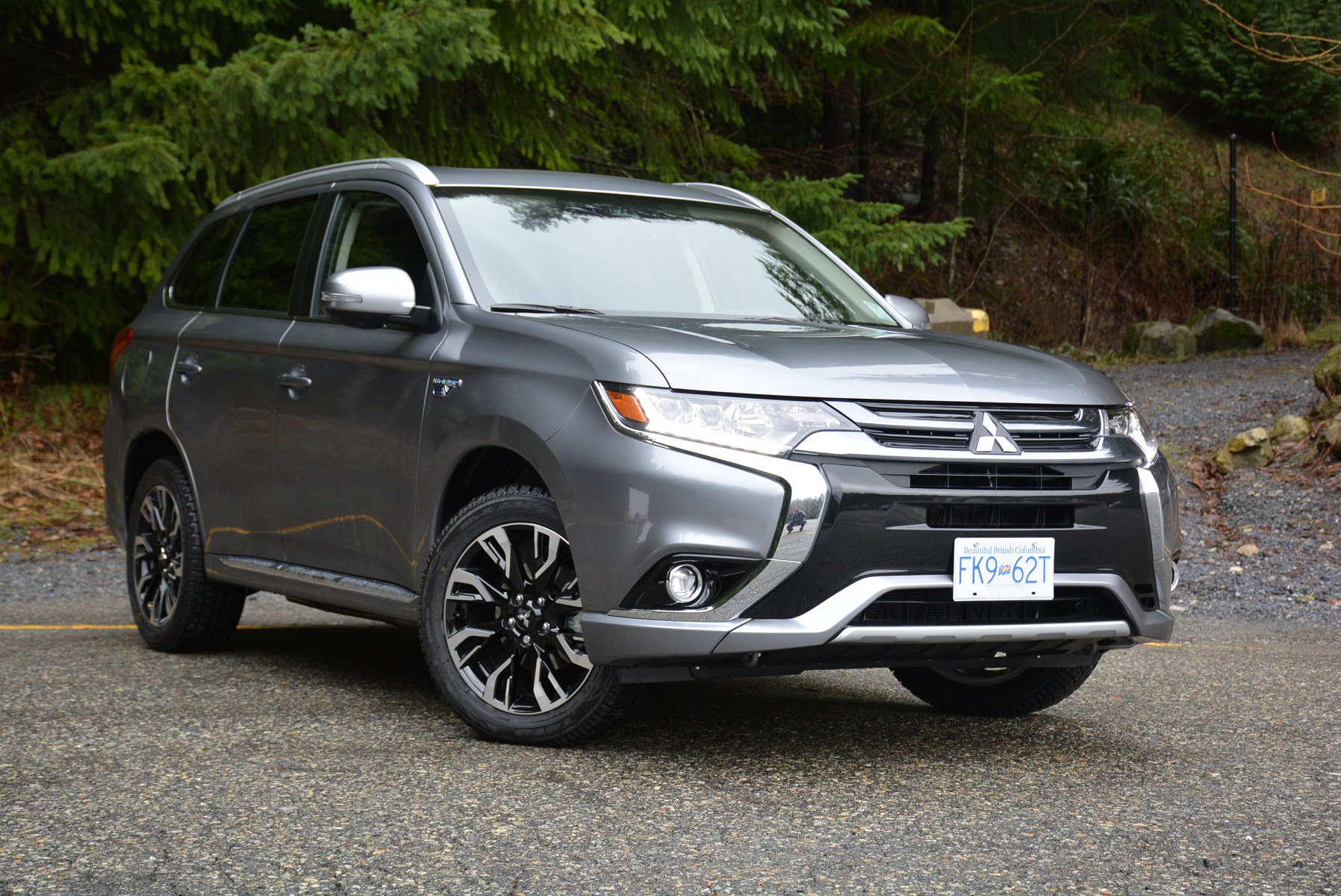 Vancouver, BC – After a long wait, the Mitsubishi Outlander PHEV finally makes its Canadian debut. It's no stranger globally, initially making its world debut in 2013, but in short order, it has become the world's best-selling plug-in hybrid electric SUV.

Just how important is the Outlander PHEV to the Mitsubishi brand?

Don Ulmer, Senior Manager, Product Planning, Mitsubishi Motor Sales of Canada called it: "the most significant launch in our vehicle history," during a product presentation ahead of its first drive program in rainy Vancouver.

Its significance boils down to the brand's new direction under the Renault-Nissan-Mitsubishi Alliance with expected plans to lead the electrification charge featuring 40 electrified vehicles (12 of them pure electrics) by 2022.

The Outlander PHEV doesn't have a ton of direct competition, closest being the Mini Countryman from a price point, followed by the Chrysler Pacifica and Volvo XC60. All of them are plug-in hybrid electrics, but the Outlander is the only one with DC Fast Charging capabilities, an exciting attribute for a world that's not growing in patience. It also has the longest EV range at 35 kilometres of any PHEV SUV (not including the Pacifica minivan) that can be quick-charged up to 80 percent in under 30 minutes.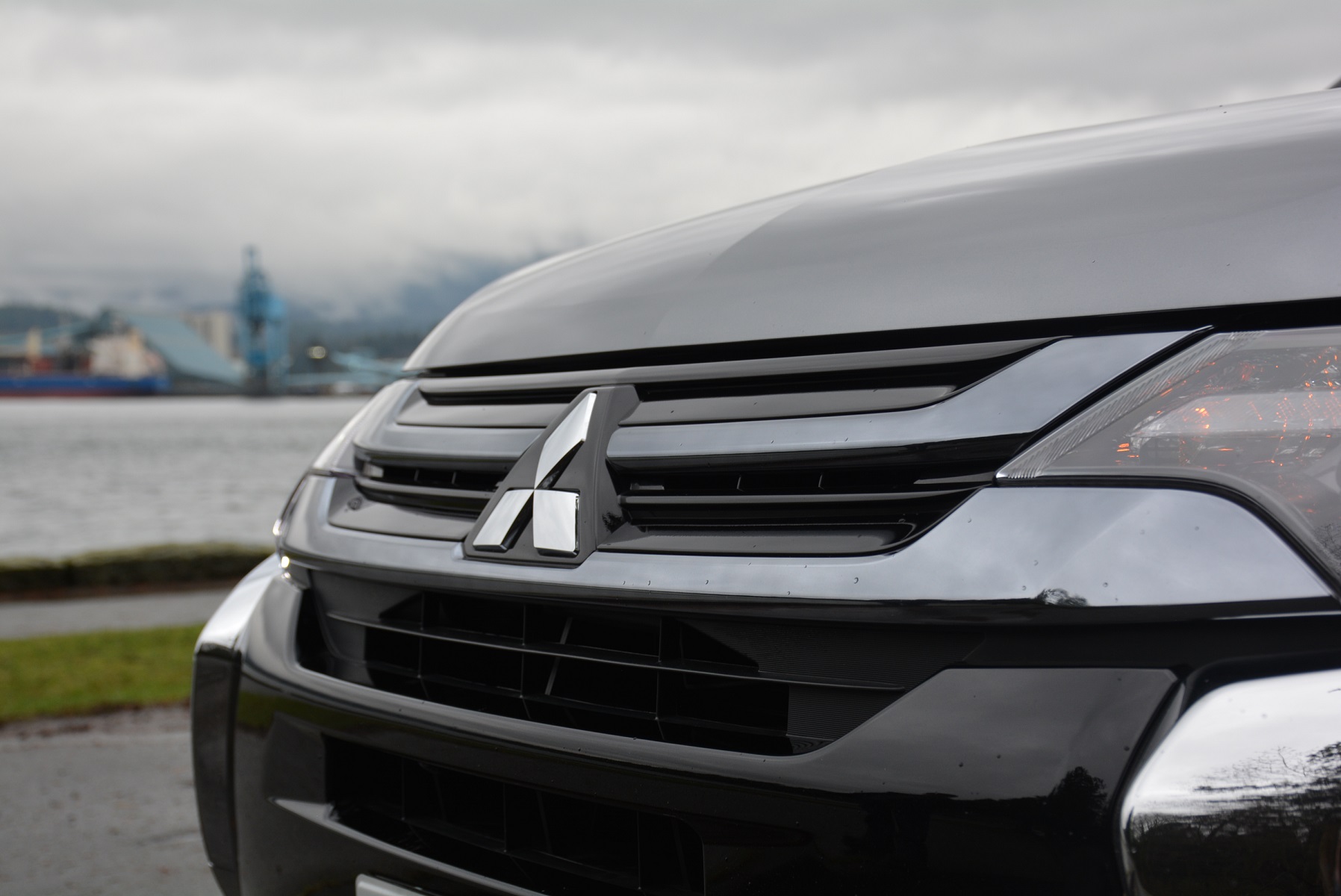 What drives it?

The PHEV setup starts with a 2.0-litre four-cylinder unit, as opposed to the 2.4-litre that propels the gas version. On top of the gas engine output, the PHEV is fitted with front and rear electric motors at 80 hp each that's aided by a 12 kWh battery pack situated centrally under the seats. In order for all of this to function smoothly, the gas engine powers the front wheels, while a single gear-transmission takes care of its rears.

There's a lot that goes into the Outlander PHEV, but no total output numbers are provided by the Japanese brand. For a breakdown, the 2.0-litre unit produces 117 hp and 137 lb-ft of torque; another 160 hp and 245 lb-ft of torque is developed by the two small electric motors (the rear has more torque). All of this creates a unique SUV that can be 100 percent EV functioning (at least for 35 km) and always set for four-wheel drive capability.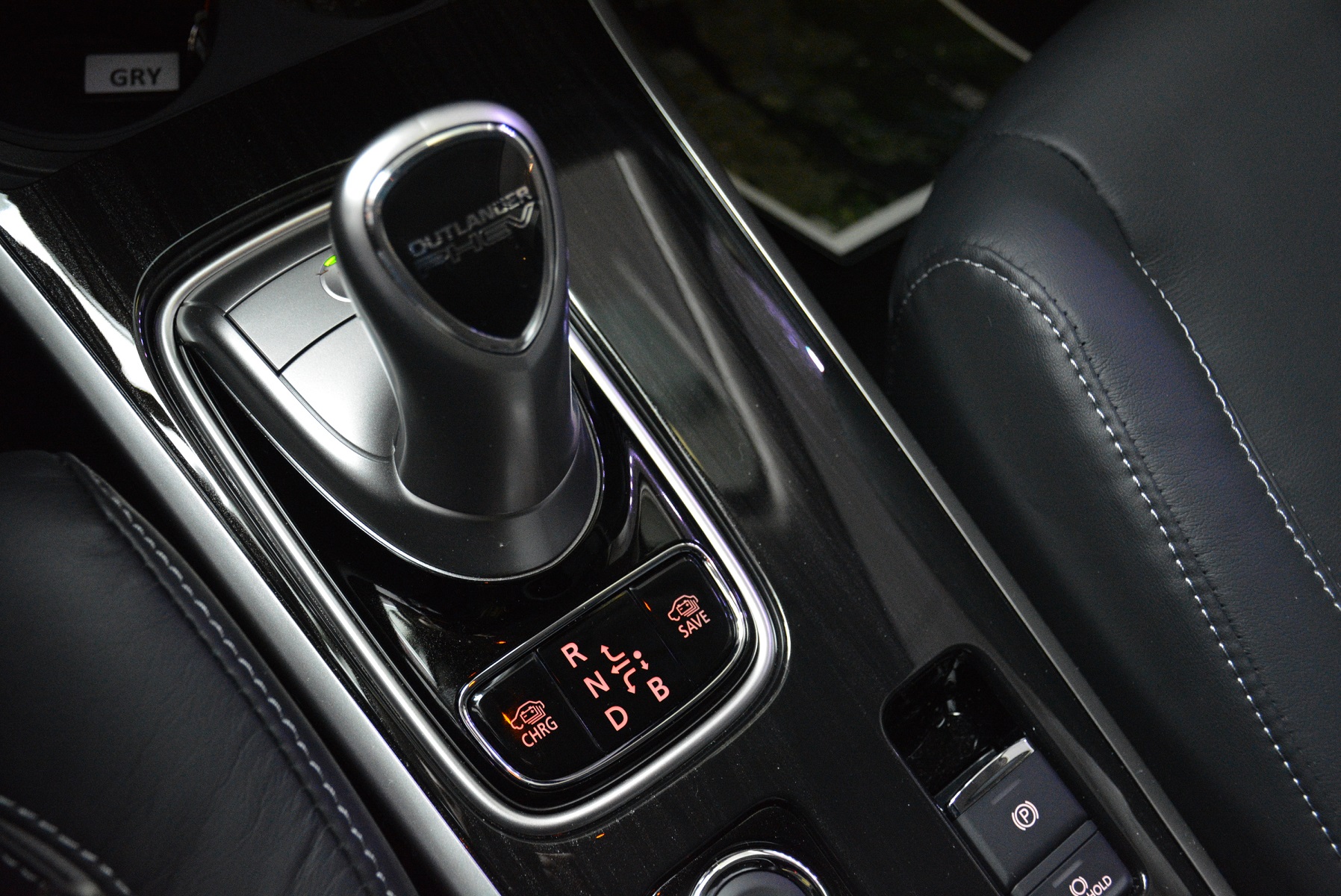 Another unique aspect to the Outlander PHEV is its three driving modes that automatically adjust based on speed and slope of the road. The system starts in EV – its default setting. In EV, it does exactly what one would expect, a pure electric drive without any tailpipe emissions. The gas engine only starts to be engaged in Series Hybrid mode. Here, the SUV is still driven by its electric motors with the gas engine simply operating as a generator to produce electricity for the battery. Lastly, Parallel Hybrid mode is run by the gas engine and is only assisted by its electric motors when required. This mode typically engages when accelerating hard or beyond 120 km/h, as well as on uphill climbs.

And just when you had enough of a technology write-up, there are three additional driver-selectable modes situated around its complicated and highly unnecessary gear shift. First off is EV Priority mode – a first in North America – that uses electric motors exclusively until the battery is down to one bar or if the SUV is driving at speeds higher than 120 km/h. Secondly there's Battery Charge mode, where the driver can setup a charge up to 80 percent while driving. Within 40 minutes, the Outlander will get its charge back and be ready for its next outing in full EV mode. The only downside is a more sluggish ride as it tries to stay away from using the gas engine. Lastly, Battery Save mode maintains the current battery state of charge.

How does it drive?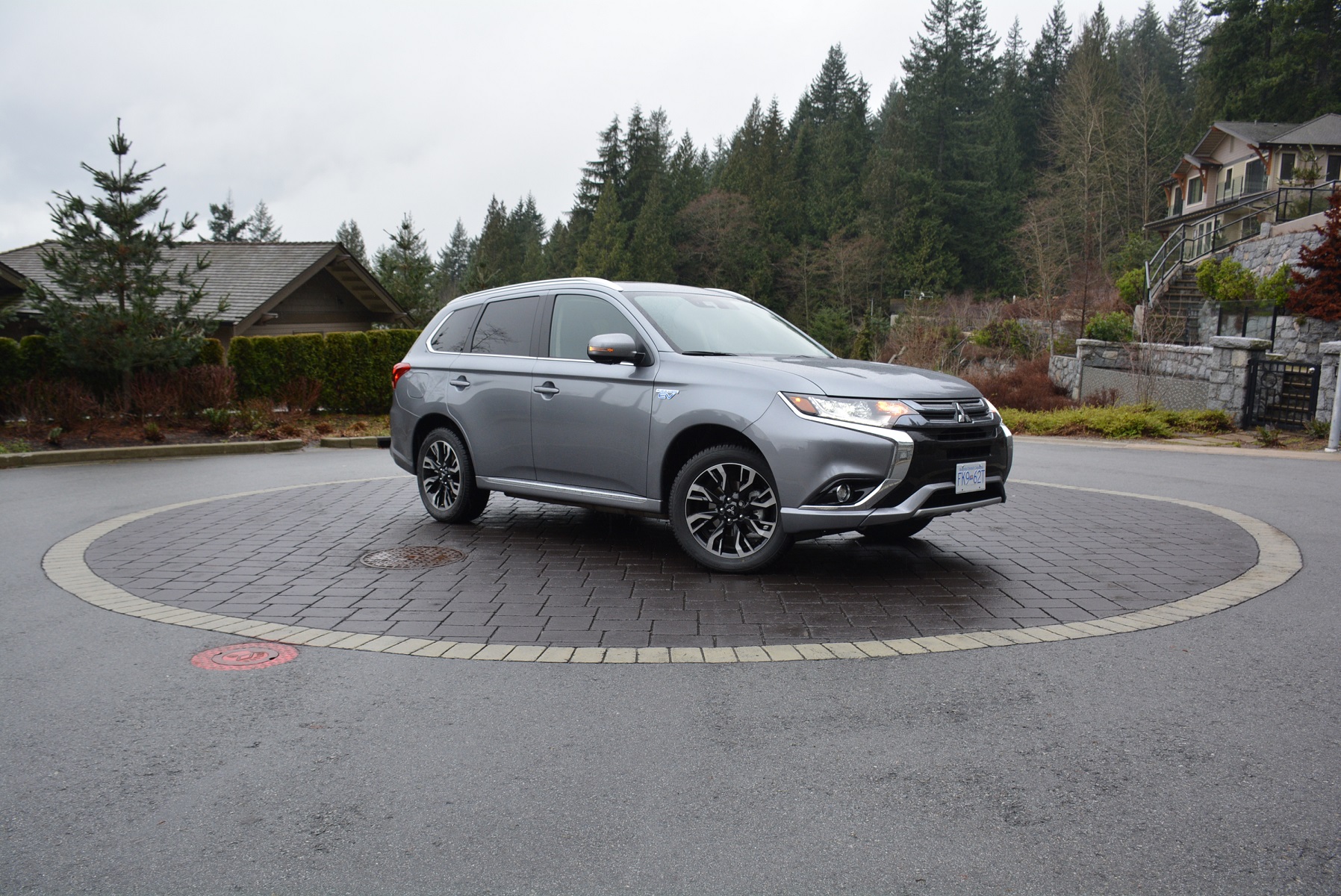 With oodles of technology, one might think the Outlander PHEV may be difficult to drive, but it's quite the opposite. Outside of the driver-selectable modes, the Outlander does its business automatically and seamlessly, and its system at work can be monitored through its colourful and vibrant infotainment unit.
Three trim levels are offered: a base SE, SE Touring and GT, all coming standard with Mitsubishi's Super All-Wheel-Control (S-AWC). Naturally for this first drive in Vancouver, we all were placed in the top-of-the-line GT dressed up in leather seats, faux wood accents, a plethora of safety equipment and a power liftgate. It's not the most exciting vehicle to be cooped up in, but for Mitsubishi, it's one step at a time, and its ride is where the excitement lies.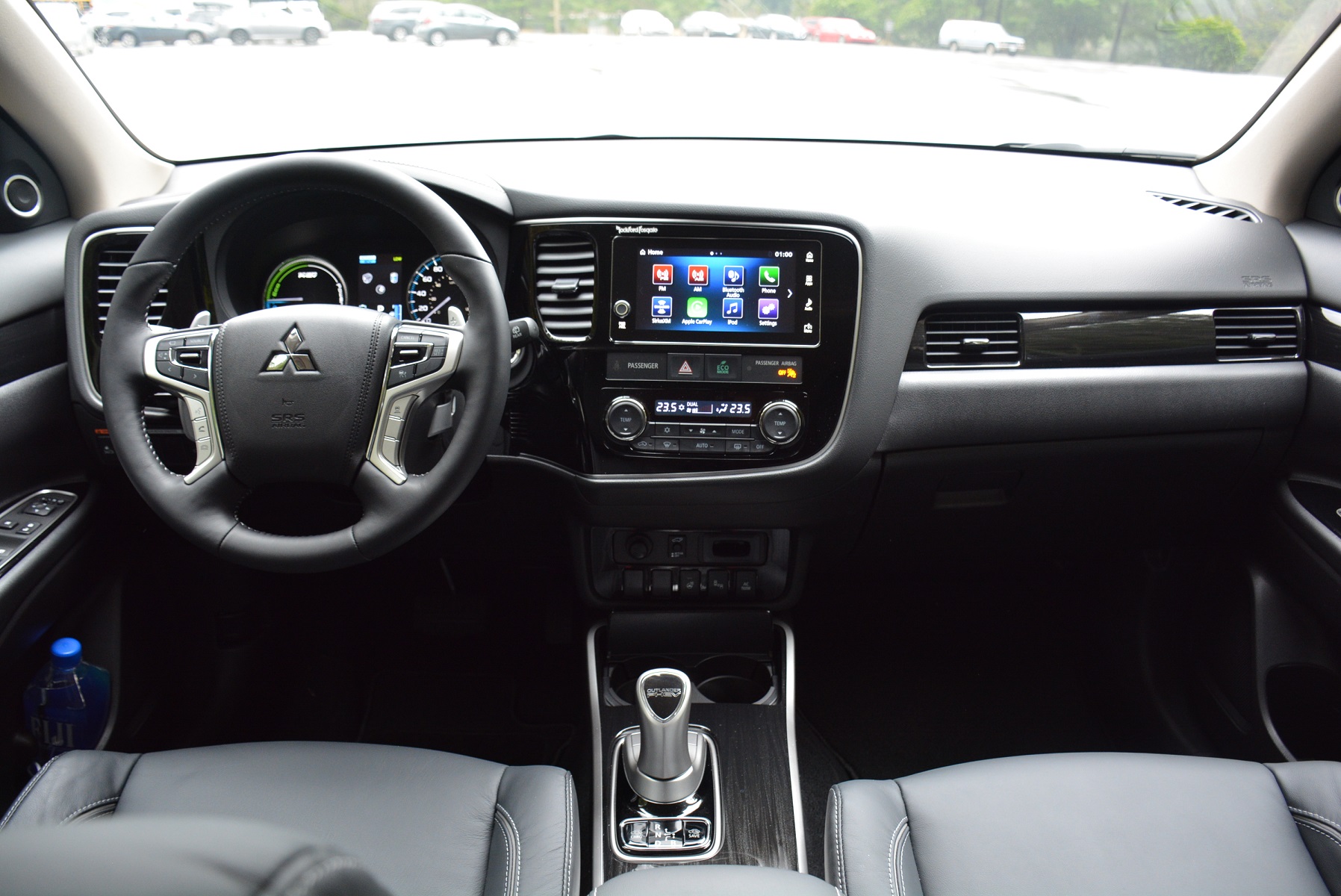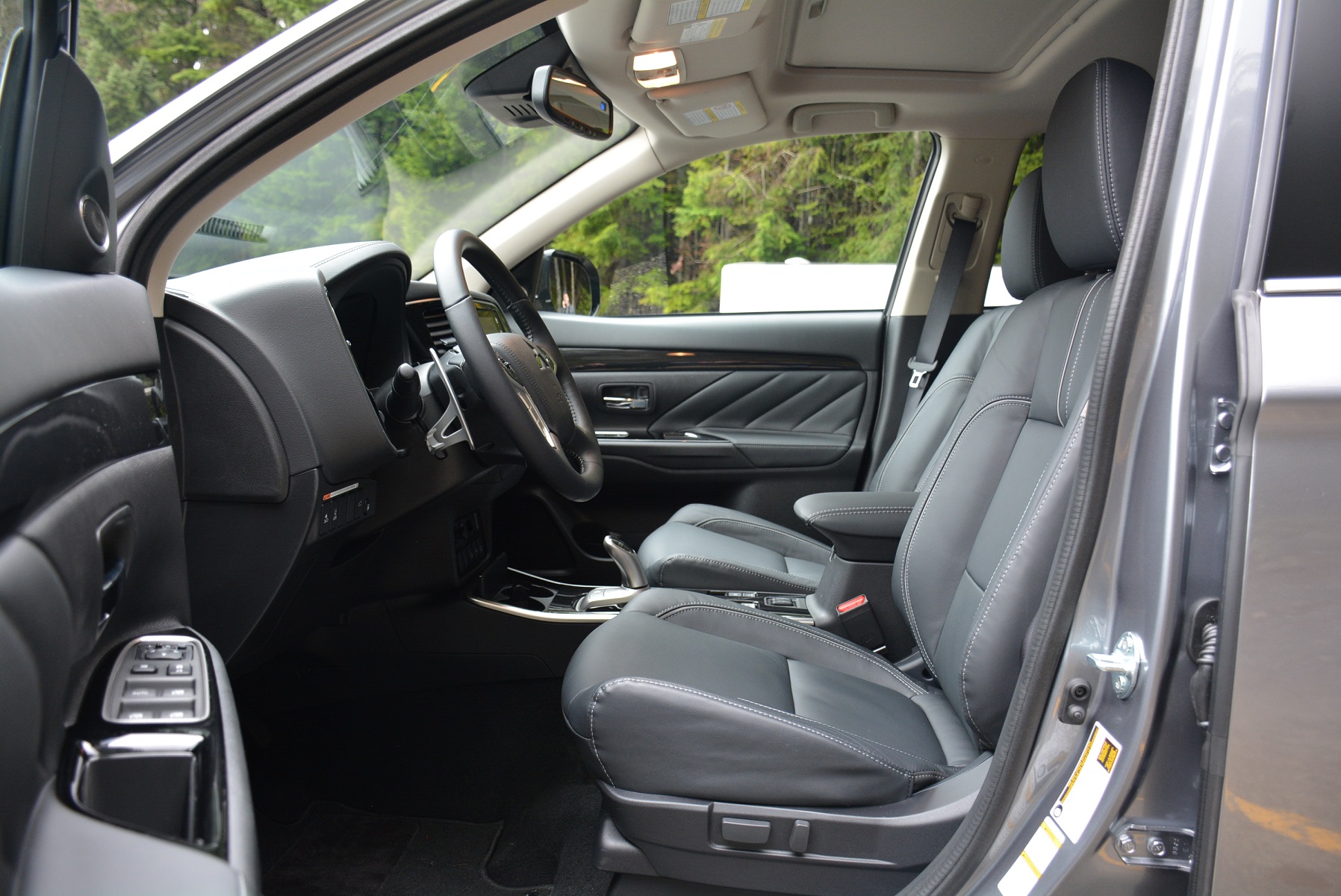 Torque comes in abundance from its electric motors and that helps propel the Outlander quickly off-the-line. The most surprising attribute comes from its smooth and quiet ride. With all the technology at play, as well as past history of EV-type cars, there can be a fair share of whiny or buzzing noises that surround the drive; however with the Outlander PHEV, the drive is refreshingly normal and relaxing, and quite similar to the Outlander gas-version. Steering is light and direct for the most part with body roll only found on a curvy switchback area.
When pushed, the Outlander PHEV's performance starts to suffer. Even though, we were given a fuel economy challenge, I wanted to see how it moved with the throttle unleashed, and safe to say, it was unremarkable. However, no logical person is buying a PHEV, or a Mitsubishi for that matter, for its sporty nature.
Its sweet spot is felt when coasting to a stop and lightly manoeuvring around city streets. Fuel economy numbers are listed at a combined 3.2 Le/100 km in EV mode and a combined 9.2 L/100 km in gas, but on this drive, a team managed a measly 3.0 L/100 km, an incredible accomplishment for an SUV that can tow up to 1,500 pounds.
Another key to achieving that low fuel economy number are regenerative braking paddle shifters located behind the steering wheel. In total, there are six settings ranging from B0 to B5. The default is B2 and you can get more regeneration by working up to B5, while B0 shuts it off completely.
With plug-in hybrid electrics, we naturally get caught up with its pure EV range and its quick recharge. But the reality is, the Outlander PHEV isn't affected by range anxiety with a total combined range of 499 kilometres. If the pure EV juice runs out, the drive continues, only at a less fuel-efficient rate.
Conclusion
The 2018 Mitsubishi Outlander PHEV took its time to come to Canada, but with it now available at dealerships, it offers up a reasonably-priced EV option with all-wheel-drive capabilities for consumers looking to save on gas. It starts at $42,998 before incentives with rebates offered up at $9,555 in Ontario, $4,000 in Quebec and $2,500 in British Columbia.
Fuel efficiency, technology and its price tag are the key catches for the Outlander PHEV, backed by its 10-year/160,000 km powertrain warranty and 10-year battery warranty. In addition, its electric motors create a nice acceleration boost, which nicely transition into a quiet ride at cruising speeds. Beyond that, your simply getting decent comfort, design and excitement.
It's nothing too flashy, but definitely unique, and that's exactly what Mitsubishi was hoping for, as the Outlander PHEV sets the electrified groundwork of what's to come from the alliance.