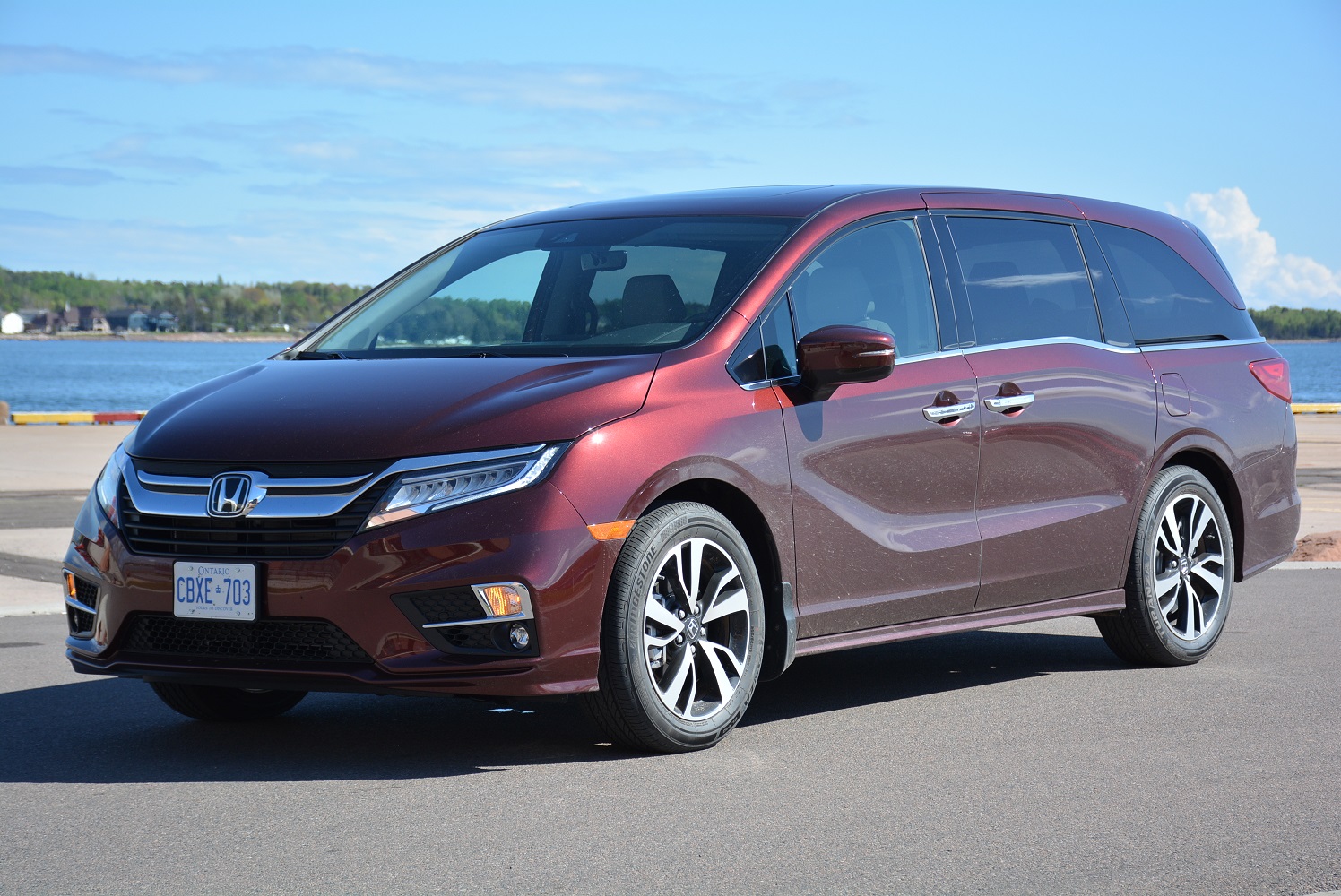 Charlottetown, PEI – The stigma that comes with owning a minivan can be harsh. Most of it is mental, as parents battle a full-on "soccer mom" image, while jealousy of friends without kids or empty nesters rage on.

Regardless whether that's a reality or not, families with multiple kids can benefit from the versatility and convenience a minivan brings. And that's why Chrysler re-branded and re-designed its Pacifica minivan in 2016 – formerly the Chrysler Town & Country – and for this year, it was Honda's turn to showcase how good a minivan can be with its all-new 2018 Odyssey.

"The 2018 Honda Odyssey has everything you need in a minivan," explains Jean Marc Leclerc, Senior Vice President of Sales and Marketing, Honda Canada, at a first drive program in Charlottetown, PEI.

With the surge in new mid- and full-size SUVs on the market, more options have been presented, making the choice of a full-size SUV or minivan not so clear cut. With automakers sprucing up their minivan offerings, it's hard to argue with Leclerc. Honda has made it easy for families to live with a minivan by packing the eight-passenger hauler with new technologies, more connectivity, better fuel economy, easy entry and exit, more interior and cargo space, as well as standard safety features not seen anywhere else.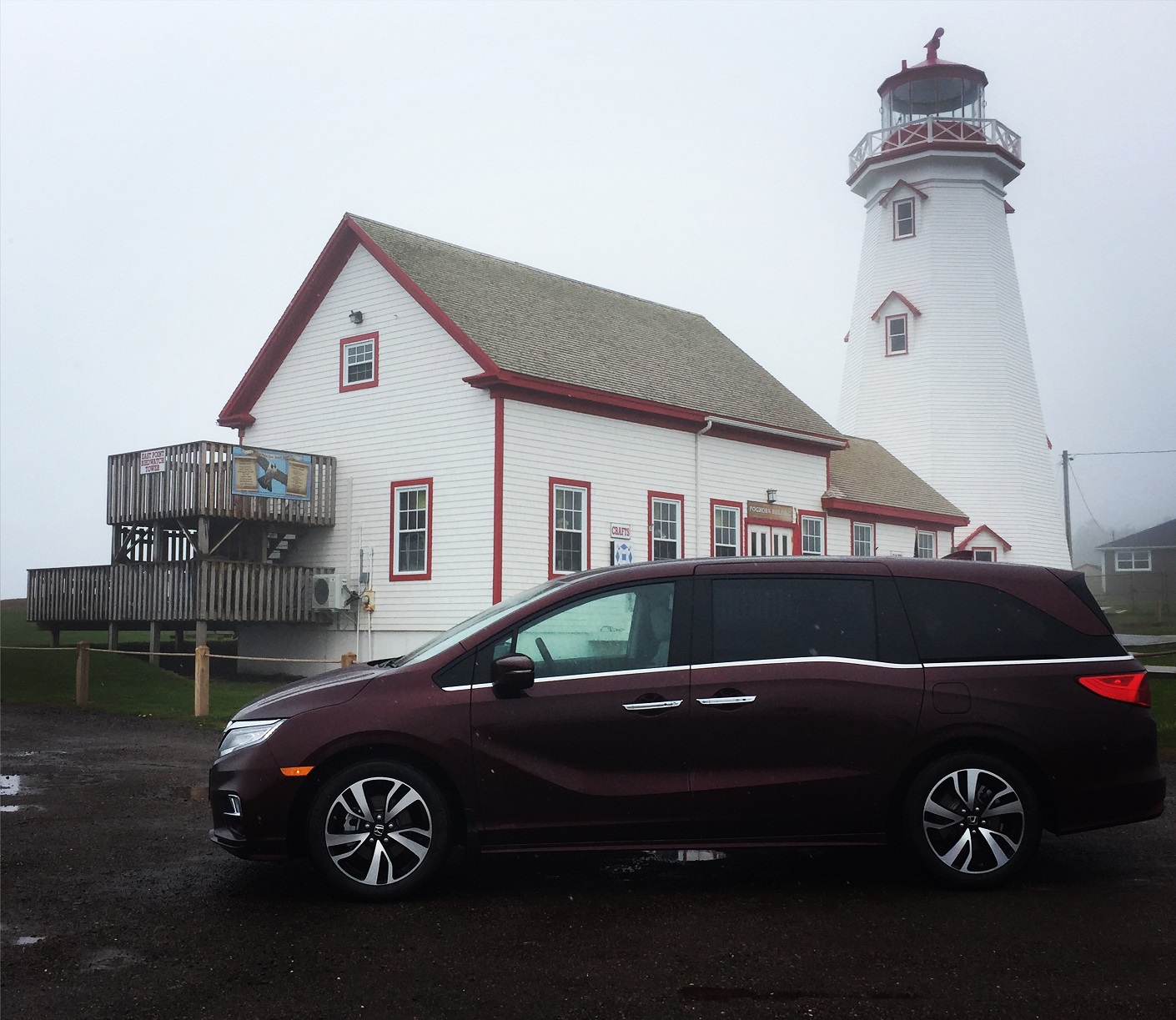 As for its looks – it's hard to change a boxy behemoth, but Honda has found a way – like the Pacifica – to round out its frame and give it more character with sharper edges and cut lines. It's front fascia led by its chrome grille is reminiscent of the Honda Pilot, and there's nothing wrong with that. It's styling is safe, but in the end, it's a minivan, so safe is probably the right way to go.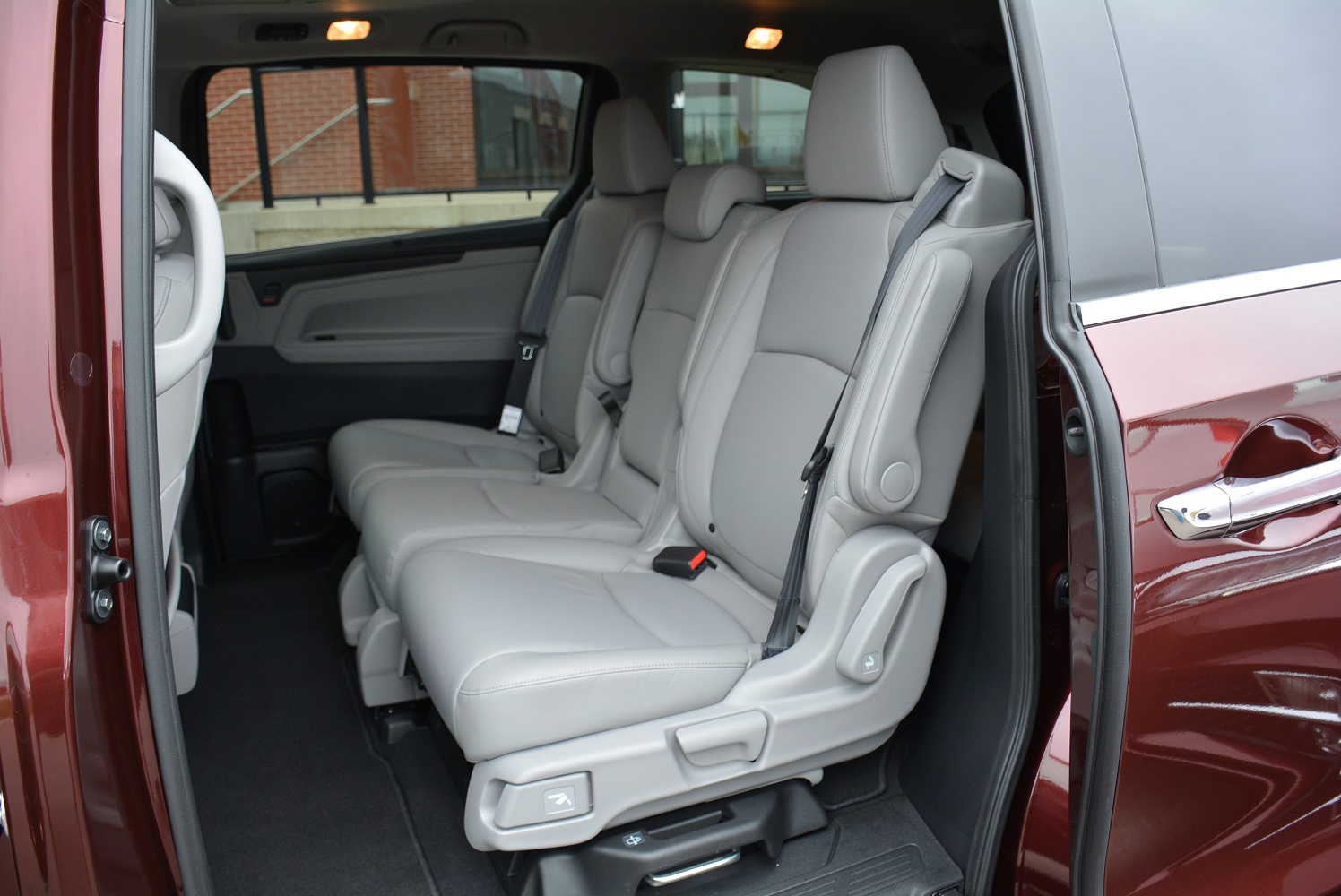 Comfort and entertainment awaits inside
Pull on the door handle, and let those sliding doors work their magic. Sliding doors are the most recognizable staple in any minivan, and no longer do we have to manually slide them with force. And with no all-wheel-drive option, that step up is low-to-the-ground – 35 mm lower than the previous iteration – allowing children to easily hop in and out.
But that's not all, as my commercial voice takes over. Honda's second row seating are called "Magic Seats." With a seven-seat configuration (only two seats in the second row), the magic seats can slide side-to-side or forward-and-back for people to access the back row with plenty of room, and this can be done with a child seat still attached. In addition, these second row seats can either slide together or further apart, which could be crucial to surviving the squabbles that way take place on a lengthy road trip. The only catch is the middle second-row seat has to be physically removed by pulling a few latches, so as easy as this all sounds, there's still a little work to be done.
New high-resolution technology screens modernize the cockpit with a seven-inch TFT unit and an eight-inch touchscreen situated on the leather-filled dash. The navigation system can be finicky at times, but that can be avoided by using Apple Car Play and Android Auto functions through your mobile device, saving you money by moving down a trim or two. A 4G LTE Wi-Fi hotspot capability comes in the top Touring trim allowing everyone to stay connected while on the road.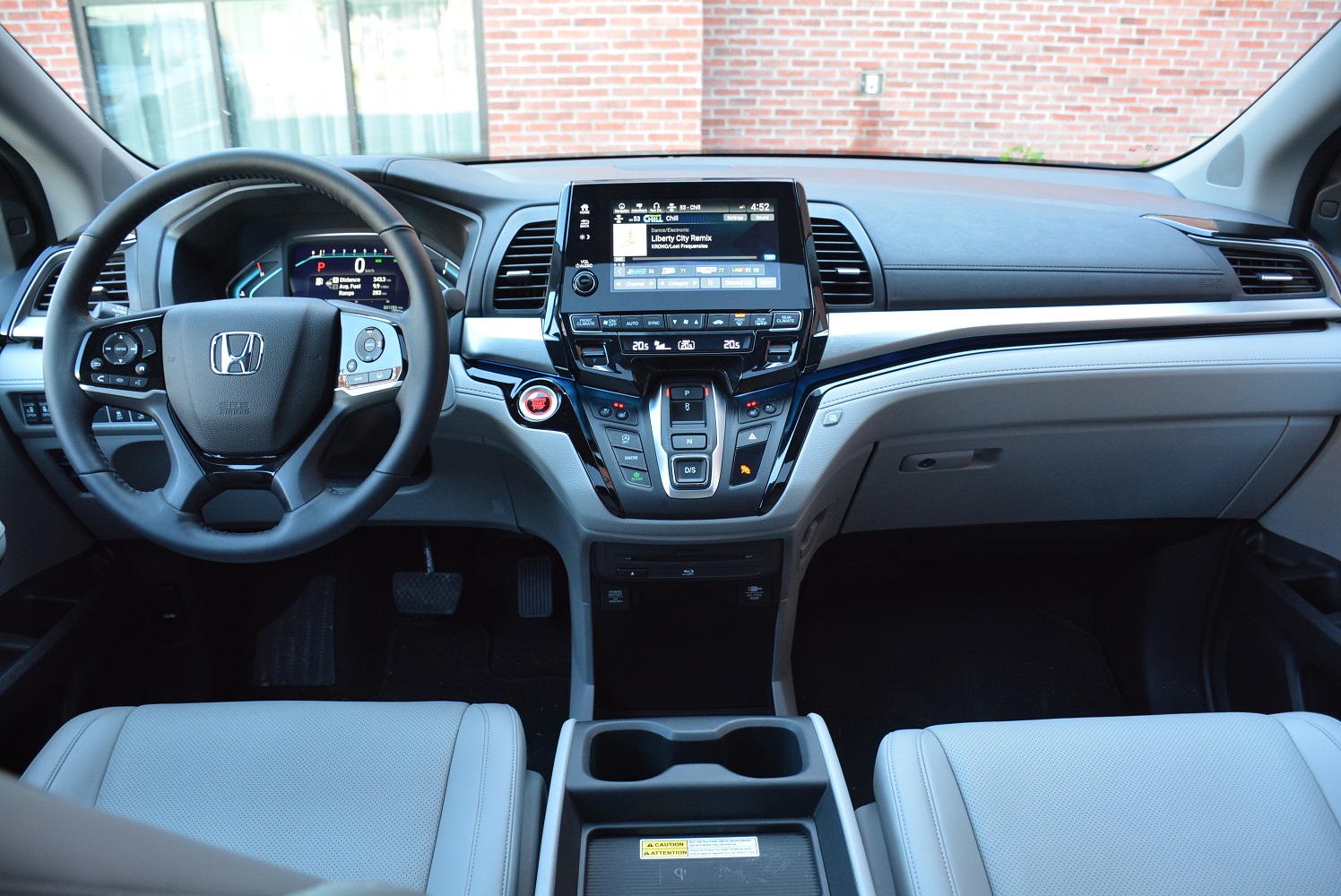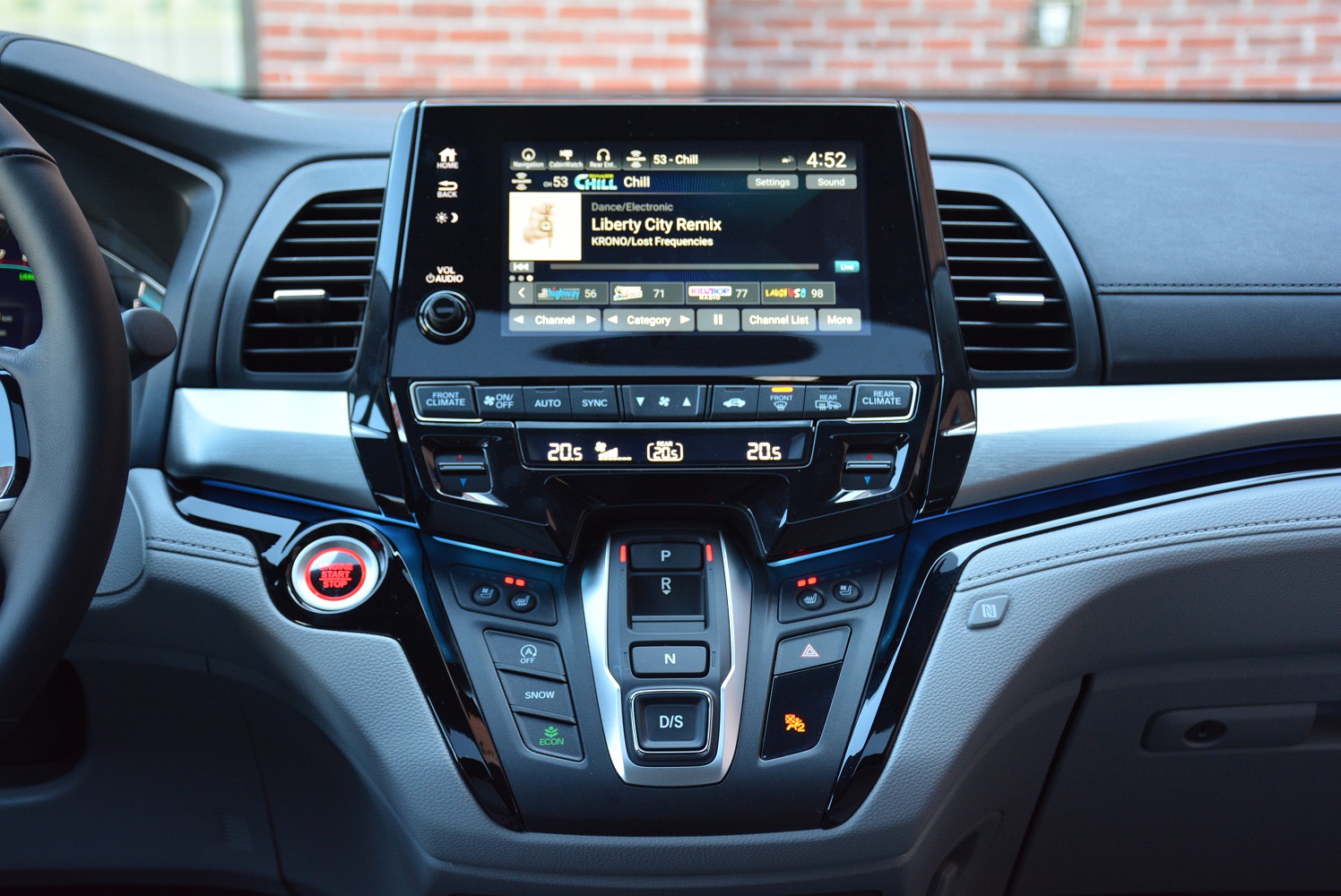 Also featured in the top trims are large and comfortable soft leather seating in the front row, as well as an abundance of technology. Two new technology features: CabinWatch (on Touring trim) and CabinTalk (starting at EX-L trim) aim at easing parental worries and allowing for better communication without causing driver distraction through the press of a button. For CabinWatch, a ceiling-mounted camera keeps an eye on both back rows; while CabinTalk allows the front-row occupants to talk to the back row passengers through the rear speakers, muting audio in their headphones.
Safety is imperative for family hauling, and the Odyssey ticks many boxes with a standard suite of Honda Sensing safety technology that includes Adaptive Cruise Control, Lane Keeping Assist, Road Departure Mitigation, Collision Mitigation Braking System for vehicles and pedestrians, Forward Collision Warning and Lane Departure Warning. Lane Watch and Blind Spot Information System is available as you go up trim levels.
How does it drive?
Driving is always secondary when it comes to a minivan. It won't be the sole reason one chooses a model, but it plays a part in the decision making process.

The 2018 Odyssey has one engine offering: a direct-injected 3.5-litre V6 that produces 280 hp and 262 lb.-ft. of torque. Both numbers are up from the 2017 model by 30 hp and 12 lb.-ft. of torque, but the interesting story comes in the form of a 10-speed automatic transmission for the upper trims (a nine-speed automatic is the standard option).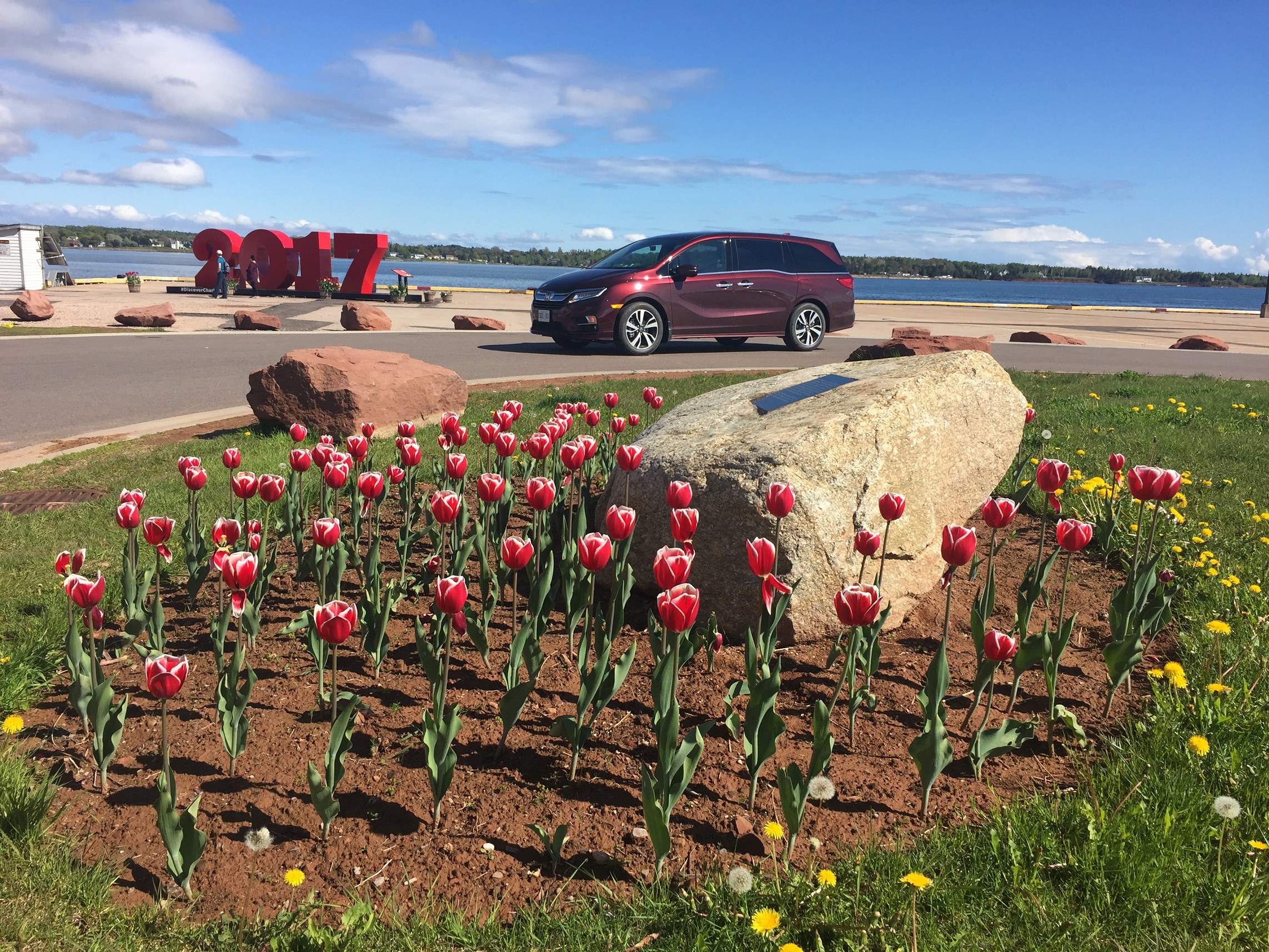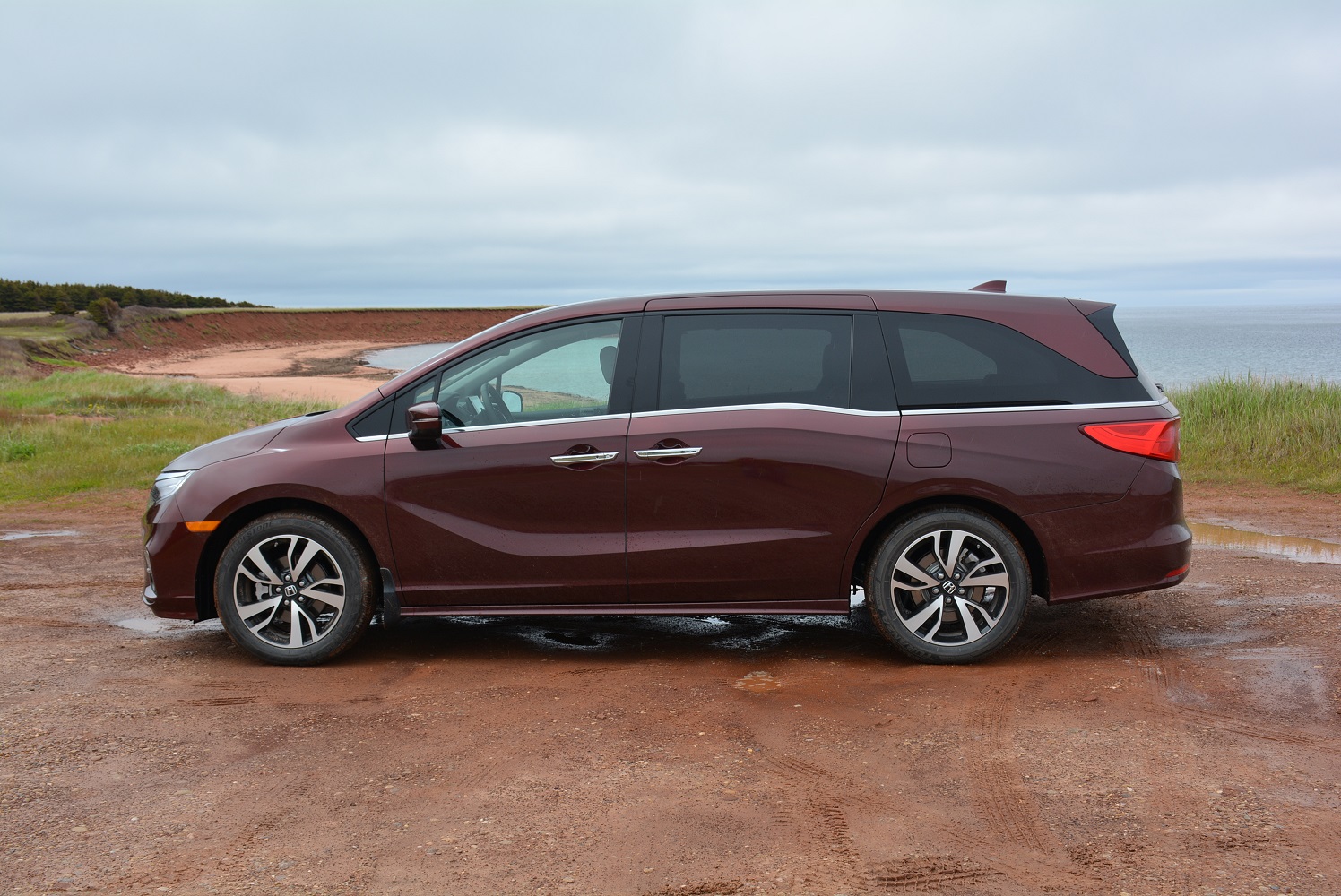 The 10-speed gearbox is pretty seamless on the road helping it achieve a class-leading 12.2/8.5/10.6 fuel economy split (city/highway/combined in L/100 km) with the aid of a variable cylinder management system. But it's not just the gearbox that's non-disruptive; the whole vehicle is a quiet sanctuary when cruising with no floor vibrations and the placement of acoustic glass and windshield to allow conversation to flow effortlessly.

When pushed, especially uphill, the Odyssey – like many other larger utes – blurts out faint huffing noises to lug its 2,086 kg frame. It's not the quickest vehicle in the lot, but it's not supposed to be, and the ride stays comfortable and relaxed whether on the highway or in the city, and even stays composed on shoddy roads. The electronic steering corners more like an SUV or crossover with precision and decent road feel.

The only thing that needs to go is its electronic gear shift. It's situated below the touchscreen in order to provide more room for cubby holes, but ends up only being an irritant for the driver. It doesn't even look good with its blocky buttons, and most importantly, it's difficult and slow to use due to its "trigger-type" reverse button, especially on three-point turns.

Verdict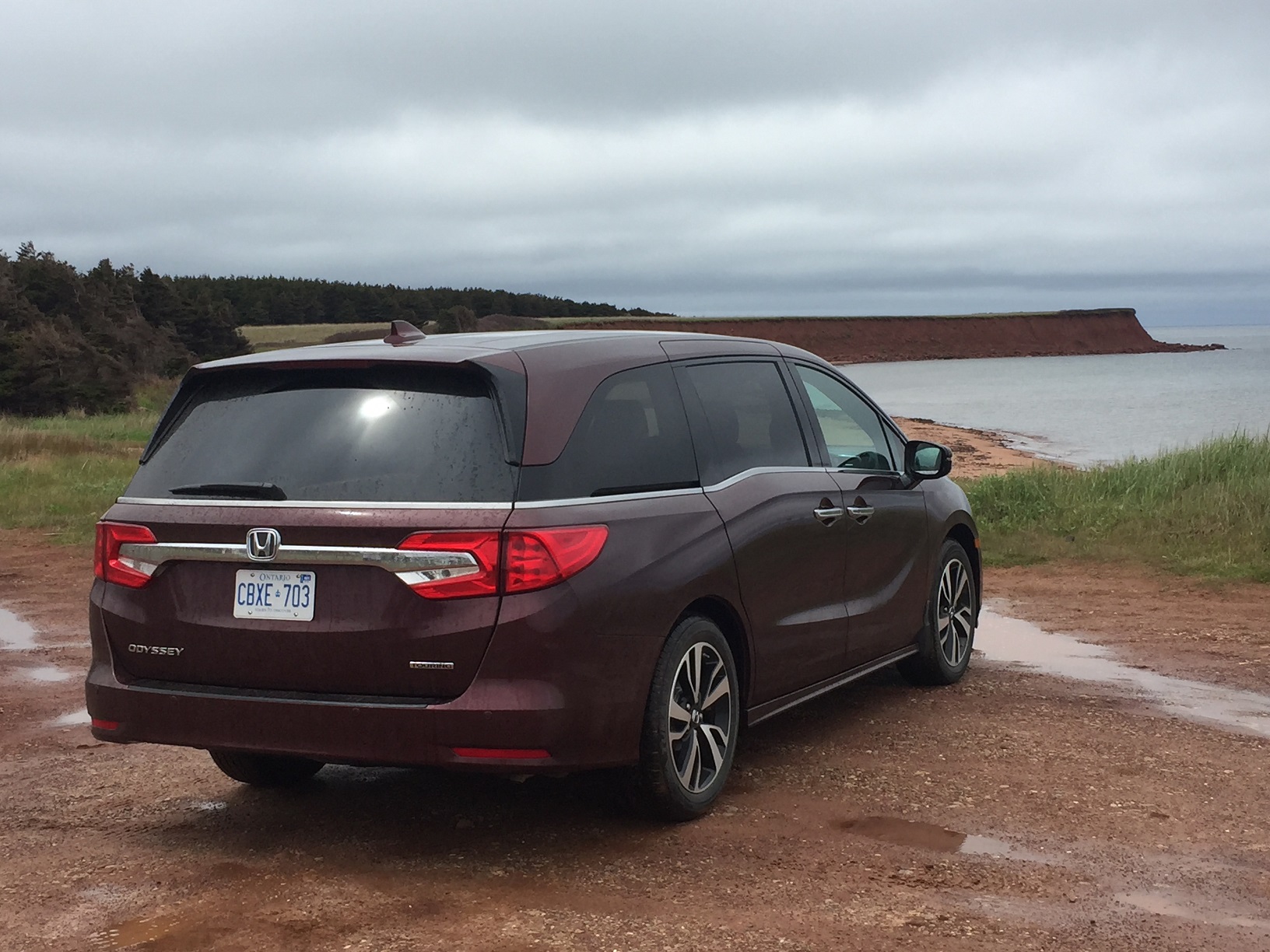 The all-new 2018 Honda Odyssey does have everything you need in a minivan. It really just comes down to whether you can cope with the stigma attached to these minivans, but these automakers are making it easy to shed those worries with better styling, added comfort and technology, versatility and cargo space, and class-leading fuel economy numbers that saw me achieve a combined 9.5 L/100 km on my tour of Charlottetown.

It's starting price of $34,890 is higher than others on the market, but it also comes standard with many features including heated seats and a suite of safety equipment not found at the base trim level. For the base price, it's a reasonable package received, and a lot better deal than the Touring model that tops out at $50,290 – a steep price to pay for LED headlamps and fog lights, Wi-Fi, CabinWatch and a 10-speed automatic transmission.

The 2018 Honda Odyssey puts some spice back into the minivan segment and will give the Chrysler Pacifica a run for its money. The Odyssey arrives at dealerships on June 8.