First Drive – 2015 Ford Edge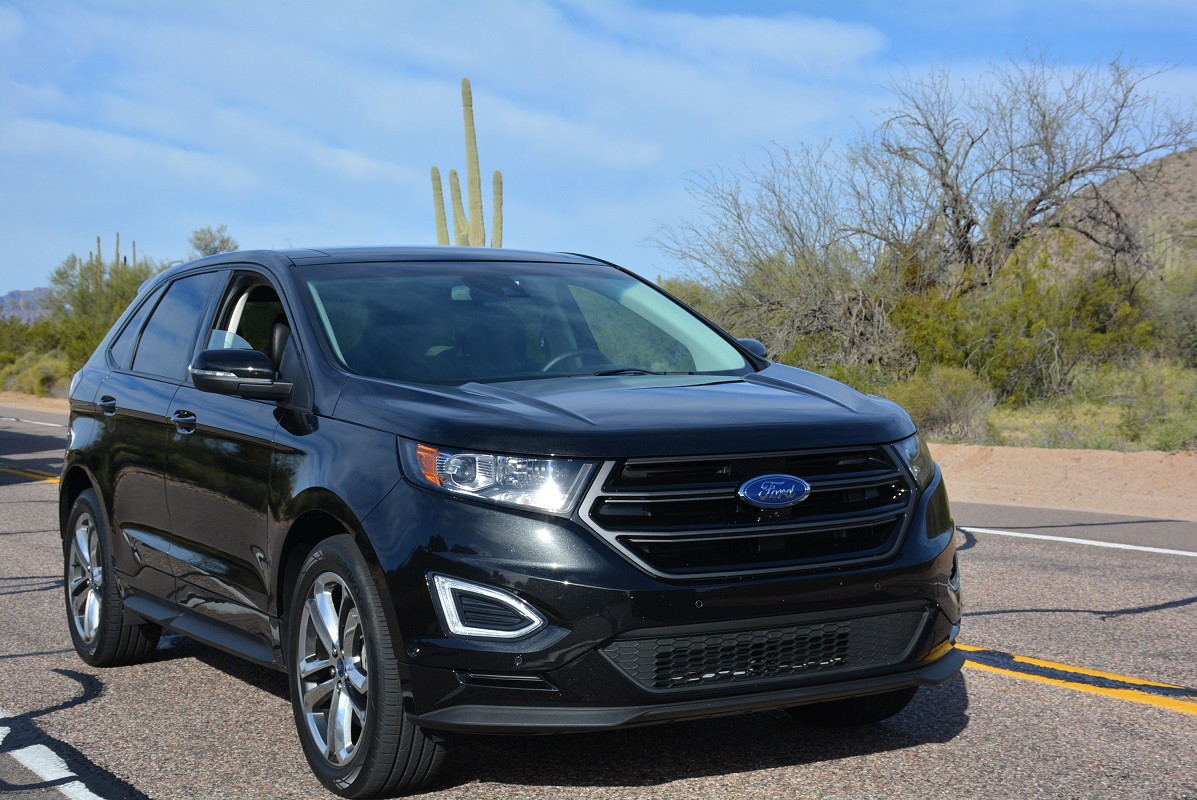 Phoenix, AZ – Simply put, the Ford Edge as we know it has been transformed. Now in its second-generation, the 2015 Edge is all-new in all the right places as it gets ready to be launched globally, and for the first time in Europe as part of the "One Ford" global plan.

Ford's mid-size five-seat crossover made its debut in 2006, but it was in 2009 after a major refresh where the Edge took a more modern and technologically-savvy appeal. Gone is the trendy, but gimmicky tools, and inserted in its place is a more luxurious makeup that would appeal to those who want to move away from the entry-level Escape, but don't need something as big as the seven-seat Explorer.

"With the Edge, we wanted to keep what's classic and working, but leverage that lineage," said Kevin George, Design Manager at Ford.

We were given a complete walk around of the Sport and compared to the outgoing model – the new Edge has definitely evolved. The front fascia gets the new Fusion grille treatment without the chrome. In its place is a refined black grille with silver piping crossbars that lean back to set up a sporty and bold appearance. The overall length grows 99 millimetres, but the silhouette pushes that 'Edgy' boundary with LED taillights that horizontally wrap around the rear with 3D Graphics.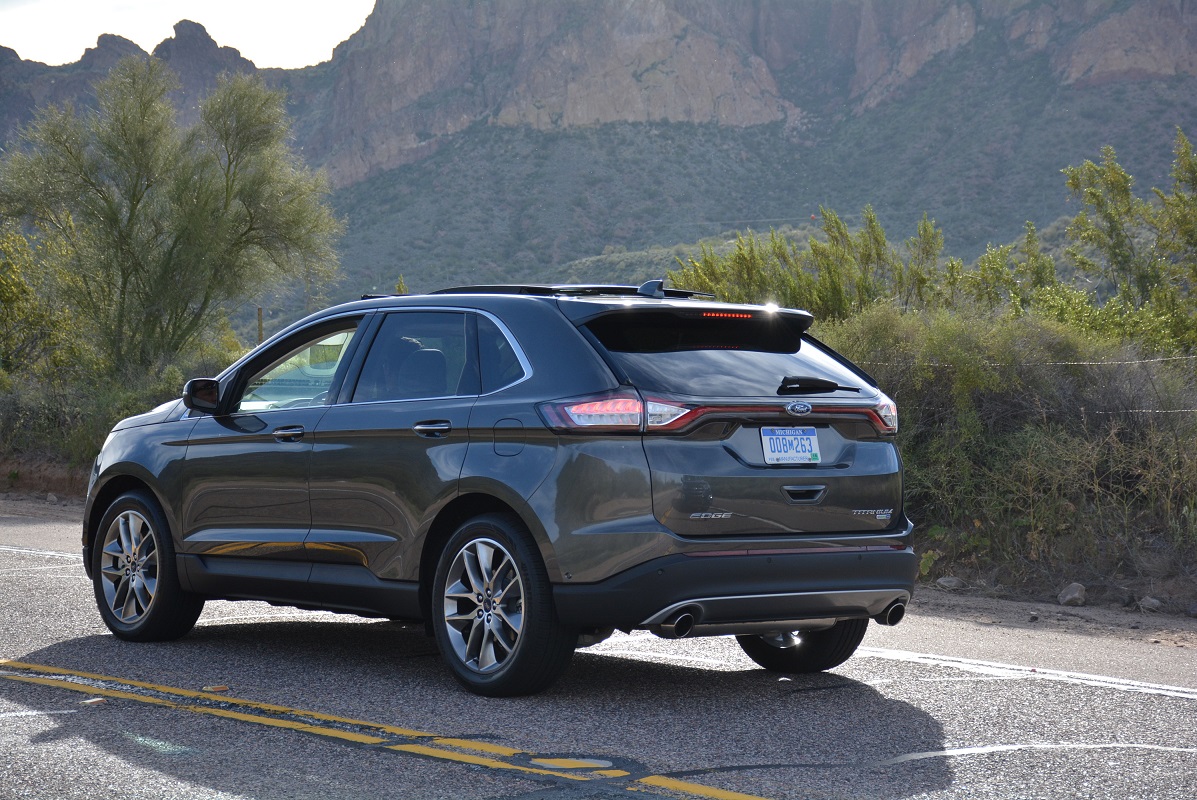 Not only does the wheelbase expand for more interior space, the interior transforms into a "dynamic sanctuary," according to Hak Soo Ha, Ford's Interior Design Manager.

Seeing the outgoing insides compared to the latest version, it truly is a night and day comparison. It makes you wonder, how pedestrian was the previous interior? Soft-leather with stitching replaces hard plastics. An open and airy concept with window dividers removed. A longer and more sculpted arm rest and fancier elongated door levers. Every little nook and cranny was dissected and altered in order to create a refined look and comforting experience.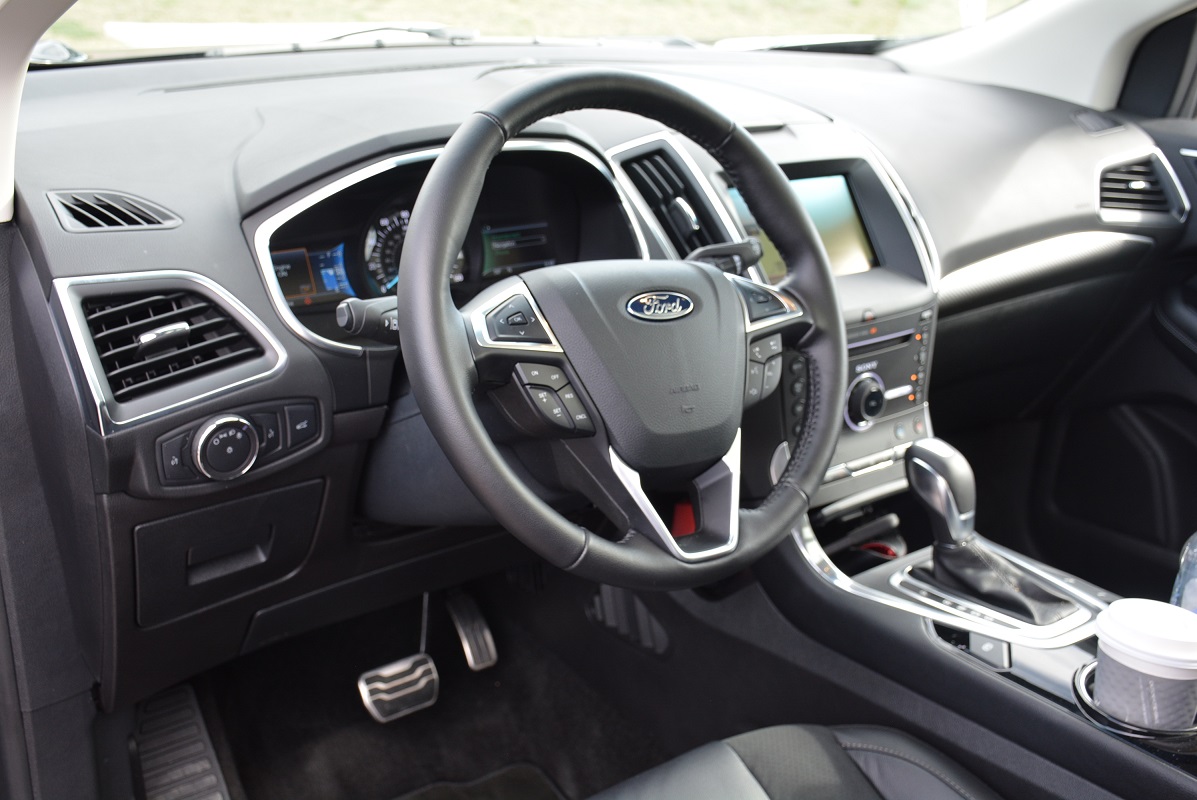 Overall, it's a dramatic makeover that changes the feeling of the entire crossover. Maybe its a mindset, but I felt more relaxed and comfortable during the drive, aided by the active noise cancellation technology found in the Sport trim. Apparently, those soft-touch materials and the front side windows assist in helping with sound acoustics. Don't worry about the rest of the lineup, as they all get a host of noise cancellation technology, it's just more enhanced in the Titanium and Sport packages.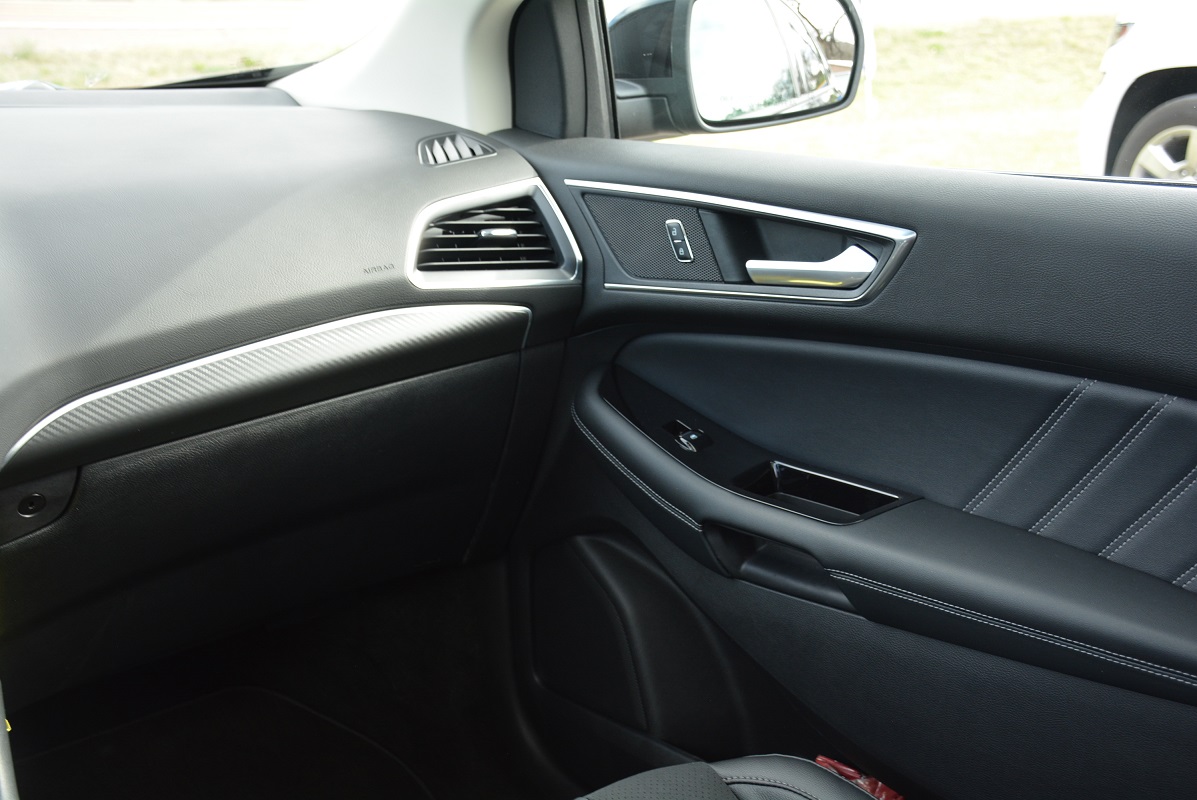 The only drawback would be that Sync 3 has not yet come to any Ford product, so this new Edge still has Sync with My Ford Touch. It slightly kills the buzz of the "Dynamic Sanctuary," but at least they've done away with volume and climate control touch buttons and brought back some hard buttons and knobs.
Under the hood, consumers will get three choices, but just to be clear not all are available for each trim. The base engine for the SE, SEL and Titanium trims is the all-new 2.0-litre twin-scroll turbo EcoBoost engine. It has maximum horsepower of 245 and 275 lb.-ft. of torque that's mated to a six-speed automatic transmission with paddle shifters (standardized throughout the roster of engines). Outside of a little bump in horsepower and torque, the new 2.0-litre reduces turbo lag thanks to its turbocharger. Additionally, for the first time it will be offered in all-wheel drive and can tow up to 3,500 pounds.
In all of those trims, except the Sport, you can upgrade to a naturally aspirated 3.5-litre V6 that gets added power producing 280 hp and 250 lb.-ft. of torque.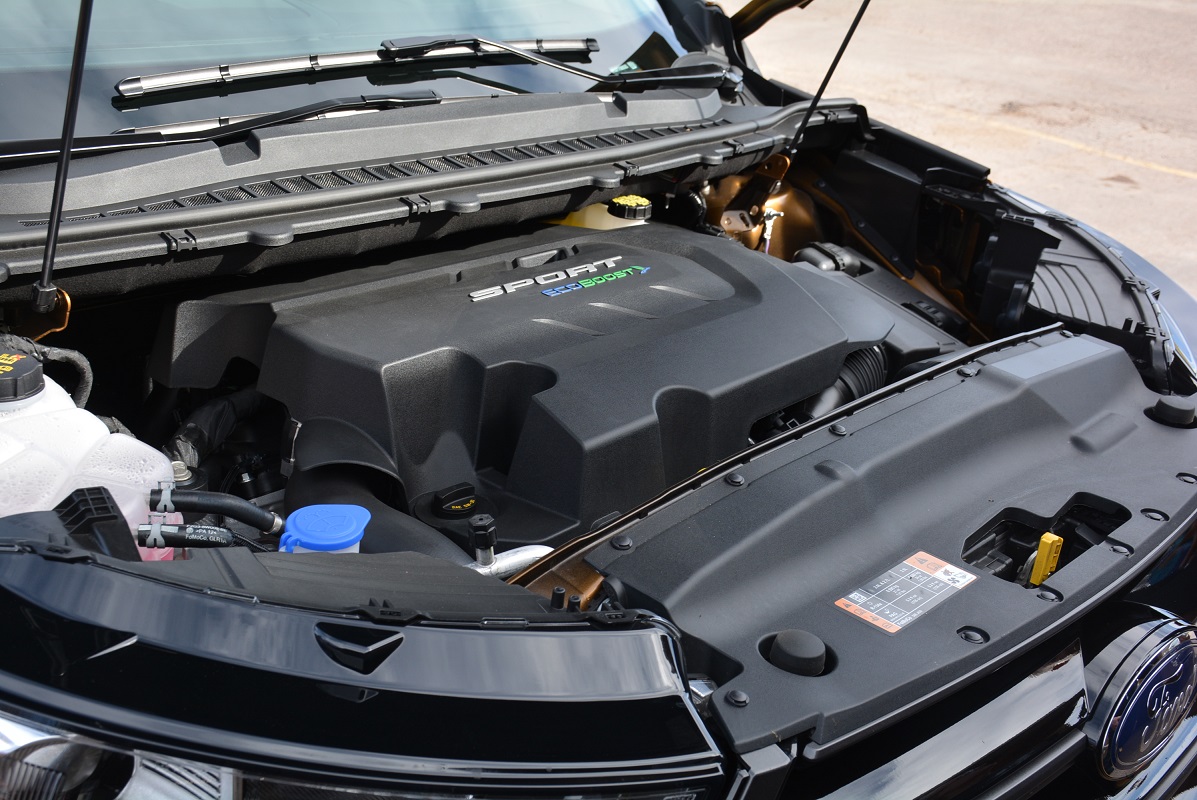 When it comes to the Sport – "the pièce de résistance" during the product launch, you can only get it with the 2.7-litre twin-turbo and direct-injected V6 that generates the most power with 315 hp and 350 lb.-ft. of torque. The only drawback is that it comes with zero towing capacity, so you can't get the best of both worlds.
It was with the 2.7-litre Edge Sport where I spent most of my time behind the wheel and that's the exact set-up where the Edge shines. The drive itself shows its torque with instant initial acceleration that responds smoothly like a luxury counterpart would. Even though, the ride is calming and smooth, the 2.7-litre will let you know it has a wild side with some engine noise. Push the button behind the gear shift and you can put it into Sport mode to keep it in lower gears for longer stretches.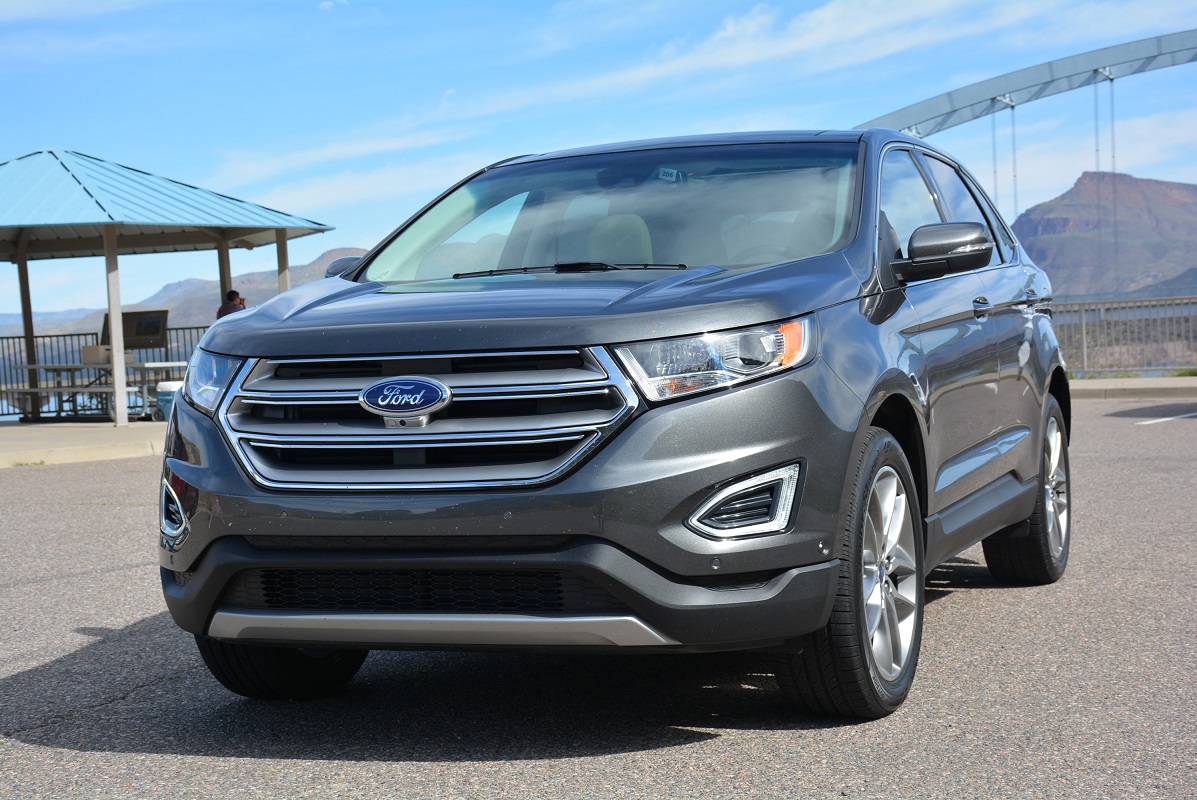 Driving through the sandy roads of Phoenix, the Edge Sport showed off its handling down some windy roads, and if you're not careful, you'll quickly realize it's a bit faster than expected. There were many occasions that I had to look down to realize I was going over 80 mph. The handling is crisp given its 4,400 pound curb weight thanks to electric power assisted steering. It managed to stay balanced on some hard lefts when realizing late that a turn was needed.
On the other hand, the 2.0-litre was capable during the early stretches of my drive at lower speeds. The problem I faced was when it needed to be pushed on the highway. That's where the lack of power compared to the Sport was evident. I have to stress that our car had to sprint back to the hotel in order to make a flight, so it wasn't the most ideal experience for testing this engine. It's not built to be a highway speedster and seemed to be unable to stay fully composed and balanced on some twisty stretches. All I can say is that the 2.0-litre seemed to be a nice commuter vehicle for families, but put to the test, you will find plenty of acceleration lag.
In terms of fuel economy, the Edge 2.0-litre in all-wheel-drive is rated at 11.8L/100 km in the city and 8.4L/100 km on the highway. In comparison, the Sport version I drove is rated at 13.7 and 9.6, respectively. None of those numbers stand out, so it appears Ford focused on the drive and appearance, over fuel economy.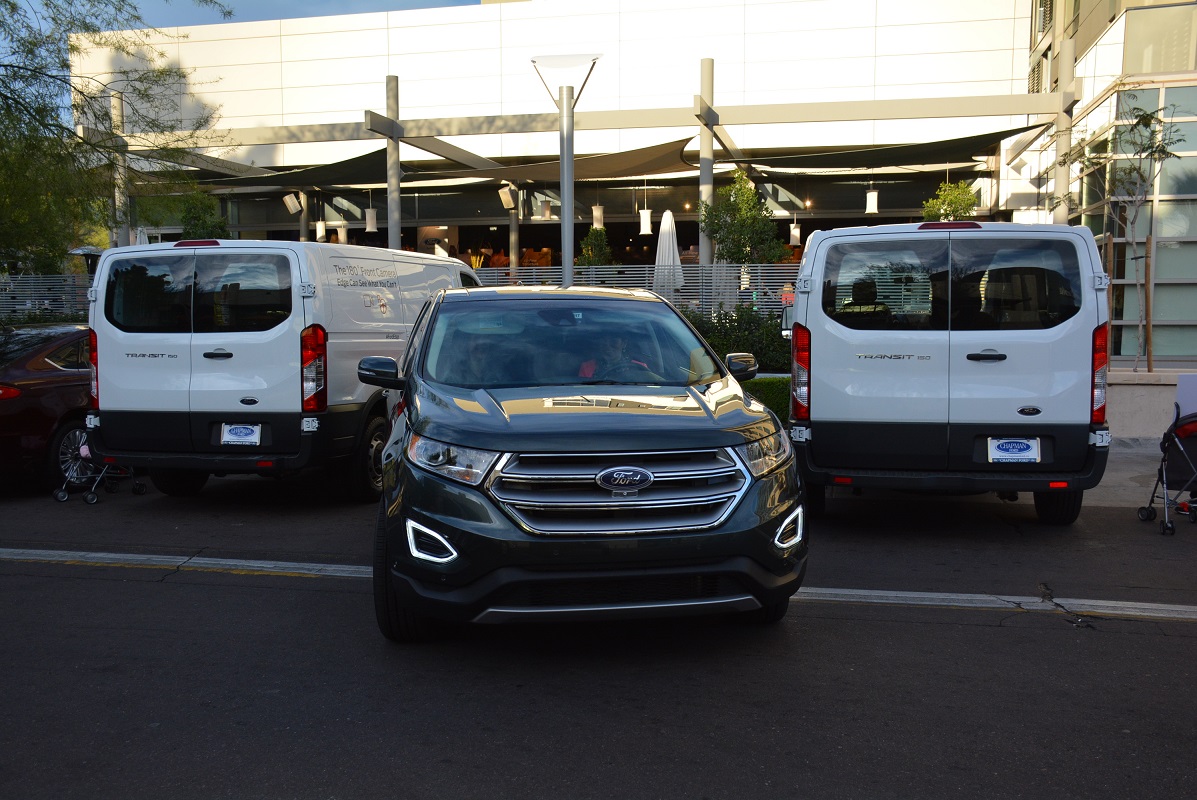 A major note with the new Edge has to be in the amount of new technology Ford has put into it. Before the drive, an automatic perpendicular and parallel-parking assist demonstration was shown that could put many family parking stresses at ease. Parallel is nothing new, but perpendicular parking is a nice touch. All you need to do is press the top button to the right of the gear shift and the Edge will find a spot to park through 12 sonar sensors including some located on the side of the vehicle, It will turn the wheel on its own, and back in-between two vehicles for a perfect perpendicular parking job with the driver only working the gear shift, brake and accelerator. By the way, it can also drive you out of the spot when you're ready to leave.
Additional technology assists include: lane departure warning, adaptive cruise control and blind spot detection. In top trims, the Edge has a brake-assist feature that will automatically apply the brakes to avoid an oncoming collision. On top of that, a 180-degrees front camera system with a built-in washer shows off another luxury touch. To round out the technology buffet, the Edge has heated and cooled front seats, and a hands-free liftgate for the trunk that can be useful when carrying groceries or other packages.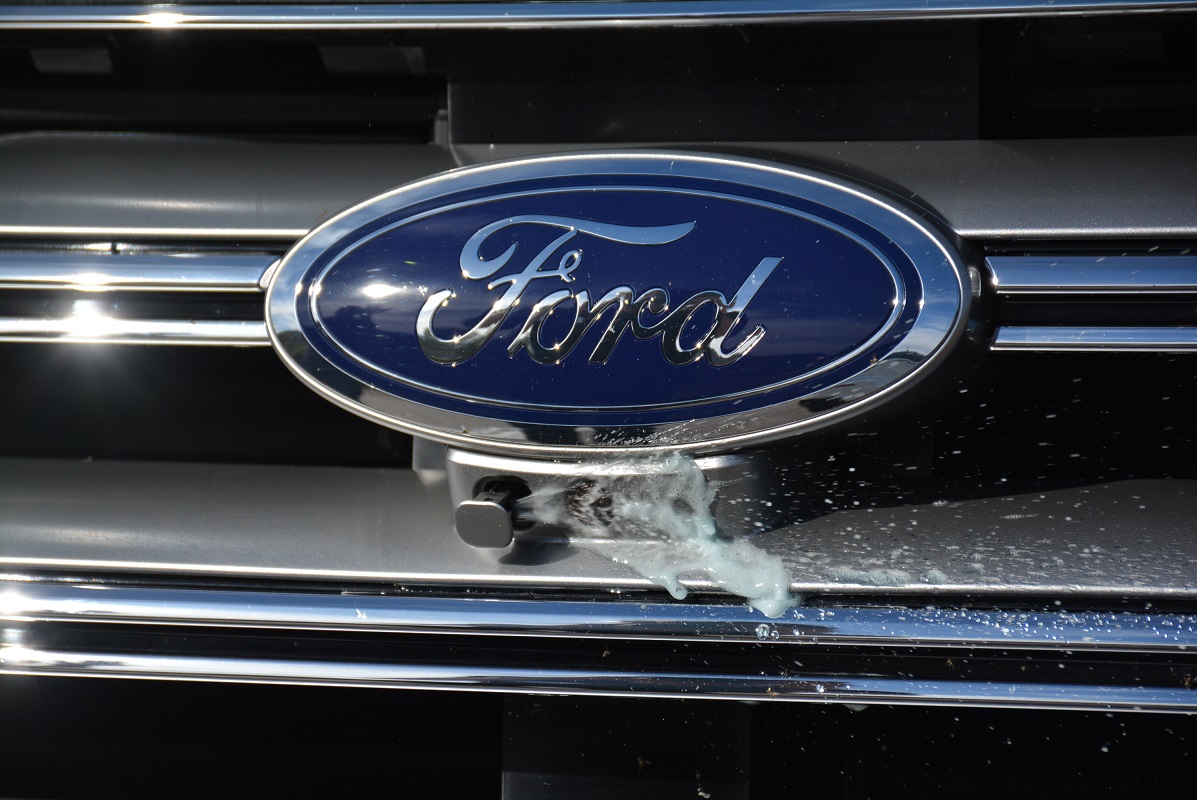 Overall, the 2015 Ford Edge is a large step-up from its outgoing model. It has more bold styling and tightened the whole package up inside-and-out providing more of a luxury feel. There might only be two rows to sit in, but that should be fine for those with a family of four, but wanting the elevated height and space. When you fold the rear seats down, there's tons of space to put your hockey equipment or boxes for a small move.
All trim levels are offered in all-wheel drive, but the true winner for me is the Sport offering. My argument is only enhanced when you look at the pricing sheet. The Titanium all-wheel drive I drove was priced after options at $44,685 USD. In comparison, the Edge Sport with all-wheel drive was only $1K more at $45,785 USD. In my mind, there's no decision here, unless you're in desperate need of some towing capacity. Otherwise, you have to choose the more refined and powerful Edge Sport.
The new 2015 Ford Edge starts at $31,999 CDN and works its way up to $45,199 for the Sport that's only offered in all-wheel-drive. The Edge will go on-sale in Canada in the spring and will be built at Ford's Oakville Assembly Plant.