Cooper Tires Discoverer SRX and STT Pro review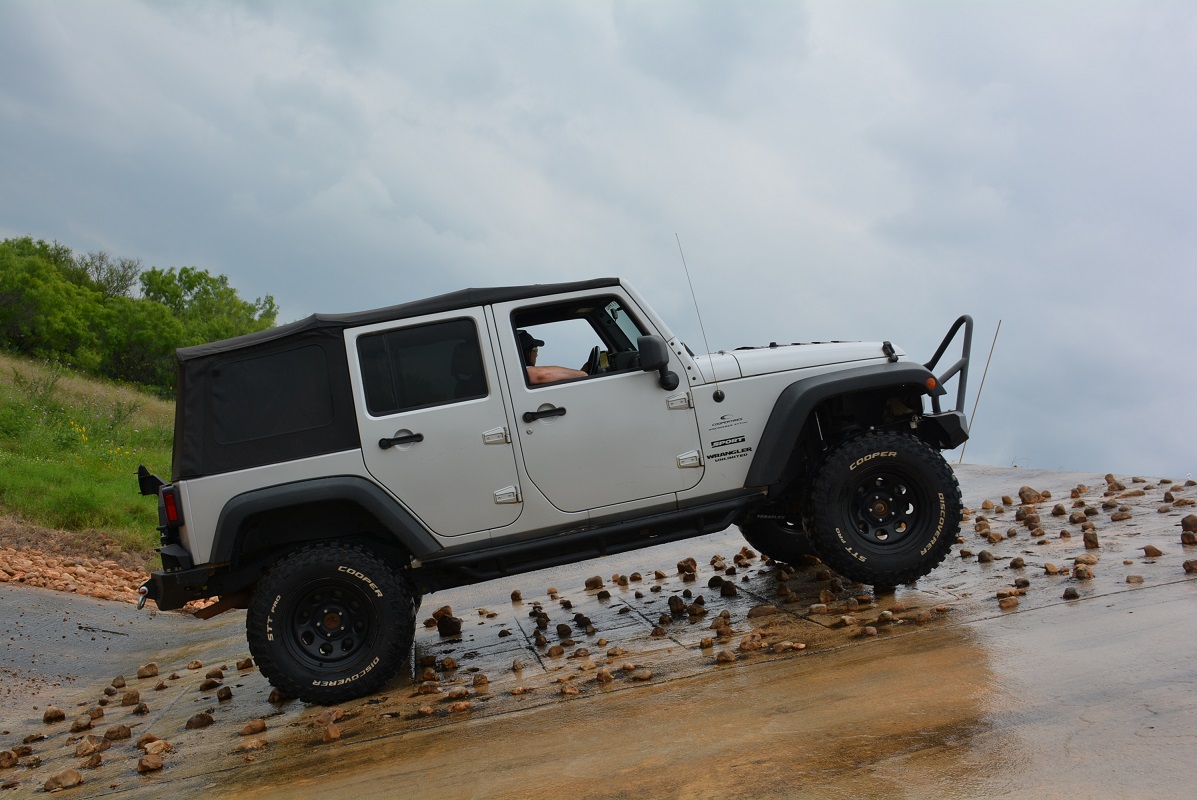 Pearsall, TX – After 101 years in the business, Cooper Tires knows its tires and terrains. As the 5th largest global tire company in North America, it has invested considerable time in perfecting their products, and two of their latest were the main reason why a handful of journalists headed down to Texas.

The Lone Star State is where Cooper Tires has its Vehicle Test Center in Pearsall, just an hour south of San Antonio. For this event, Cooper wanted to show off not only its new all-season Discoverer SRX catered to CUVs, SUVs and light trucks, but also its new Discoverer STT Pro, a premium light truck off-road specialist. The SRX replaces the outgoing CTS; while the STT Pro rounds out the Discoverer family as its dedicated mud tire, replacing the STT.

The two tires are completely different catering to various customers, but the take from this visit was the versatility of the Cooper Tires brand. They're not a company that offer choices for the sake of expanding its portfolio – they have become experts in developing a sophisticated compound that will keep you balanced, in control and most importantly, safe.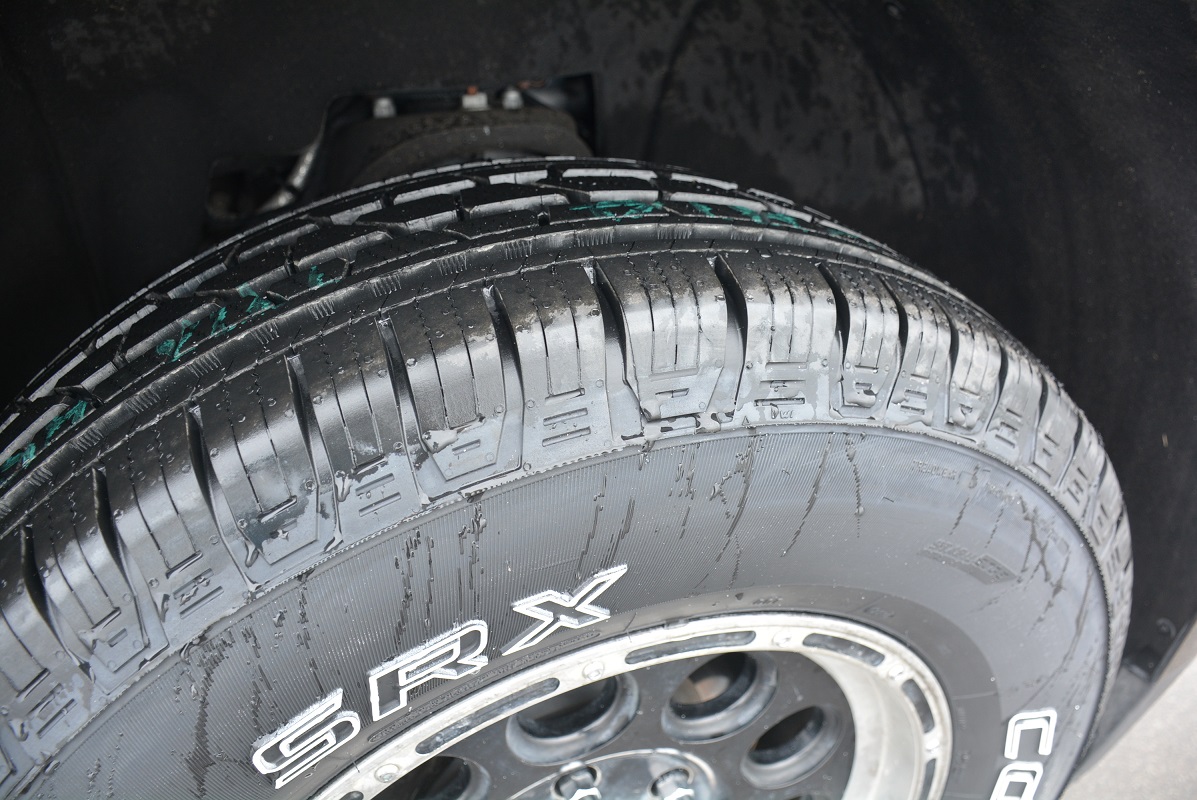 We will get to the event challenges in a moment, but let's first talk shop in regards to the tire compound. The development for the new SRX dates back to 2011, where many components came together to create this modern advancement. But the main ingredient to this concoction is the sandy compound known as silica. Cooper Tires representatives pointed to silica being a large contributor to the overall improvement to this SUV offering in terms of  handling, stability, rolling resistance, road noise and tread life.

The Cooper secret is not just about adding more silica, it's about breaking it down and finding the right mix of it with the rest of the materials including carbon black. In total, 20 different compounds were evaluated until deciding on the one that had the right polymers and rubbers to optimize all those driving benefits listed above.

In addition to the compound, Cooper has many design innovations that have become common with many of their new tires. The combination of 3D Micro-gauge sipes, Stabiledge technology and Winter Edge all help in providing improved rubber-to-road grip, crisper handling and steering, as well as stability in light snow conditions.

The STT Pro might share a similar compound mixture, but has the look of a tire ready for warfare on the next Mad Max film. Its groove innovations cater to that rugged lifestyle without having to make compromises for regular roads. A unique alternating 3-2 tread pattern on the inside creates flexibility when needed. It can be flat when you need it be, or cut through extreme conditions with a variable depth siping that has an extra biting edge. In addition, a Mud-Flex Design along the outside of the tire allows mud to flow clear from the tire maintaining constant motion and balance. If stones and rocks are a concern, the STT Pro uses Angled Groove Walls and Anti-Stone retention to prevent from stones and gravel being trapped and causing harm to the tire.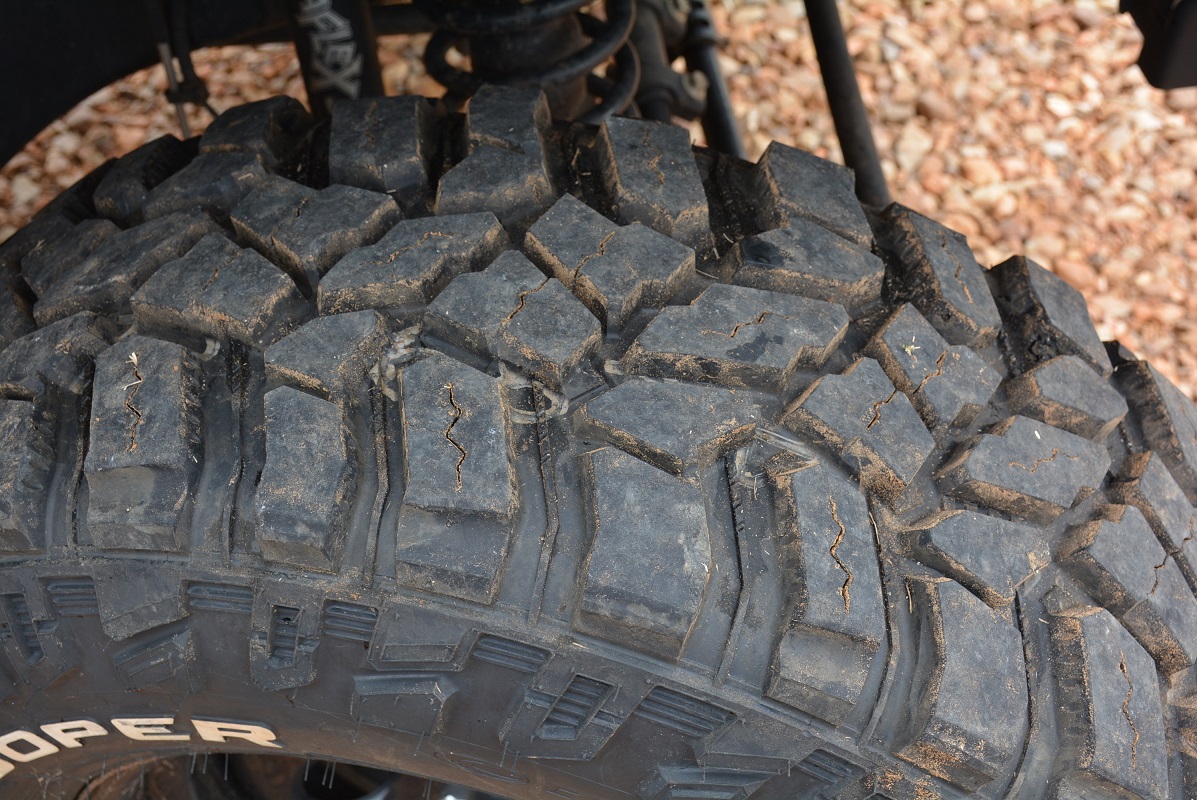 There are a lot more innovations that go into these tires, but without fully boring you, we wanted to just highlight the main parts. Now that you got a sample of what went into the tires, the key was seeing how they performed. The SRX were fitted onto Chevrolet Tahoes and pitted against Goodyear Wrangler SR-As on a wet pad; the STT Pros were placed on the Jeep Wrangler Unlimited for a hill climb with rocks and a deep mud pad.

Let's start with the Discoverer SRX. The Goodyear run was smooth, but slow. It had some shaky moments with limited traction on a few of the fast corners, which had me lowering my speed. On the flip side, the SRX performed admirably throughout the five laps. No longer was I fearful of a spin, and upped my speed with confidence. Those grooves flushed out the water from the tires maintaining a nice grip for the Tahoe to stay balanced.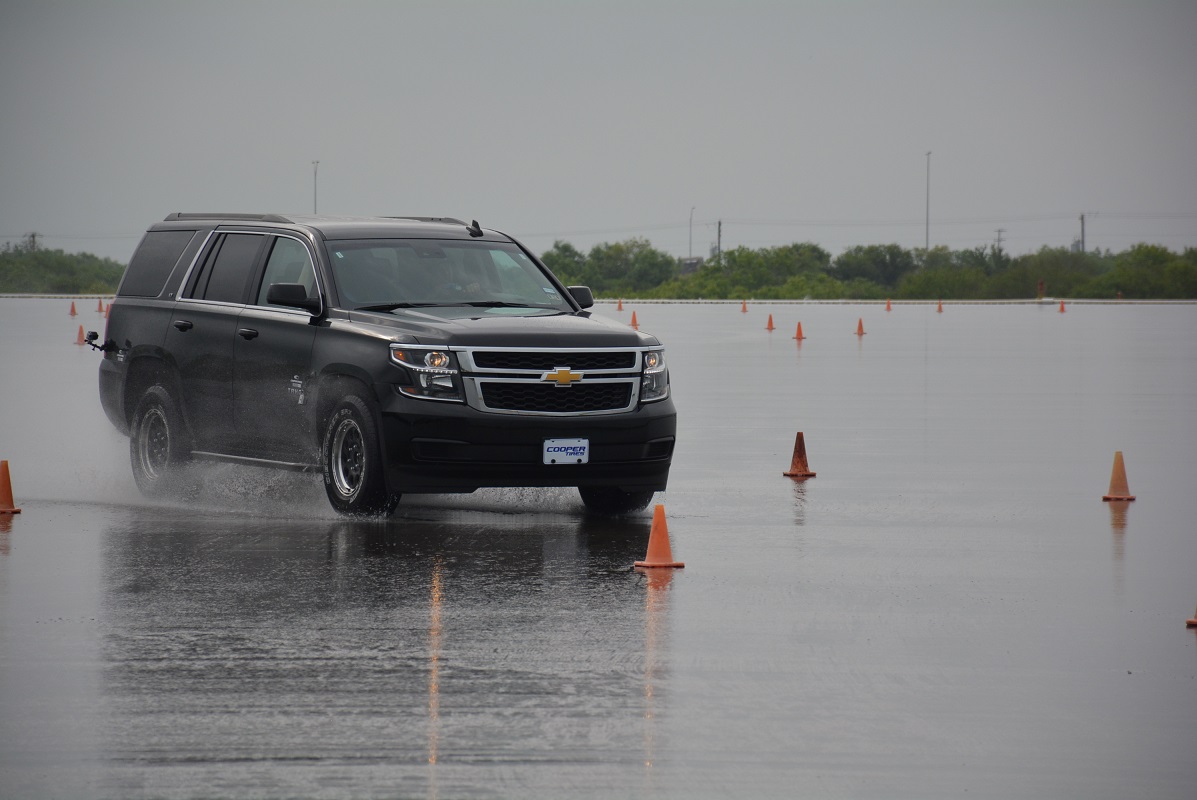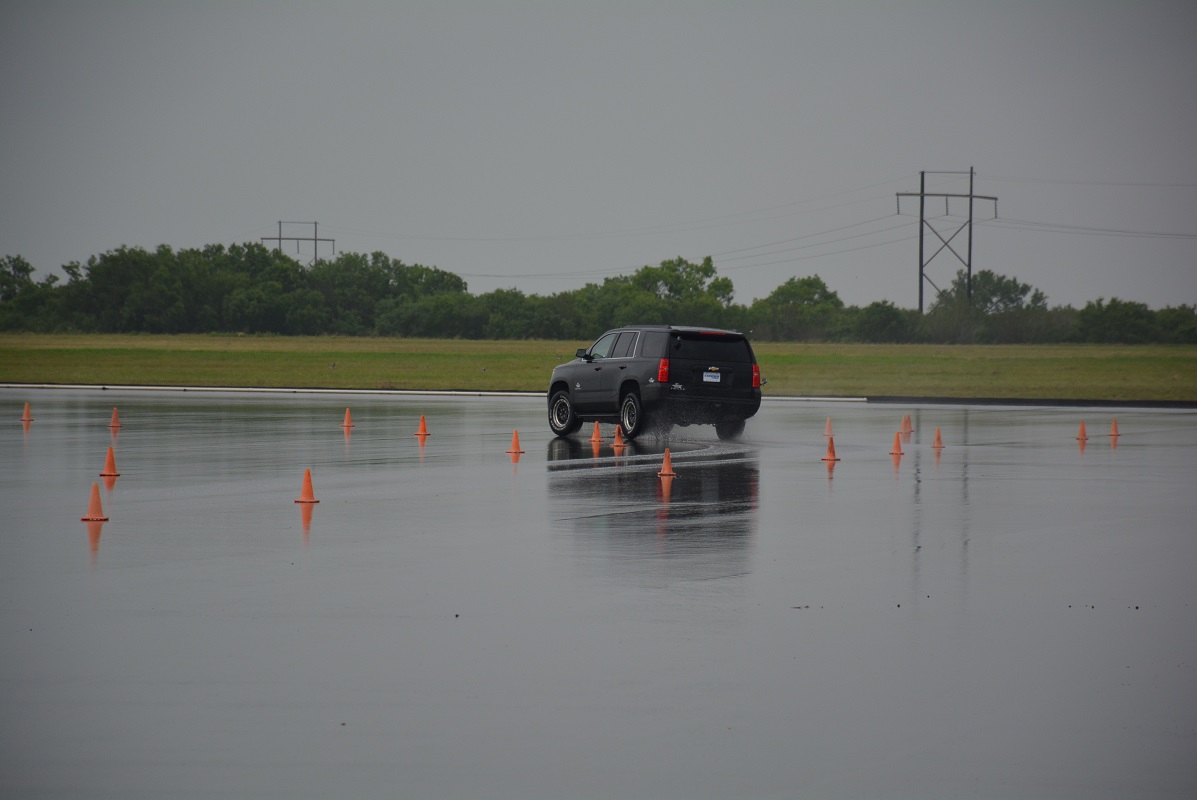 At the end of the test, I was able to shave 3.23 seconds off my best lap time in the Goodyears, but more importantly was the smooth and composed ride under such wet conditions. The Coopers rode with such precision, as if we were on a dry track with very little road noise. It was clearly evident in this test that Cooper perfected their compound and design innovations turning my timed wet pad tire test into a Sunday cruise.

After getting wet, it was time for a little rock and mud play. We drove the Jeep Wranglers to a hill climb that had one section of a 30-degrees upward slope of just concrete, and a second test up that same incline with a slew of rocks creating what looked to be a challenging upward rock crawl.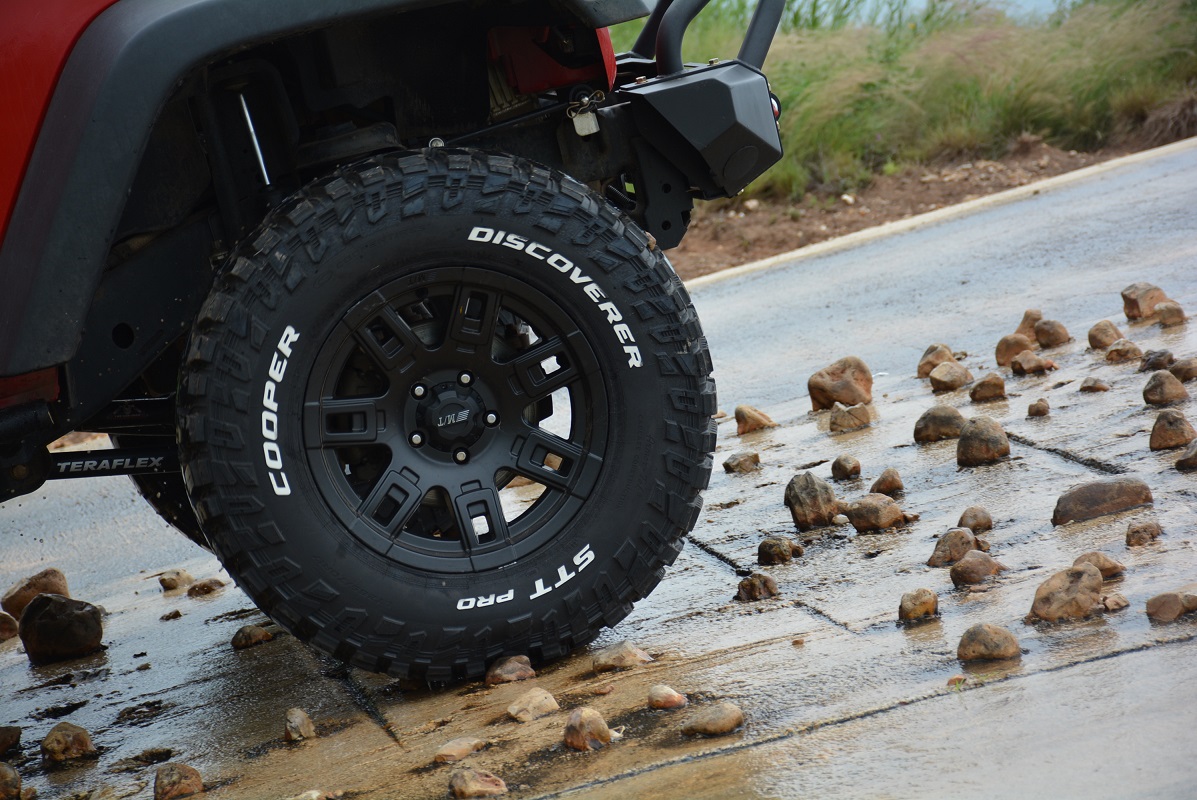 On the first run without the rocks, I eased my way up the wall in no time without a sweat. It was too easy, so the second time around I came to a full stop a quarter of the way up to see how much traction those STT Pros would get. The Wrangler Unlimited rolled back slightly before any throttle was applied, but once a steady stream of acceleration occurred, the Coopers once again made its way up without issue.

The rock crawl was no different. It looks menacing from afar, but with steady and smooth throttle inputs, the STT Pros managed even the trickiest rocks as if they weren't there. The Wrangler glided over each bump with only a shoulder shrug, saying "that's all you got?"

Next up was the mud. We're talking a massive mud pit with deep tracks and ruts along the way. While driving under normal muddy conditions, you would naturally pick a vehicle-made line and avoid those ruts. But this is a tire test, so my goal was to do the exact opposite to fully test out what these Coopers got. I toggled between 4-High and 4-Low and in both cases, the STT Pros stormed through the sticky and slushy mud. It's all about traction in mud, and not once did I lose any momentum or get caught in a rut. For more of a challenge, I came to a complete stop in the middle of the pit, put it into 4-Low and used that extra torque to get that momentum going again.

The Discoverer STT Pro proved to me, it not only looked the part with its rugged grooves, but played the part by attacking head-on anything that came in its way. There was no need for any comparison, as there's not one misstep these off-road tires had.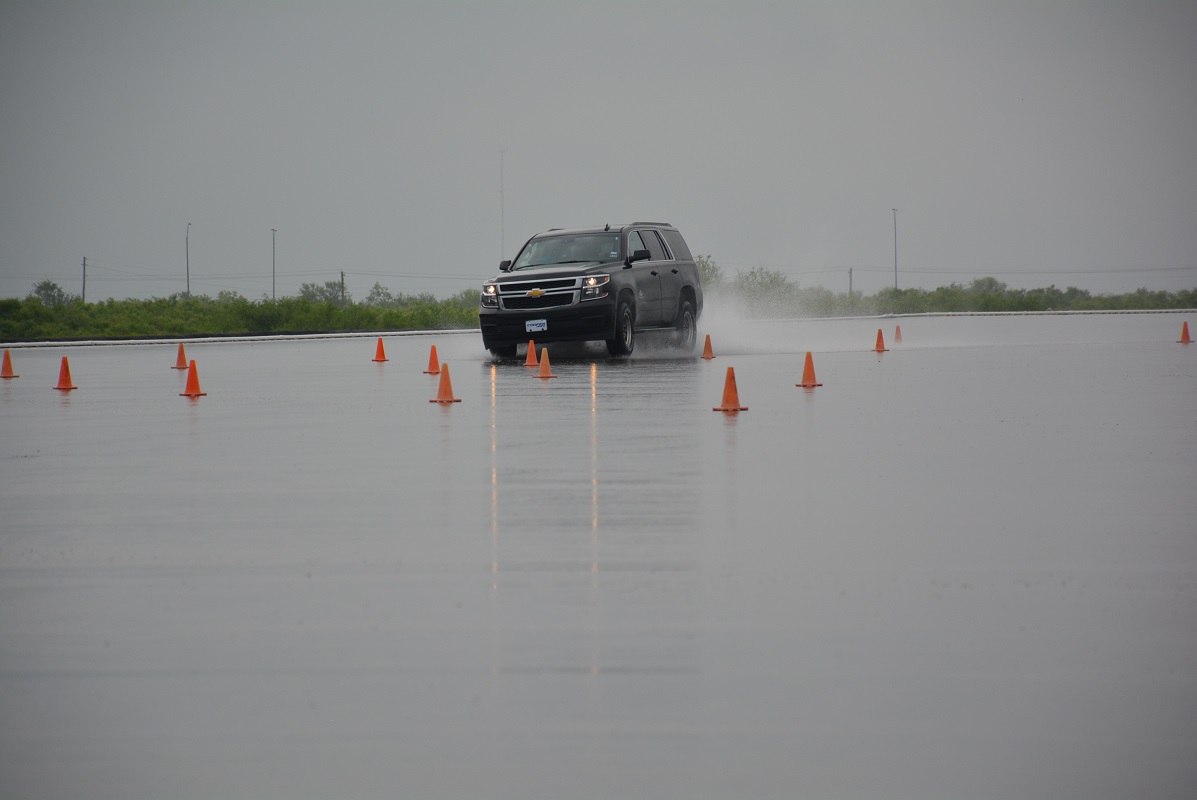 In the end, Cooper Tires showed off its new offerings in an impressive way. The SRX, specifically made for the increasing crossover/SUV market showed off its grip and smoothness over a tier-one competitor in the Goodyears. For the more adventurous off-roader, the STT Pro showed exceptional prowess under tricky rock inclines and deep mud pits. No matter what the terrain: dry, wet, muddy or even filled with rocks, both the Discoverer SRX and STT Pro met all of their respective challenges with ease.

Both tires are currently available with 36 sizes (4 more at the end of the year) to choose from for the SRX and 41 sizes in the STT Pro. Rim diameter range goes from 16- to 22-inches in the SRX; while the range for the STT Pro goes from 15- to 22-inches.