Fun Drive: Nissan Rogue Warrior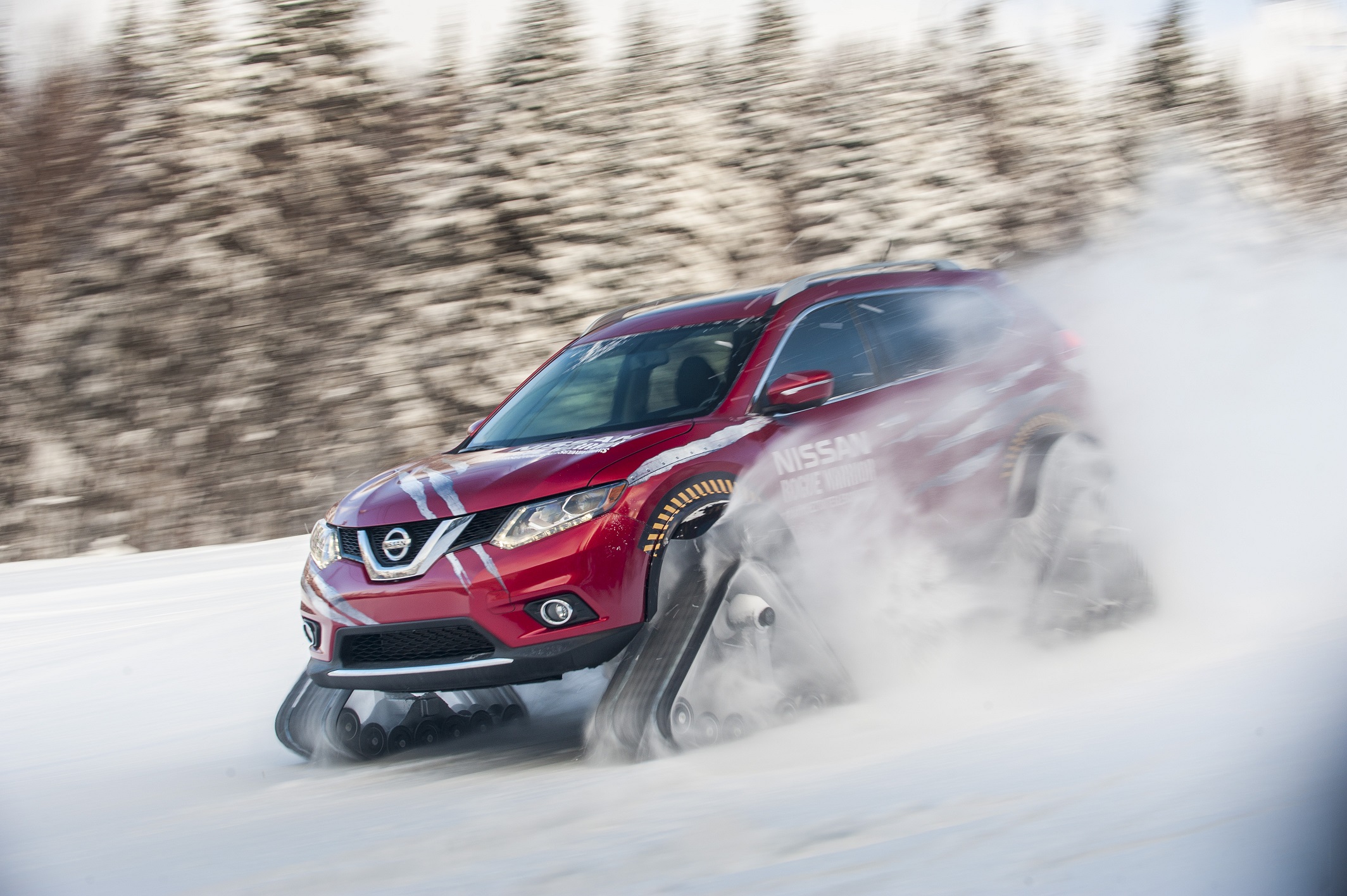 Monts-Valin National Park, QC – Since its complete remodel in 2014, the Nissan Rogue crossover has seen a large uptick in sales with a streak of month-over-month record sales. This surge in sales has led to it being the 12th best-selling vehicle in Canada and the No. 1 selling Nissan vehicle.

In order to build on this momentum, Nissan Canada got a little creative by building a rugged Rogue prototype. It wouldn't be just any rugged variation, but a warrior that could conquer real-life conditions. And that's the story of how the Nissan Rogue Warrior was conceived.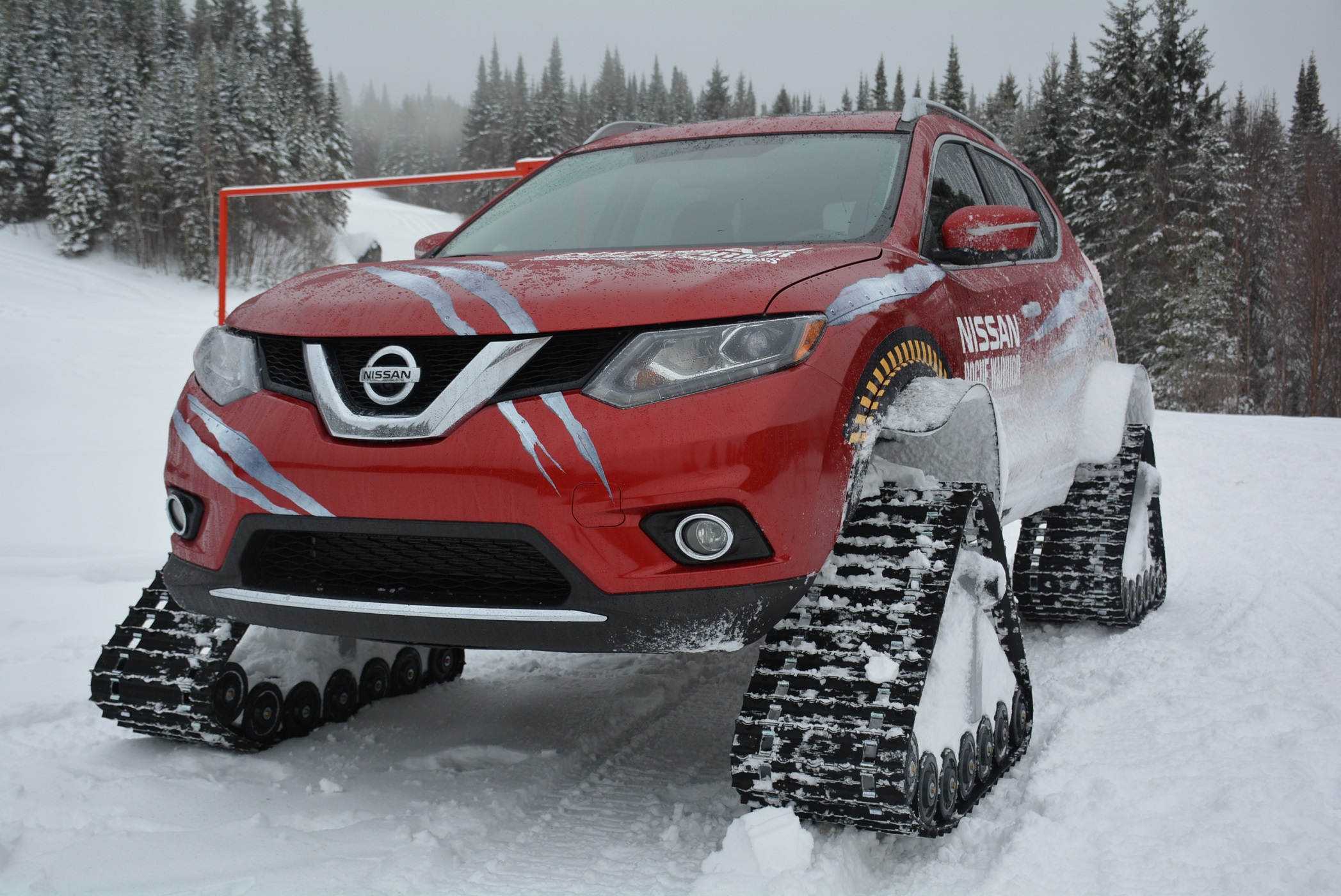 A regular Nissan Rogue was taken to the Quebec-based Motorsports In Action (MIA) tuning specialists and after a little consultation with Nissan Canada, a few helpful tips from Nissan France who assisted with the building of the Nissan Juke-R, and a solid 40 hours of work: a snow-tracked Rogue Warrior was built and ready for action.

Nissan Canada was proud to show this prototype off at the Montreal International Auto Show in January and then again in February at the Canadian International AutoShow in Toronto, but now it was time to put this beast to the ultimate test. Nissan Canada sent a few journalists to the Station de Ski Valinouet in Monts-Valin National Park, Quebec, where we would see how well it could perform up some tricky ski slopes and back down.

Before I get started on the actual climb, let's talk about these snow tracks. First off, the height of the Rogue was raised two-inches in order to fit its 30"/76 cm in height, 48"/122 cm in length and a track width of 15"/38 cm snow tracks.  This was the maximum amount it could be raised for the suspension to not be severely altered. In addition, the front bumper, fenders and shocks were modified, while mud flaps were added to prevent snow from being flung in every direction.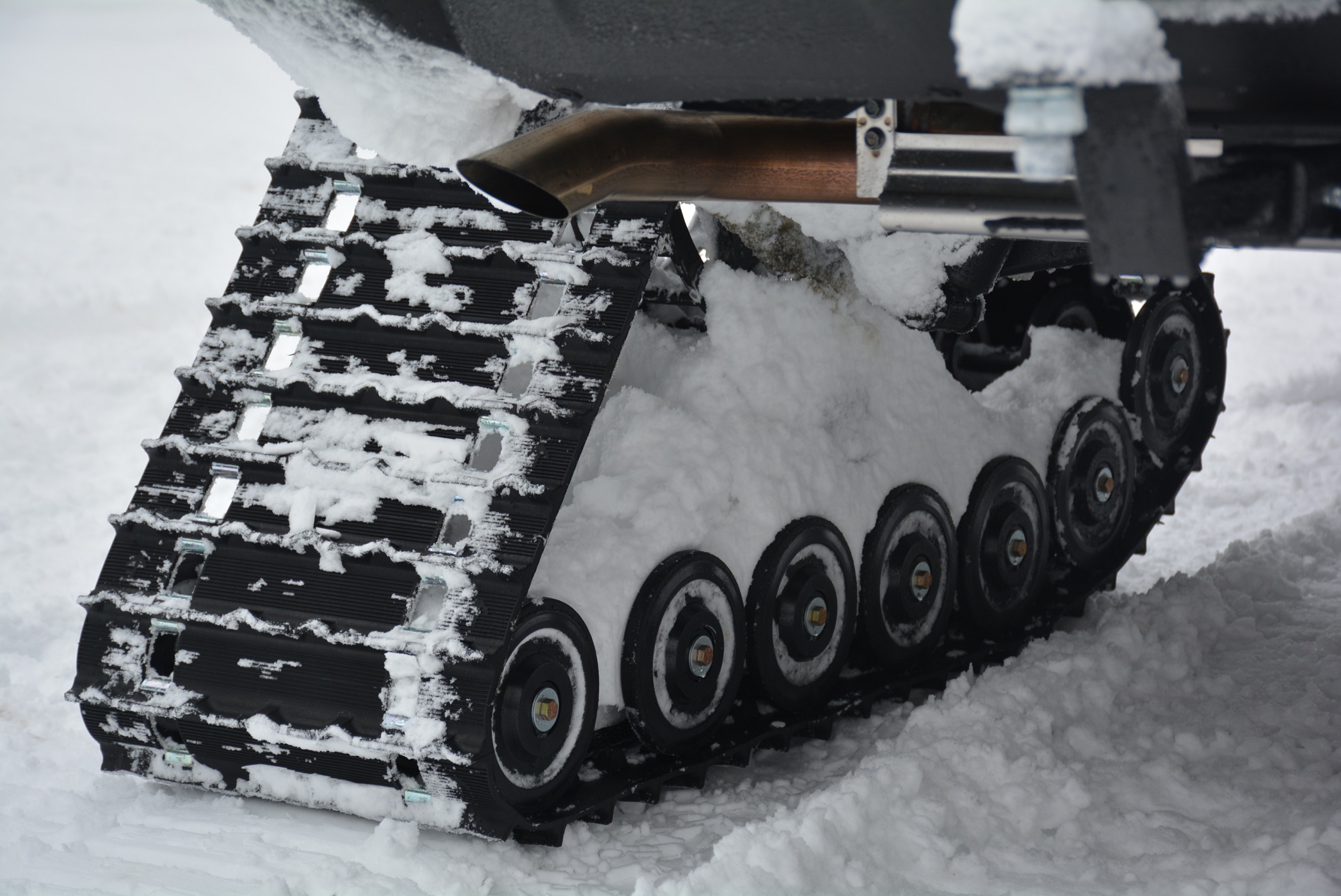 Once I learned the basics of the Rogue Warrior – it was time to buckle up and drive. I took a big leap into it (no running boards) and started it up. The engine and transmission have not been altered at all, as it uses the same 2.5-litre four-cylinder engine matched to Nissan's Xtronic CVT. The only thing I couldn't do was make any steering inputs while static. Everything would have to be done in motion in order for no potential problems to occur.

I put the Rogue Warrior in drive and we were off and running. The steering and handling surprised me the most. I thought going in that such a large vehicle would be hard to turn and would need plenty of force, but it was quite the opposite. The Rogue Warrior adjusted to any steering input and turning the beast took little energy – it was exactly how the regular crossover would react.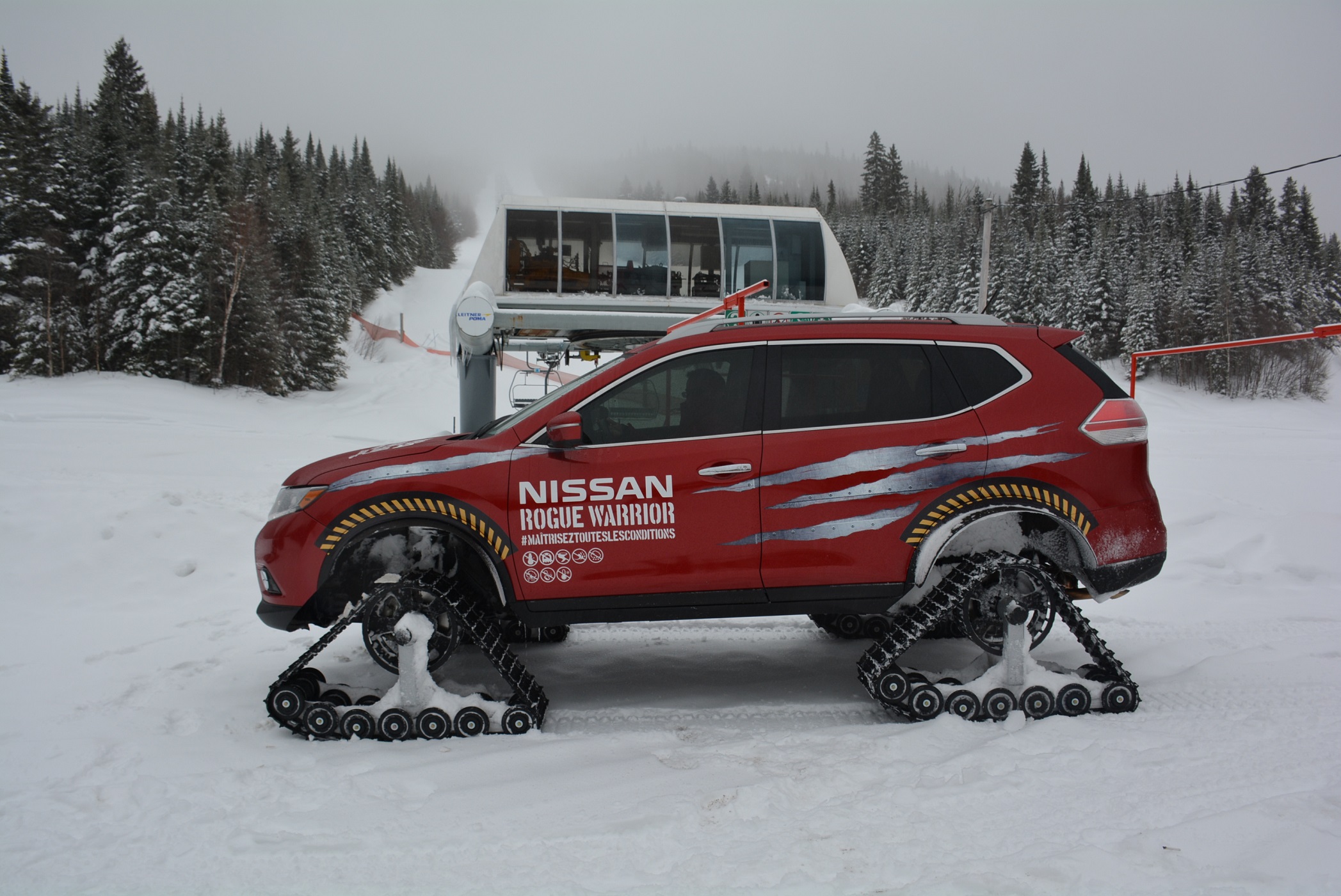 The CVT played the most fundamental role of this drive by keeping my momentum going. Without it, I'm not sure where I would be, probably stuck in the middle of the climb. The CVT managed to always find the right gear, even when we got bogged down in heavier snow. The transmission accounted for various driving scenarios and adjusted its gear settings instantly.

We managed to get up to 80 km/h on a flatter surface, but took it easy while scaling down the ski course. According to Nissan Canada, it's capable of achieving a top speed of 100 km/h, which is more than enough to navigate some challenging ski slopes.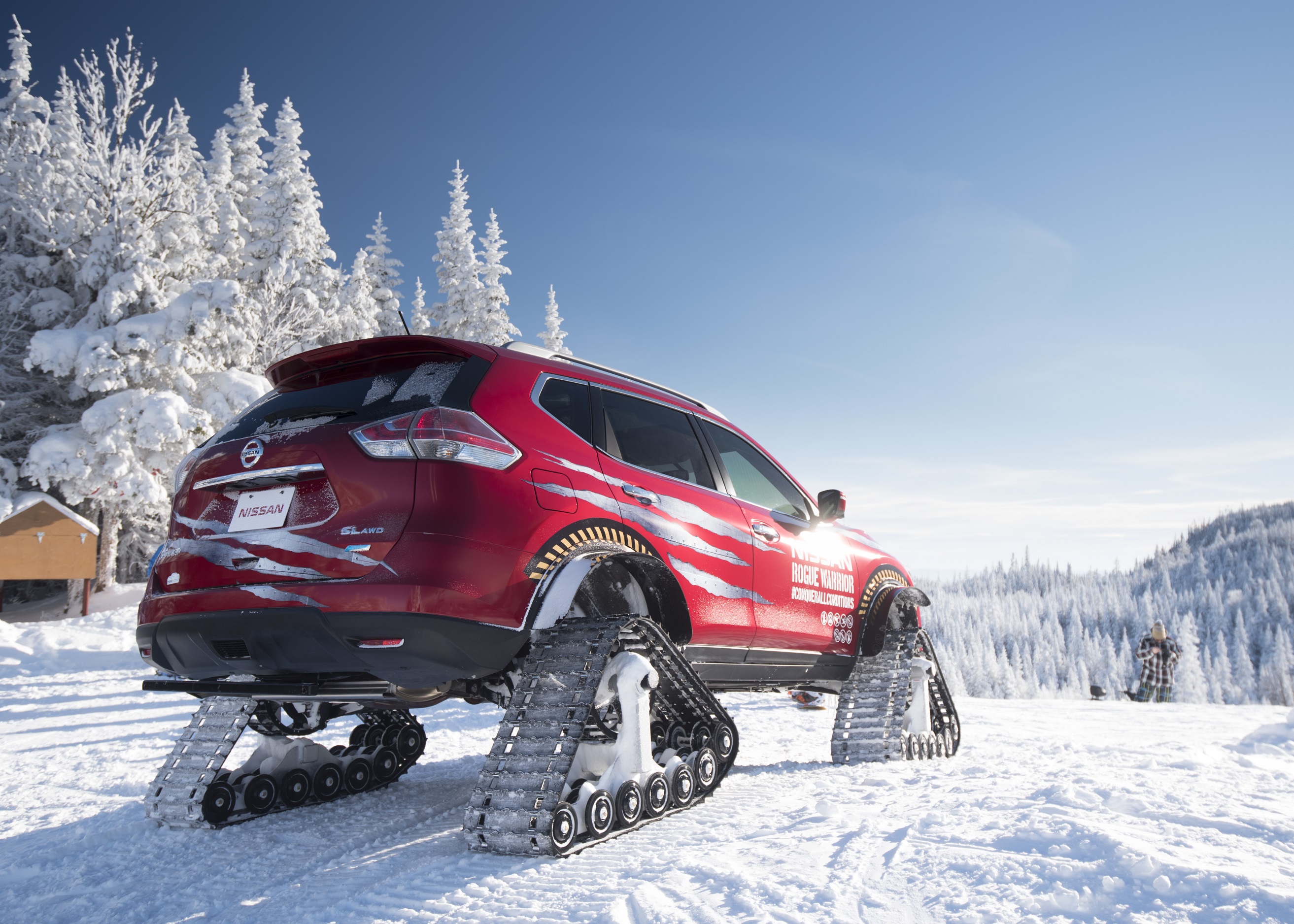 The Nissan Rogue Warrior was a blast to drive, and we could only hope it resurfaces somewhere down the road. For now, Nissan Canada will be prepping it for the Vancouver International Auto Show that runs from March 23-27, and after that it's anyone's guess.
If you do wish to have one, I'm sure MIA will be happy to help you out. Just keep in mind, it won't come cheap as the price will hover around $25,000-$30,000 on top of the cost of the regular Rogue that starts at $24,948.