LA Auto Show: 2017 Hyundai Elantra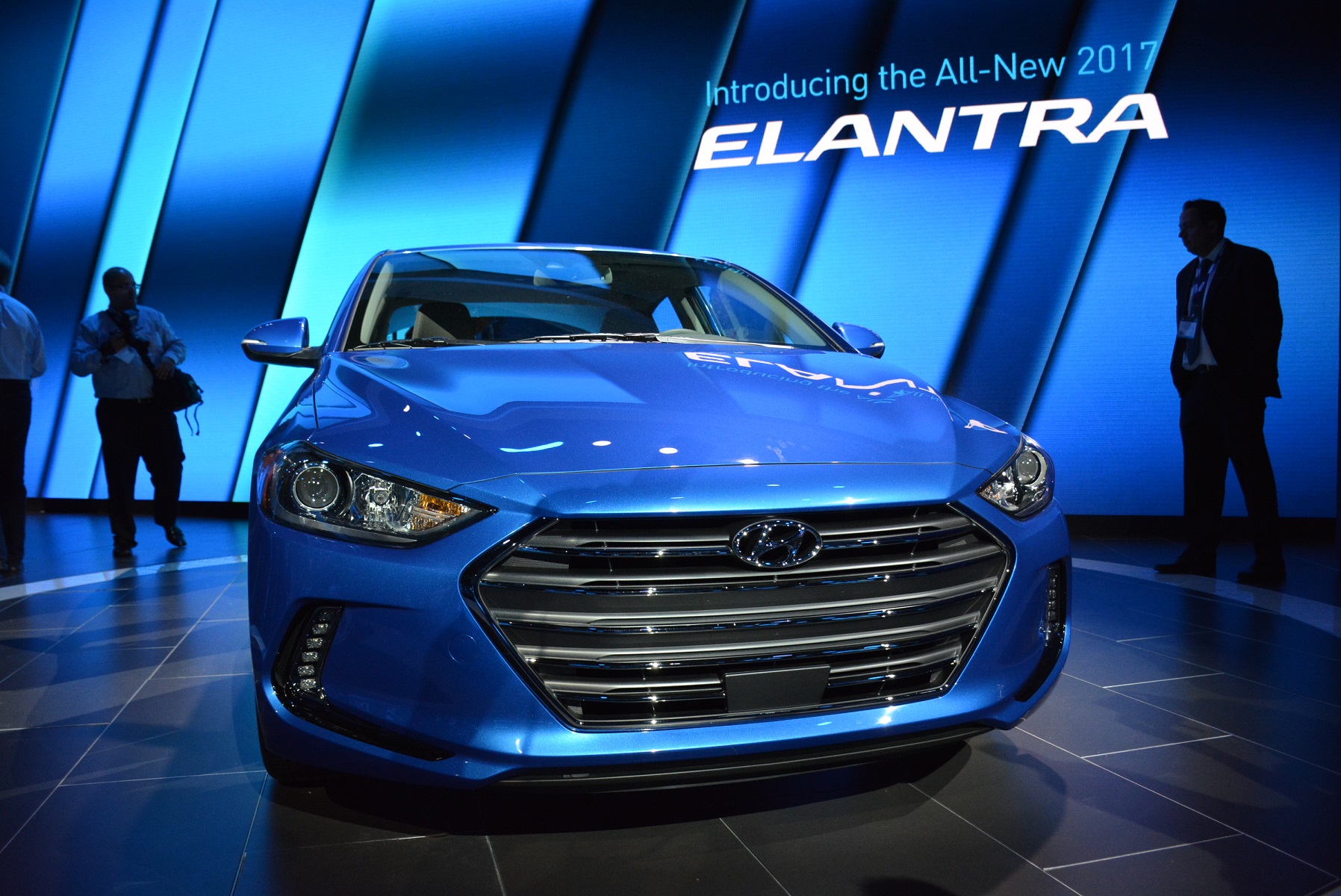 Los Angeles, CA – The all-new 2017 Hyundai Elantra was revealed today at the Los Angeles Auto Show. As one of Hyundai's all time best-selling models, the new Elantra enters its sixth-generation building on the momentum and success of its predecessor's proven, award-winning formula and strong value proposition by offering a bold aerodynamic design, sophisticated styling, an all-new efficient powertrain, better ride quality, improved noise insulation, and comprehensive safety with class-above features.

Assembled in both Montgomery, Alabama and Ulsan, South Korea, the 2017 Elantra distinguishes itself from the compact car class with the addition of segment-first premium convenience and safety technologies, and is expected to receive a Top Safety Pick+ rating from the U.S. Insurance Institute for Highway Safety (IIHS) and a 5-Star Safety Rating from the U.S. National Highway Traffic Safety Administration (NHTSA). The 2017 Elantra will arrive at Hyundai dealers in February and pricing will be announced at a later date.
STRIKING EXTERIOR DESIGN
The new Elantra design projects confidence with sculpted body forms complimented by smoothly contoured lines that reveal the underlying inspiration of Hyundai designers. Inspired by the dynamic precision found in fighter jets, Elantra's architecture was a perfect platform for collaboration between designers and engineers to blend styling with functional aerodynamics.
From the front, the Elantra is defined by Hyundai's signature hexagonal grille that projects a distinctive character when combined with its modern lighting signatures, including available Adaptive HID headlights and unique vertical LED daytime running lights, which are firsts for Elantra. Elantra's sporty lower front fascia integrates functional front wheel air curtains, a component that is derived from the Sonata Hybrid that helps manage air flow from the front of the vehicle and around the wheel to minimize wind resistance. In addition, a full underbody cover, an aerodynamic rear bumper bottom spoiler and rear deck lid designed with an expanded trunk edge contribute to an ultra-efficient 0.27 coefficient of drag, better than the Nissan Leaf.
Elantra features a sleek body-side character line that accentuates a sweeping side window silhouette and striking side profile that is slightly elongated with its increased overall length. Available premium features such as 17-inch alloy wheels, all-new LED door handle approach lights, side mirror LED turn signal indicators and LED taillights with high tech graphics add a level of sophistication and detail to this compact sedan. Elantra's overall length has increased by 20mm, with width and height up by 5mm.
MODERN INTERIOR DESIGN
On the inside, Elantra's "fighter jet" inspiration continues with a modern driver-oriented design that is optimized for intuitive control, improved interior roominess, high-quality materials and premium technology features. The contemporary interior design integrates premium soft-touch materials in key points and high-tech details to create an inviting and comfortable environment for all passengers.
The wide instrument panel provides a feeling of spaciousness and is available with a new 4.2-inch colour TFT LCD instrument display. The rest of the center stack is laid out in a horizontal design with buttons and controls logically grouped by function, and a slight seven degree ergonomic tilt towards the driver. Available premium convenience features such as a segment-first memory system for the power driver seat and side mirrors, heated steering wheel, dual automatic climate control and auto-dimming rear-view mirror further enhance driving comfort, as does a new driver seat. The driver seat features a high-tension, lightweight seat frame for improved performance against collisions and a multi-firmness seat pad to help reduce driver fatigue over long distances.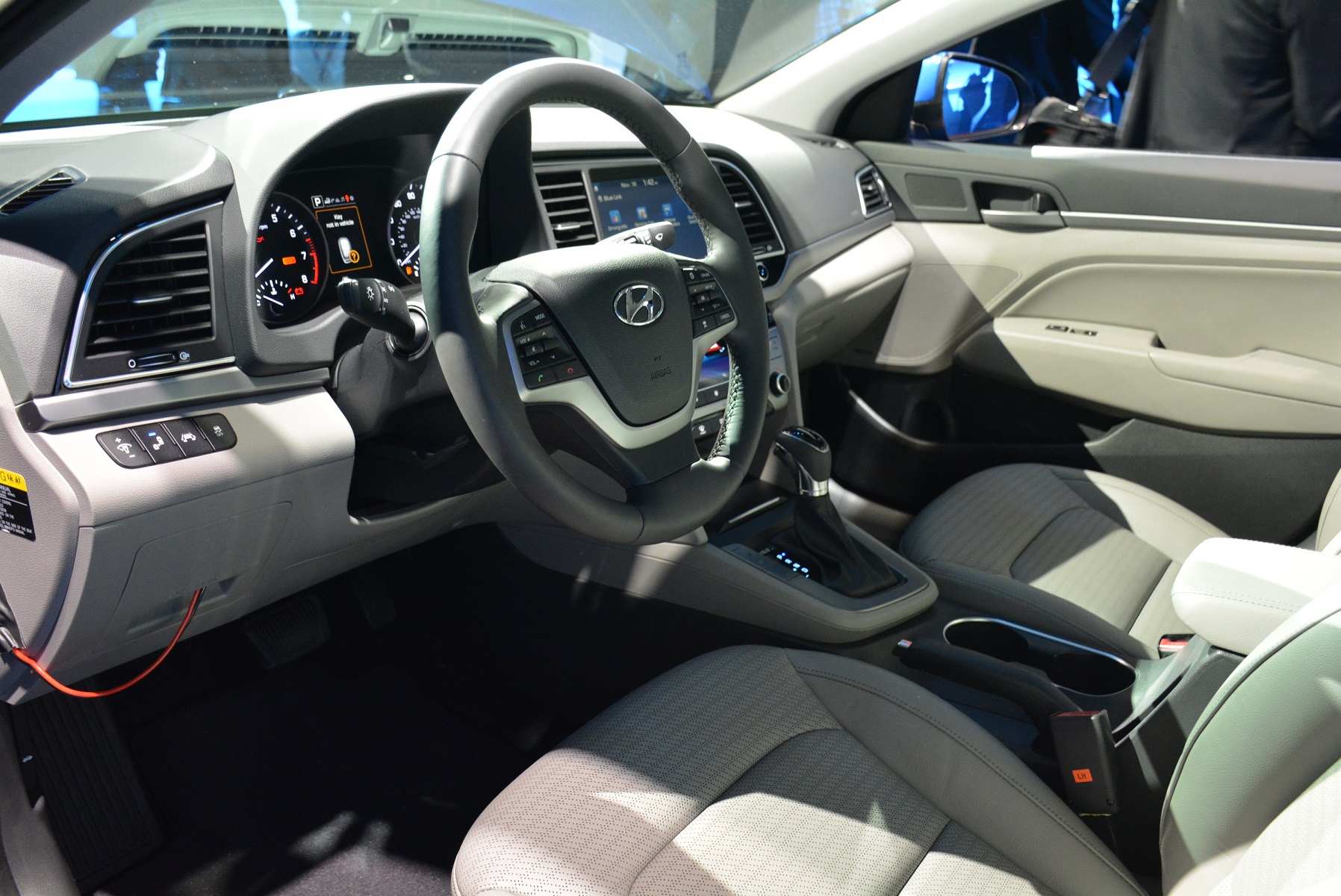 In fact, all Elantra seats are made with SoyFoam, an environmentally friendly seating foam that substitutes hydroxyl-functionalized soybean oil for petroleum based products. For added comfort and convenience, passengers enjoy standard heated front seats and available heated rear seats with a versatile 60/40 split-folding rear seat. Elantra also offers class-above total interior volume with improved rear headroom and legroom. At 3,120 L of total interior volume, the 2017 Elantra is classified as a Midsize car, which is a class above Mazda3, Ford Focus and some premium models.
In addition to passenger comfort, improving interior cabin noise insulation and reducing road noise were top development priorities for Hyundai engineers. To reduce engine sound a hood insulator is now available on core Elantra trims. Engineers also reduced the aperture size in the front dash panel by 25 percent, increased the thickness of the front door and rear window glass, and added sound absorption materials in all pillars, inner fenders and floorpan. In an effort to further improve NVH characteristics, engineers also applied rubber bushings to the front sub-frame and reinforced the lower control arm.
REFINED & RESPONSIVE CHASSIS
The 2017 Elantra's rigid chassis is now reinforced with 53 percent Advanced High-Strength Steel (up from 21 percent). This increased utilization results in a 29.5 percent improvement in torsional rigidity, which helps make fundamental improvements in vehicle ride and handling, quietness, and durability. The all-new Elantra features strategic use of structural adhesives for improved safety. Compared to the previous model, the 2017 Elantra has increased structural adhesives by forty times those found in the previous model. Special attention was placed at higher stress points on the chassis and reinforced welding areas, all in an effort to target top safety ratings by the IIHS and NHTSA.
Improved ride comfort, handling and stability are achieved through Elantra's redesigned rear suspension geometry that modifies the angle of the rear shock absorbers and coil springs on the coupled torsion beam axle. Additionally, an increase in rear bushing diameter helps to improve long term durability. Elantra's front suspension uses an optimally designed McPherson strut with coil springs and gas shock absorbers along with a standard 22.0 mm diameter front stabilizer bar to help reduce body roll when cornering. The standard Motor-Driven Power Steering (MDPS) system instantly adjusts to changing driving conditions for greater precision and steering feel while improving fuel economy.
NEW EFFICIENT POWERTRAIN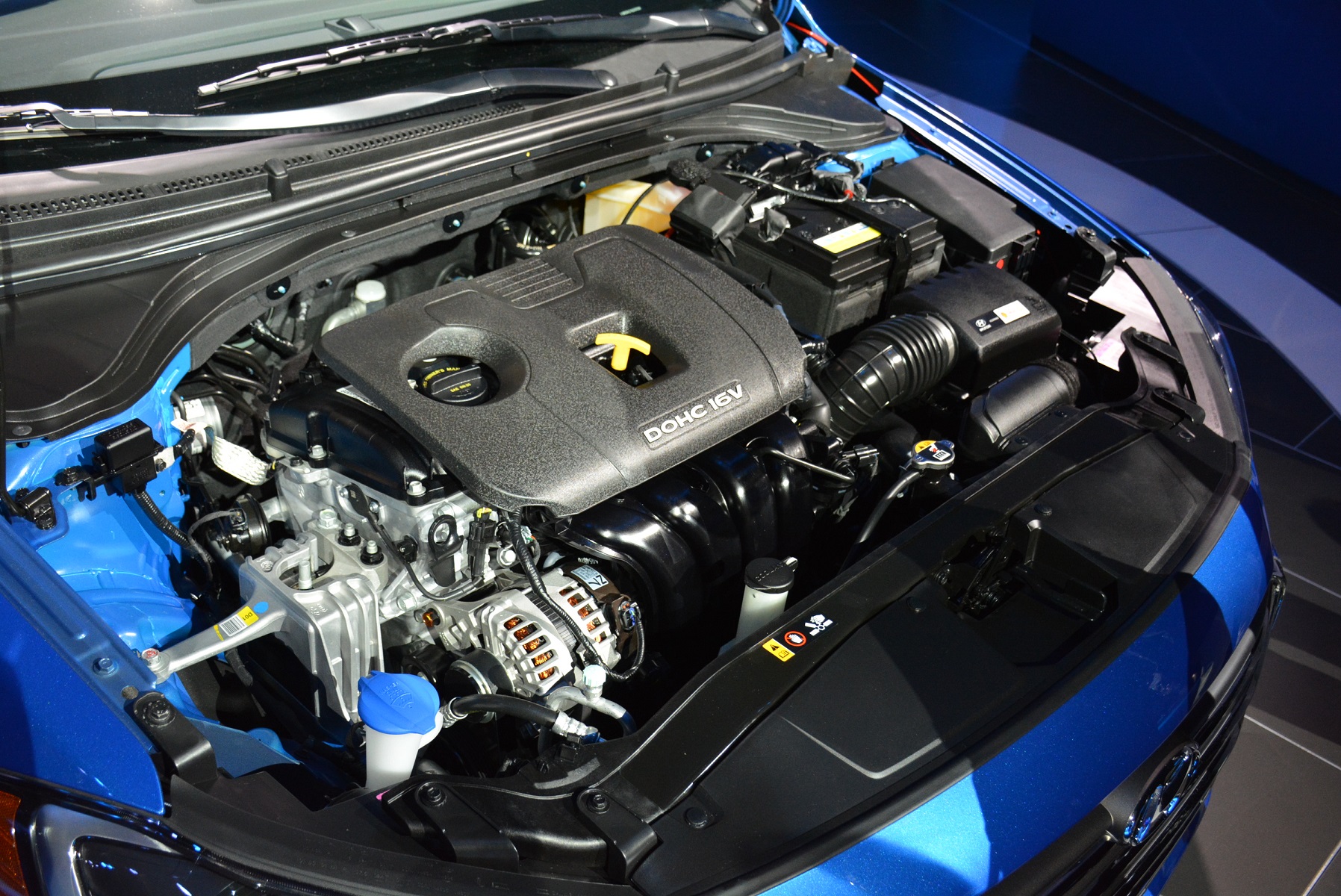 For 2017, the all-new Elantra receives a new powertrain designed for improved fuel efficiency and everyday drivability performance. The all-new 2.0-liter "Nu" MPI Atkinson four-cylinder engine produces 147 horsepower at 6,200 rpm and 132 lb. ft. of torque at 4,500 rpm (est.). It is the only Atkinson cycle engine to be combined with multi-port injection in the compact class.
This Atkinson cycle type engine reduces pumping loss by delaying the close timing of the intake valves in the compression point, therefore maximizing the expansion ratio. The greater expansion ratio is more efficient by allowing additional energy to be used as mechanical energy – this results in a 1.6 percent improvement in fuel economy. Other enhancements include intermediate valve cam phasing which increases the operating area of the intake valve and results in a 0.7 percent increase in fuel economy. High energy ignition coils are also adopted to increase fuel economy 0.7 percent through increasing spark energy from 30mJ to 80mJ. An electronically controlled thermostat is also new to decrease friction and allows the thermostat opening at a higher temperature which increases fuel economy by 0.4 percent. Finally, piston cooling jets are added to cool down the piston by spraying oil at the lower position of the piston resulting in a 0.3 percent fuel economy improvement. Fuel consumption estimates will be released at a later date.
This 2.0-liter Nu four-cylinder engine is paired with either a six-speed manual transmission or a new six-speed automatic transmission. The new automatic transmission helps deliver dynamic performance with an overall 4.4 percent increase in efficiency for optimized fuel economy. A new valve body improves gear shift responsiveness and control, while a 34 percent reduction in oil pump size aids in improving operating efficiency. A multi-clutch torque converter is also a new addition that allows more control over lock-up. Finally, piston resistance and friction is minimized by adopting double angular ball bearings.
In addition, all Elantra trims are equipped with the new Drive Mode Select feature which adjusts both powertrain performance and steering calibration, allowing the driver to customize the driving character by selecting from three modes: Eco, Normal or Sport, by simply touching a button on the center console.
COMPREHENSIVE SAFETY
In addition to the strengthened chassis, the 2017 Elantra makes structural improvements to the front side members which are now a hexagonal design and the dash-to-cowl connection has also been reinforced. The front apron to the A-pillar now features a straight and continuous load path and has hot stamping applied. B-pillar assemblies feature local softening hot stamping that starts with a reinforcement section (150kgf grade) and then transitions into a softening section (100kgf grade) to help absorb side impact forces. The rear doors also feature dual impact beams. A seven airbag system is standard, including a new driver's knee airbag, along with Electronic Stability Control, Vehicle Stability Management, Traction Control, and ABS. The 2017 Elantra is expected to receive top marks from the IIHS and NHTSA.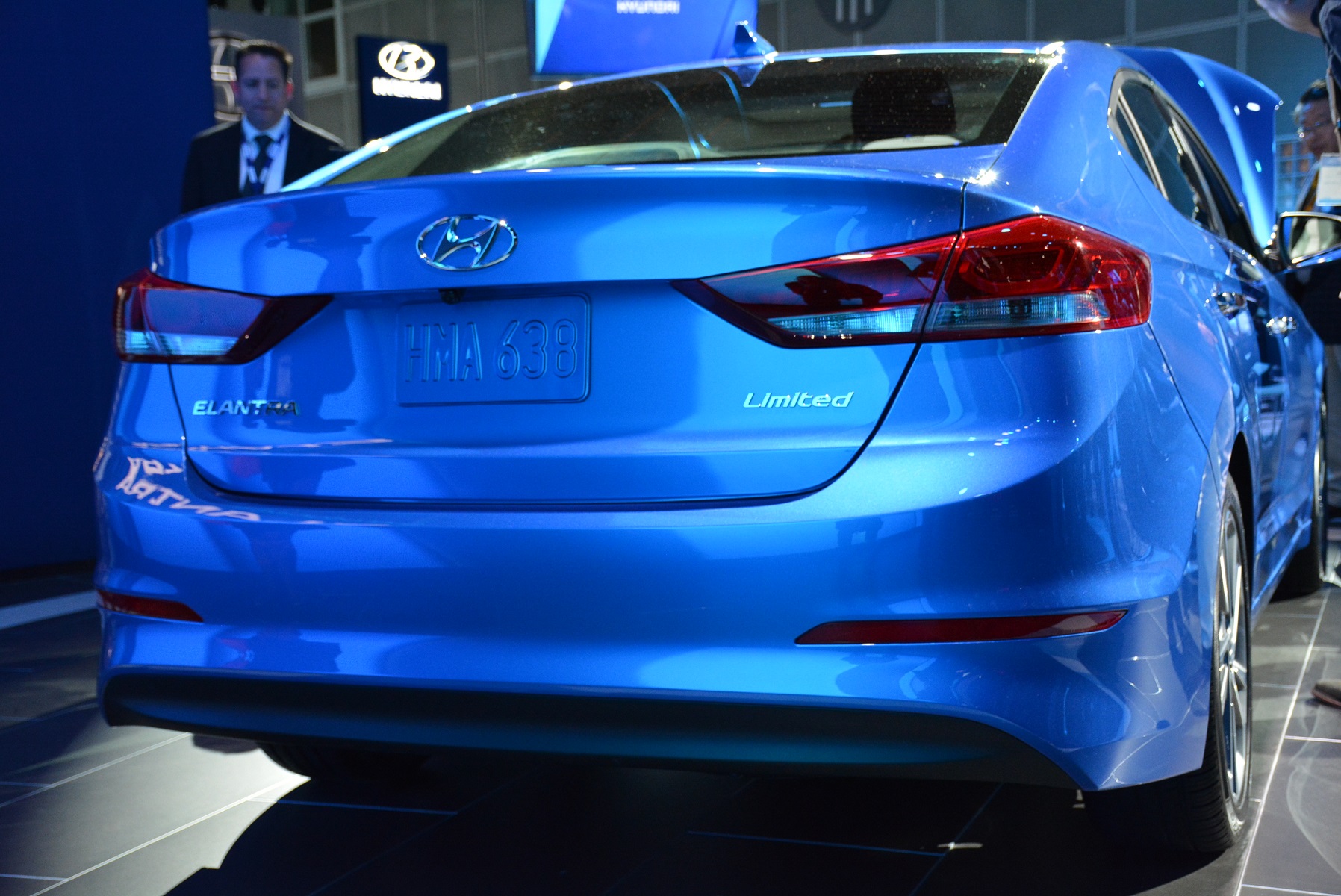 New for 2017, the Elantra also offers a wide array of advanced safety technologies, often reserved for luxury cars, to provide another layer of protection for passengers beyond the standard safety system. Available Autonomous Emergency Braking with class-exclusive Pedestrian Detection is a technology that utilizes both front forward facing radar and camera to detect a vehicle or pedestrian, and warn the driver of a potential collision. If the driver does not react to avoid the impact, the system will apply emergency braking.
Additional Elantra-first safety technologies include available Lane Keep Assist, Blind Spot Detection with Rear Cross-Traffic Alert and Lane Change Assist, and a rearview camera, now with dynamic guidance. Lane Keep Assist uses a forward-facing camera to detect lane markings and will alert the driver if the vehicle drifts outside without signaling. The system will apply corrective steering assistance if necessary, and is another active safety tool to assist Elantra drivers and help prevent collisions.
ADVANCED TECHNOLOGY & FEATURES
The 2017 Elantra truly advances ahead of the compact car class with innovative technology that enhances driver confidence and convenience, without the premium price. Another segment-exclusive feature, Hand-Free Proximity Trunk, allows drivers to conveniently open their trunk if their hands are full by simply approaching the rear of the vehicle with the key fob in a purse or pocket. An audible beep will sound three times, and the trunk will automatically open.
The new Elantra enhances the driver experience with an available Adaptive HID headlight system, that turn-in with the direction of the steering wheel for better night time visibility and safety. Elantra's Adaptive Cruise Control (ACC) makes highway and long distance driving more comfortable. Using a radar sensor mounted on the lower front grille, the ACC system maintains a set distance from the vehicle ahead in varied traffic conditions by automatically adjusting vehicle speed as needed. Vehicles equipped with ACC also gain the additional function of High Beam Assist which automatically dims the high beams when approaching vehicles are detected.