The Nissan Micra Cup: fun things do come in small packages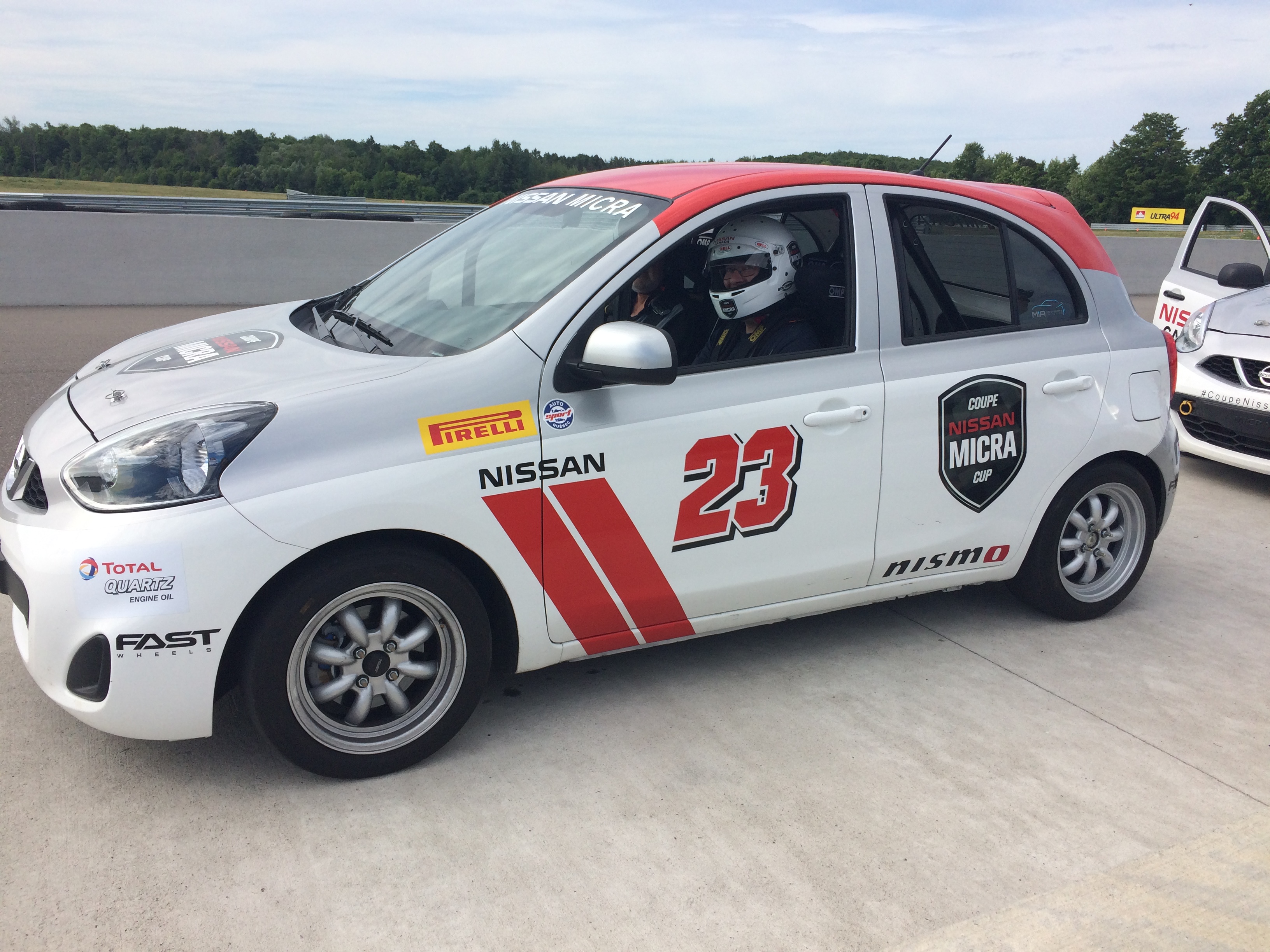 Bowmanville, ON – The desire to be a race car driver resides in the heart of many driving enthusiasts. It's a dream that's played over in our heads from a very young age. We study the famous tracks like the Nürburgring, Silverstone, Circuit Gilles Villeneuve, or my personal favourite Circuit de Spa-Francorchamps in Belgium.

For the 99 percentile (and I can probably add a couple of decimals to get it closer to 100 per cent), this dream never gets a whiff of reality. And I'm not just talking about a Formula One ride, I'm talking most of the major racing series unless you have the rare combination of racing talent, lots of money, connections and a bit of luck.

It most likely is a pipe dream to be a race car driver at that level, but there's a new racing series from the people at Nissan Canada that can put your dreams back on the map, and for a relatively minimal cost of $22,900.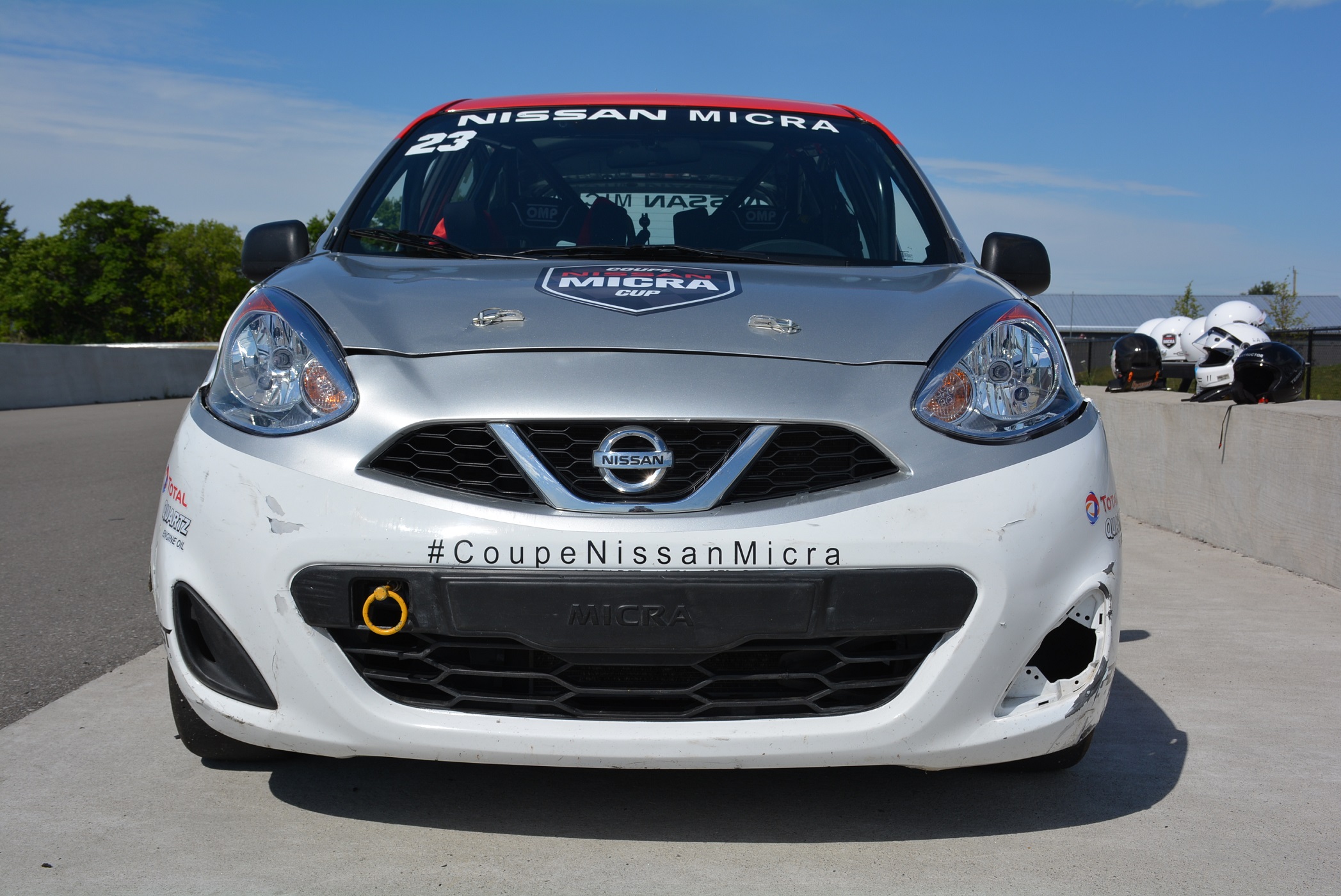 It's called the Nissan Micra Cup, a single car series that's billed as the most affordable racing series in Canada. Currently, it's in the middle of its second year and just went through their first race at the well-known Canadian Tire Motorsport Park (CTMP) race track in Bowmanville. CTMP is part of its Ontario expansion plan for 2016 that sees the Micra Cup host 6 of its 16 races in the heartland province.

A buzz has surrounded this growing racing scene and I had to see what the fuss was all about with 26 drivers having a blast during CTMP's race weekend. Luckily, Nissan Canada made an exception a day after the weekend races for me (I was unable to attend the regular journalist event the week prior) to get some alone track time in the race-specced Nissan Micra.

It was a bright, sunny day; the track was free from all other cars; and there weren't any spectators in sight to watch my amateurish driving. That's what I would call ideal conditions for my first run in this car.

Waiting for me was a helmet and neck brace for safety. I put those on and awkwardly placed my legs inside of the Micra. Remember, this isn't your typical road Micra, as it's been stripped and transformed into a racing machine. The team at MIA (Motorsports in Action) out of St-Eustache fit each car with a roll cage, racing seat, new door panels and floors, racing steering wheel and Nismo suspension making it difficult to get in and out of, but as you will soon find out – so worth it!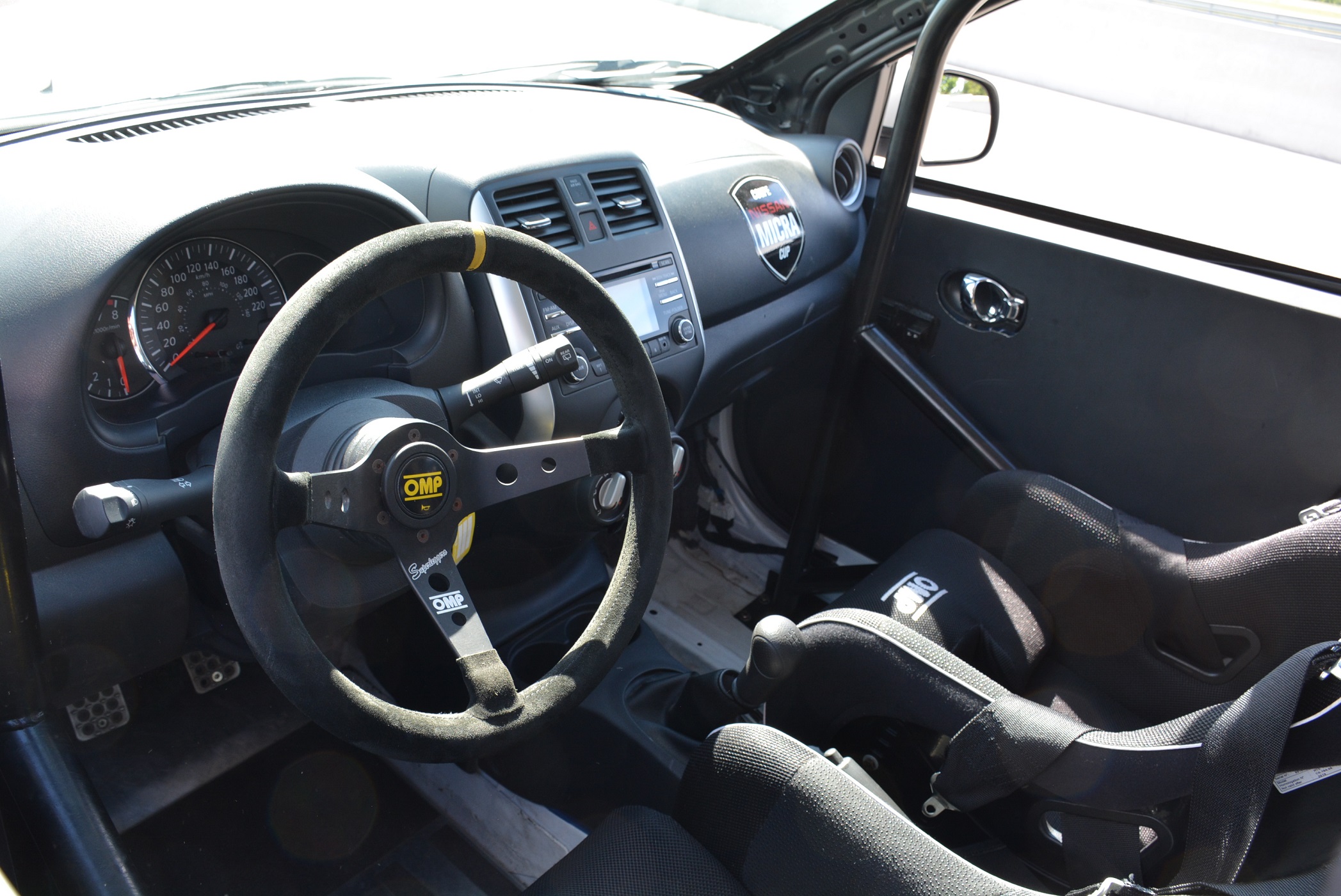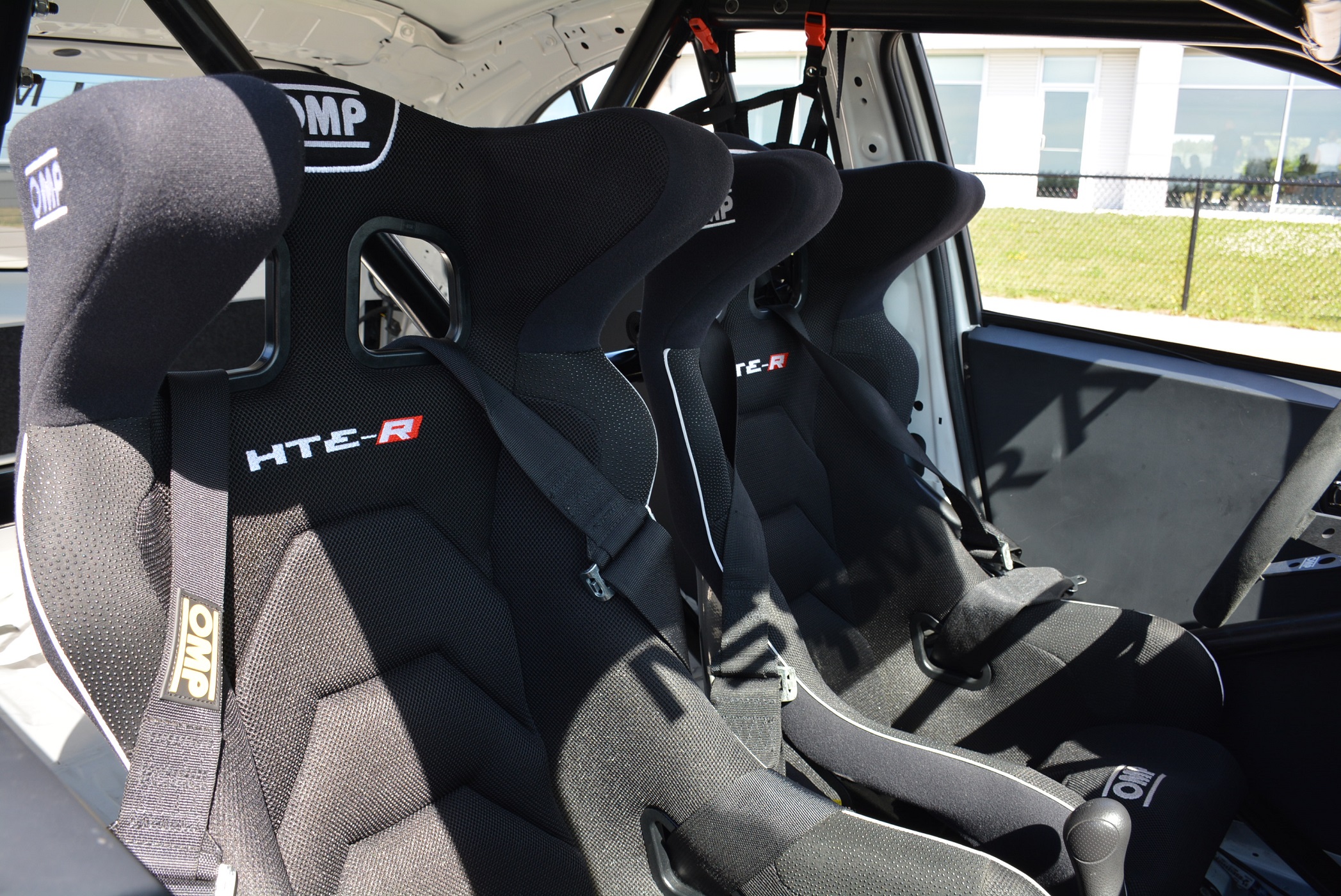 I started up the Micra and headed out onto the track with the instruction to stay in third gear throughout. Unusual, but the 109-hp compact car could maintain high speeds without having to hesitate for gear shifts. As a good student does, I obliged and we were quickly into third and ready to test out its acceleration and handling abilities.

What surprised me the most was the sheer quickness of the Micra. You don't think fast thoughts when its 109-hp 1.6-litre four-cylinder engine comes to mind. But for this track, the Micra performed admirably and I could have gone even faster.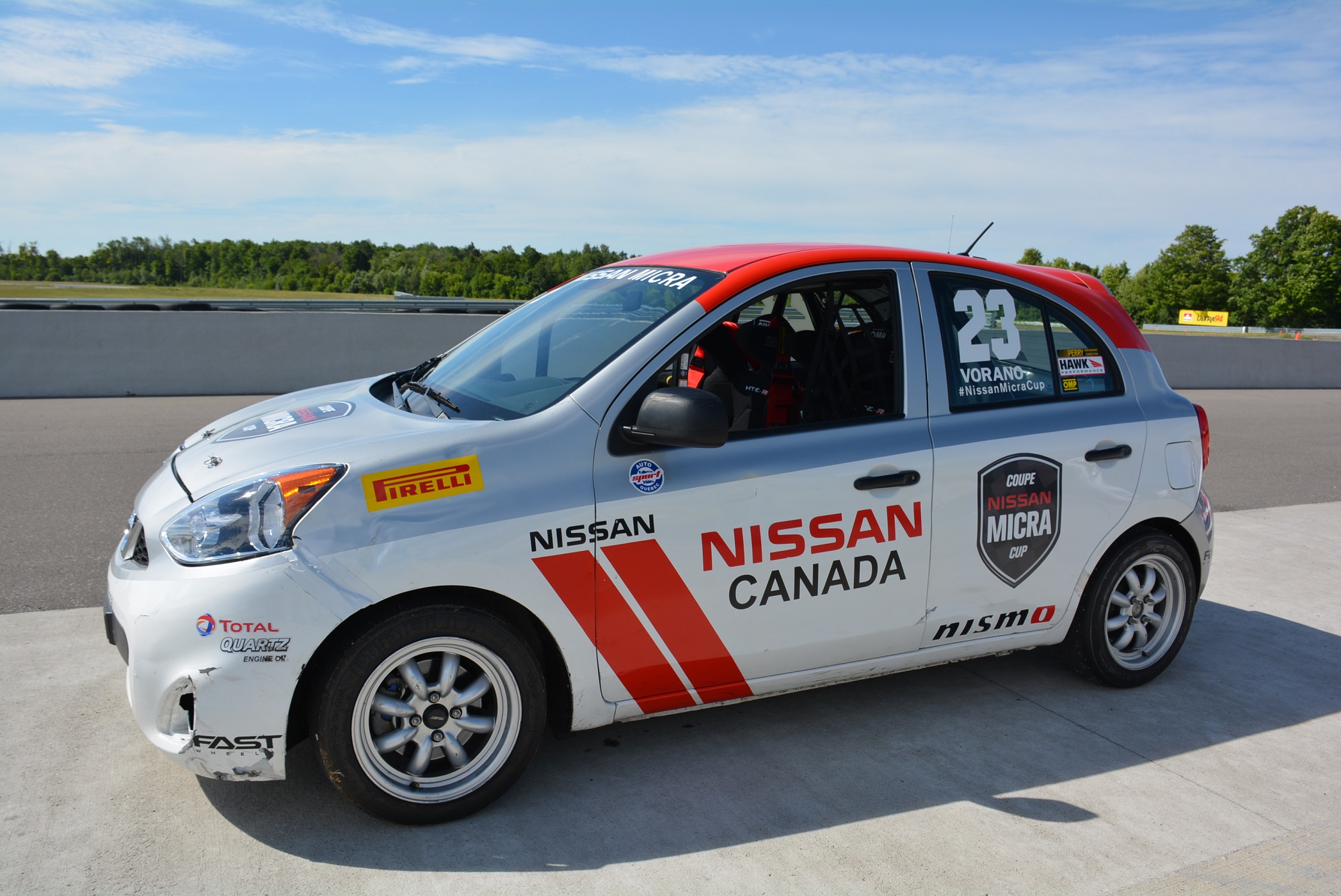 The whole experience was really smooth as I followed the layout of pylons and worked my angles and sight lines correctly. Perhaps, the instructor being in the car deterred me against pushing it harder, but I was in a relaxed zone piloting from side to side as the track got windy.

Braking was quick and harsh, exactly how it needs to be on track. This setup allowed me to quickly regain the balance of the car with added traction before making the turn after the braking zone. The overall weight transfer process appeared simple and seamless without any fierce jerking of the car, but a lot of that may have to do with me staying in third gear throughout.

In the end, it was a quick 10-15 minute session in the race-specced Nissan Micra car. Enough time to get me excited about the racing experience and bewildered about how the little Micra car can be so much fun to manoeuvre around. The most uncomfortable thing about it was getting in and out of the car; and trust me, if I didn't get out, I would have gone back for more laps. That's the addictive nature of the Nissan Micra Cup proving that you don't need a 500-hp sports car in order to have a good time on the track.